Are you looking for new crockpot recipe inspiration?  Here's a huge list of my family's favorite crockpot freezer meals.  I came up with 31 chicken, beef, pork, and vegetarian recipes that we love for a total of 124 easy and healthy recipes.  (Yes, we use our crockpot a lot.)  Enjoy, Friends!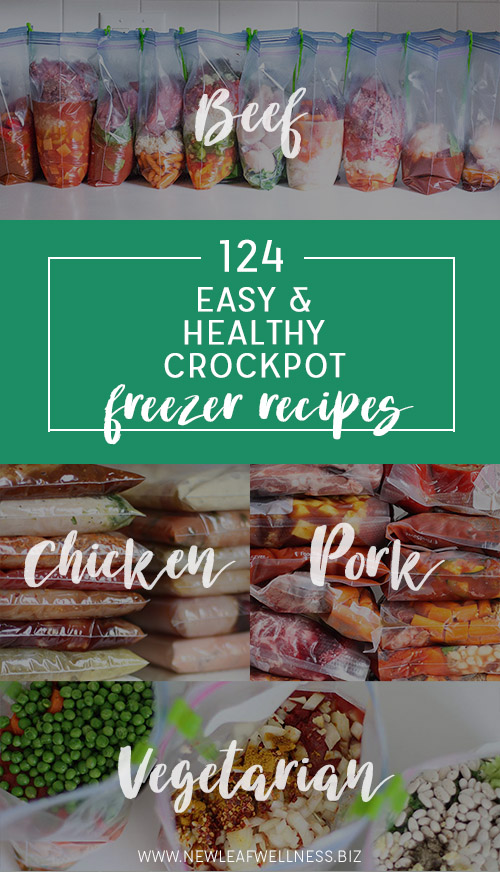 What's so great about these recipes?
You can stock up when meat is on sale at the grocery store and save a lot of money.
They're healthy and delicious! (I tried all of them myself.)
They can be frozen without any cooking ahead of time, so they're very quick and easy to make.
If you want to prep and freeze them for later, just add all of the ingredients to gallon-sized freezer bags and freeze for up to three months. If the meat is already frozen you can wait to add it until the day of cooking or add it to the bags still frozen (in other words, don't thaw and re-freeze).
When you're ready to cook, thaw overnight in the refrigerator (or in the morning in water).  Add to your crockpot and dinner is done.
Chicken Crockpot Recipes
Beef Crockpot Recipes
Pork Crockpot Recipes
Vegetarian Crockpot Recipes
Thoughts or questions?  Leave a comment below and I'll respond as soon as I can.  xoxo, Kelly