If you are looking for a simple, healthy recipe…look no further!  Don't get me wrong, I love eclectic tastes and adventurous eating, like Kelly's Sausage Stuffed Peppers, but sometimes you just need good old fashioned, traditional food that takes you right back to your Grandma's kitchen.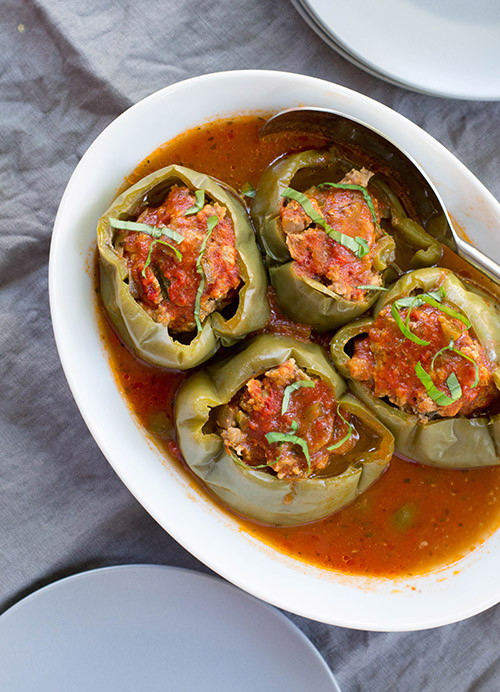 Contributor post written by Jill @ The Galactagoddess
I know, I know…most of you are looking to save time, but please…just for a moment, join me in a little meditation. I want you to think about the amazing smells of peppers, onions, garlic, and red sauce (or gravy, as some families call it) simmering all day long.
Now take a few deep breaths…how about one for everything that is on your mind (please, don't hyperventilate!). Alright, feel better?! Great, because your about to recreate that smell in your slow cooker, in just a few simple steps!
Sometimes, less is truly more. These slow cooker stuffed peppers are so easy to make, only require a couple of ingredients, and can be added right to the slow cooker or assembled and frozen for later. This dish presents beautifully, especially if you use a variety of colored peppers, so feel free to invite friends over for dinner!!
Enjoy…and remember to breathe!
Print
Slow Cooker Stuffed Peppers (Freezer-Friendly!)
---
Author:

Yield:

4

servings

1

x
Description
Cook fresh or freeze and cook later. Serve with rice and parmesan cheese.
---
Ingredients
1 tablespoon

olive oil

1

lb+ ground turkey (or beef)

1

onion, peeled and diced

1

garlic clove, minced

4

small bell peppers, tops cut off (or

2

large peppers, cut lengthwise) and cleaned

24oz

jar of your favorite pasta sauce (reserve 2T)

1/2 cup

water
---
Directions
Coat bottom of slow cooker with 1 tablespoon of olive oil.
In large bowl, mix ground meat, onion, garlic, and 2 tablespoons of pasta sauce.
Separate mixture into four equal parts and firmly stuff into peppers.
Place peppers in slow cooker and cover with remaining pasta sauce.
Pour 1/2 cup of water into the empty sauce jar, shake it up and pour into slow cooker. (I don't like to waste anything!)
Cook on low for 6-8 hours or until meat is cooked through and peppers are soft.
To Freeze and Cook Later
Label a gallon-sized plastic freezer bag with the name of the recipe, use-by date (which will be three months from the prep day), and cooking instructions.  In large bowl, mix ground meat, onion, garlic, and 2 tablespoons of pasta sauce.  Separate mixture into four equal parts and firmly stuff into peppers.  Add remaining sauce to a quart-sized plastic freezer bag, seal, and place inside gallon-sized bag with stuffed peppers.
When ready to cook, thaw freezer bag.  Place peppers in an olive-oil-coated slow cooker and top with sauce.  Cook on "low" setting for 6-8 hours.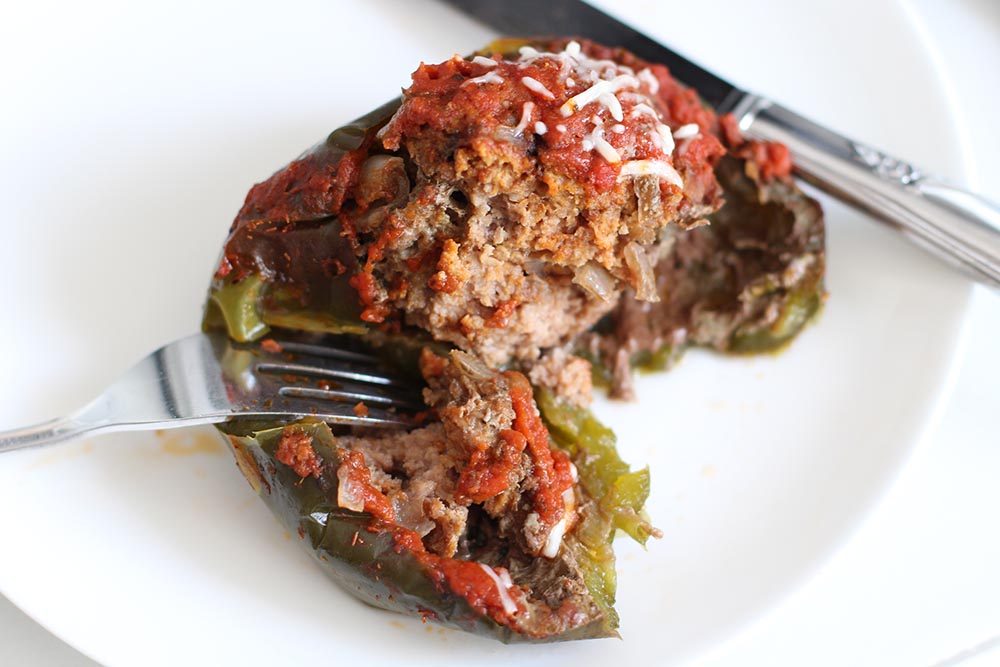 ---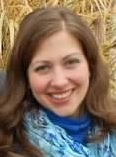 Jill Petrush Rogers is a full-time working Mama to two very active little boys, ages 4 years & 17 months. After becoming a Mama, she realized that her mission is to help others meet and/or exceed their own personal breastfeeding goals.  And so, she became a Certified Lactation Counselor.  You can follow Jill's personal journey on her blog The Galactagoddess and on Facebook.