Are you looking for something to make with fresh garden eggplant?  Try eggplant rollatini!  All you need to do is thinly slice the eggplant, stuff it with spinach and ricotta cheese, and then cook it in the crockpot.  Super easy and delicious.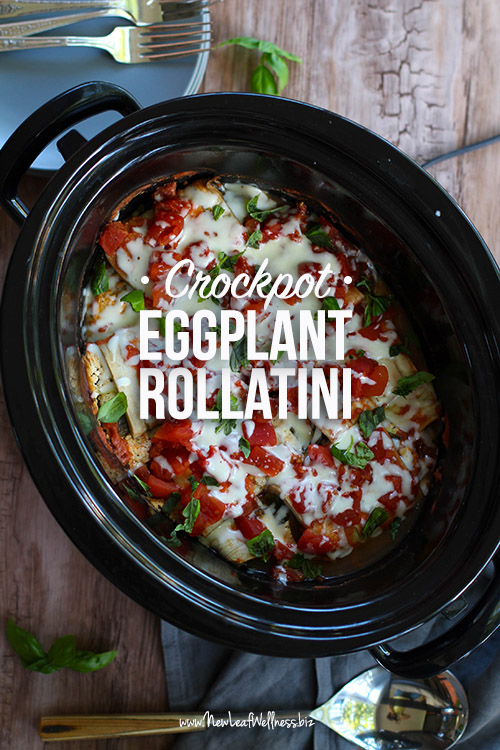 When I lived in the Hudson Valley, I frequented a trattoria that had amazing Eggplant Rollatini. It has been a recipe that I have been wanting to tackle for the crockpot for quite some time.  However, as I sat down to so, I was reminded that traditional recipes require frying the eggplant and loading it with cheese. Although delicious, they really aren't that great for you. So, I decided to create a lighter version.
Kelly has a delicious recipe for crockpot zucchini "lasagna" and I knew we needed a crockpot recipe for all of the garden eggplant that is in season right now.
This time of year, my family and I are always looking for light meals that go well with a fresh garden salad.  This adaptation of eggplant rollatini fits the bill!  In fact, if you have tons of garden tomatoes, you can even use those instead of canned.

Healthy Crockpot Eggplant Rollatini
Yields: 6 servings
 Ingredients
1 large eggplant, peeled and thinly sliced with a mandolin or knife
1 teaspoon salt (this is wiped off the eggplant before cooking)
5oz spinach
24oz part-skim ricotta cheese
3 cloves garlic, minced
1/2 teaspoon black pepper
1 teaspoon Italian seasoning (substitute 1/4 teaspoons of basil, oregano, rosemary, and thyme to make gluten-free)
28oz can diced tomatoes, drained (You can sub 6 medium-sized tomatoes, cored, seeds and juiced removed, and chopped – about 3 cups)
4oz mozzarella cheese, shredded (one cup) (optional)
Directions
Slice eggplant lengthwise, lay on a big piece of waxed paper, and sprinkle with salt.
Let sit for 10-15 minutes, then wipe off the salt and water. (This will reduce bitterness and excess moisture.)
Place spinach on eggplant.
In a medium bowl, mix ricotta, garlic, black pepper, and Italian seasoning.
Spoon cheese mixture onto eggplant/spinach.
Roll and layer in the crockpot.
Cover with diced tomatoes.
Add lid and cook on low setting for 4-6 hours in a 6-quart crockpot or 8-10 hours in a 4-quart crockpot.
Sprinkle with shredded mozzarella cheese and cover for five additional minutes to melt.
Serve with a slotted spoon.
To Freeze and Cook Later
Add eggplant rolls to a gallon-sized plastic freezer bag. (You may want to wrap them with baker's twine.  I would not recommend using toothpicks, as they can puncture the bag).  Freeze tomatoes and mozzarella cheese in separate quart-sized freezer bags. Freeze for up to three months. When ready to eat, thaw slightly and follow cooking directions above.
Serve with a garden salad and crusty bread.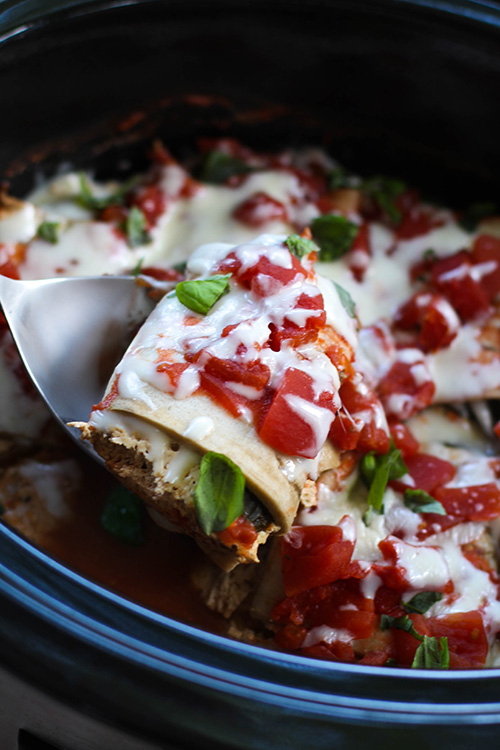 ---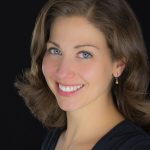 Jill Petrush Rogers is an artist and former bookbuyer/seller. Jill recently moved back to her hometown of Pittsburgh, PA with her husband, Tom, and their two energy-filled boys. Jill loves to channel her creativity by coming up with recipes as a contributing writer for New Leaf Wellness.