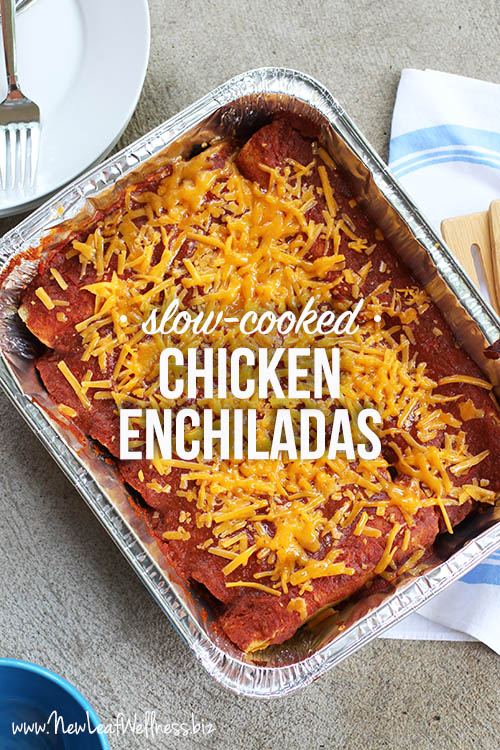 I visited San Antonio, Texas in 2011 and had the best chicken enchiladas of my life.  I think what made them so incredible was the way the way the chicken melted in your mouth.  It had to be slow cooked.
When I came back home to Pennsylvania, I tried to recreate the chicken enchiladas by cooking the chicken in my crockpot, shredding it, and then baking it in the oven with a homemade sauce.  YUM.
Slow-Cooked Chicken Enchiladas
Yields: 6 servings
Ingredients
Sauce
Cooking spray
6 medium-sized tomatoes, cut into pieces
9 garlic cloves, peeled
1 medium-sized onion, sliced
1 tablespoon chili powder
1 tablespoon ground cumin
3/4 teaspoon salt
1/2 teaspoon black pepper
Enchiladas
1/2 teaspoon paprika
1 teaspoon ground cumin
2 teaspoons chili powder
1 cup salsa
1 p

ound boneless, skinless chicken breasts

12 small corn tortillas (My husband prefers flour tortillas but I think they get kind of soft and mushy)
8oz mild cheddar cheese, shredded and divided (about 2 cups – please shred your own!)
2 small cans of diced green chilies
Directions
Place enchilada filling ingredients (paprika – chicken breasts) in a crockpot and cook on low for 6-8 hours, until chicken is cooked through and you can shred it with a fork.
Pre-heat oven to 400° F. Lightly coat a baking sheet with cooking spray. Place tomatoes, onion, and garlic on sheet.  Bake 20 minutes or until onion and garlic are golden.
Remove from oven and turn oven heat down to 350° F.
Set vegetables aside to cool (because you're going to blend them and you don't want your blender to explode).
While cooling, assemble your enchiladas: Lay tortillas on a work surface, and top each with about 1/4 cup of the shredded chicken, 2 tablespoons of cheese, and 2 tablespoons of green chiles.  Roll up, and place in a 9×13 inch casserole dish, seam-side down.
Create sauce: Transfer baked vegetable to blender and add remaining sauce spices.  Puree until smooth.
Cover enchiladas with sauce and remaining cheese.
Bake for 20-25 minutes or until cheese is melted and sauce is bubbling. (Plenty of time to clean up your kitchen!)
ENJOY.