Every so often I get really excited about a new recipe and this crockpot sweet and sour BBQ meatballs is one of them.  It's delicious, only requires six ingredients, and is so easy to make!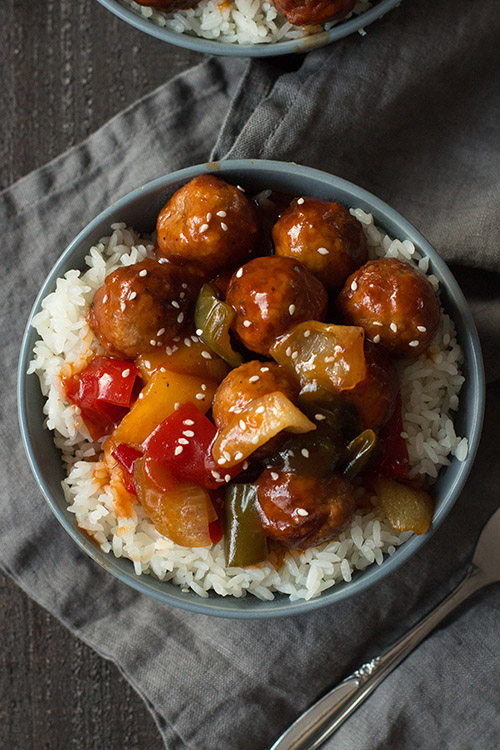 Last week, I sent my favorite crockpot recipe to my email subscribers and asked them to "reply" with their favorites.  Stephanie sent me this recipe for crockpot sweet and sour BBQ meatballs, and I'm so glad she did!
"I was at the grocery store one Saturday and suddenly remembered we had a church dinner the next day, so I needed something right away – and it had to be meatball themed. So, I scanned my imagination and got to work on this Sweet and Sour BBQ Meatball dish.  Serve over rice, with a fresh salad on the side. On the smaller side of the recipe, it serves 4, but on the larger side, add one more bag of meatballs to get a great meal for large families!" -Stephanie Van Gorden
The combination of BBQ sauce and sweet peppers and pineapple is perfect and I never would have thought of it myself.
It's DELICIOUS.
It only requires six simple ingredients.
There is no measuring involved so it literally takes five minutes to prep.
Stephanie also shared that she makes this recipe with a can of pineapple chunks and it works out perfectly!  (Don't drain the juice.)  I made the recipe as written below.  If you want to use a fresh pineapple, keep your eye out for the cored pineapples in the produce section.  They're normally the same price as whole, fresh ones and a great time-saver.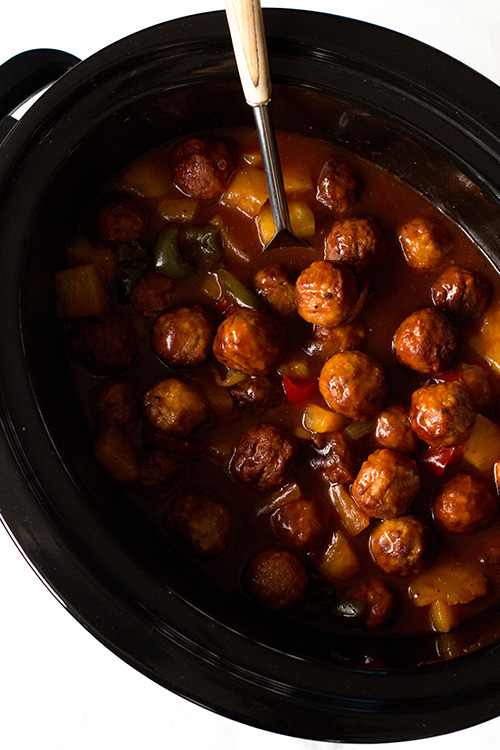 Print
Crockpot Sweet and Sour BBQ Meatballs
---
Author:

Yield:

6 if you use two pounds of meatballs
Description
Cook fresh or freeze to cook later. Serve with rice and a salad or corn on the cob.
---
Ingredients
1-2 pounds of meatballs
1 sweet onion, cut into chunks
1 green pepper, cut into chunks
1 red, yellow, or orange pepper, cut into chunks
1 pineapple, cut into chunks
18oz bottle of BBQ sauce
---
Directions
Combine all ingredients in your crockpot and cook on "low" setting for 6-8 hours or until peppers are tender.
To Freeze and Cook Later
Combine all ingredients in a gallon-sized plastic freezer bag.  Remove as much air as possible, seal, and freeze for up to three months.  When ready to cook, thaw overnight in refrigerator and add to crockpot.  Cook on "low" setting for 6-8 hours or until peppers are tender.
Do you have a favorite crockpot recipe that you'd like to share?  Leave a comment below or send me an email. I'm going to share my favorites on my blog with instructions for how to freeze them for later.  Thanks!