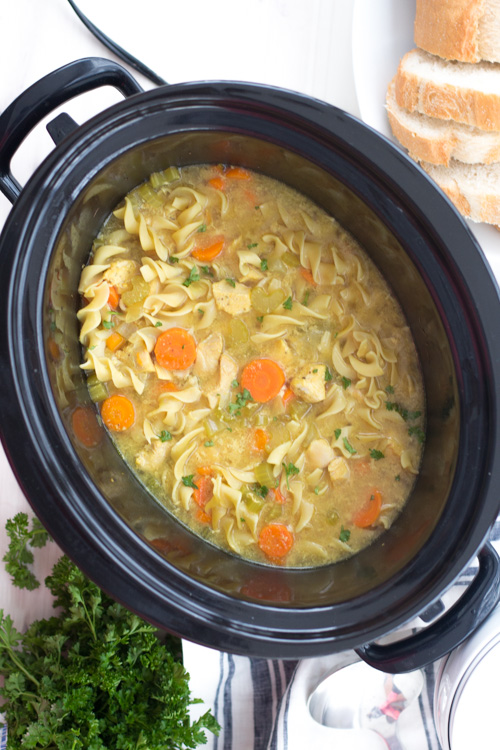 I love, love, love Panera. I've even made a copycat recipe or two. Of course I know that making food at home is much more budget friendly, but I've never really thought about how much I save when I make my own version of their delicious soups at home…until now!
I wanted to do a side-by-side comparison, so I went threw their drive thru (so convenient for a Mama who hates getting out of her car with her kids!) and ordered a bowl to go. It came to $6.31 after tax and the bowl was pretty small. Even when the all-natural, antibiotic-free chicken breasts that I usually buy aren't on sale they are $5.99 per pound. Add that to the other ingredients (many of which I usually have on hand anyway) and it costs about $12.73 per meal, that comes out to $2.12 per serving! I think I'm going to continue to make copycats!!
This soup is so delicious and hearty, yet it's low-fat! Eating healthy soups is a great way to maintain or lose weight. It's also a great way to get more daily vegetables. My kids are pretty good eaters and they LOVE soup, so for my own personal version of this soup, I used two celery ribs and three BIG carrots. If you want it more like Panera's, only use one of each.
Crockpot Low-Fat All-Natural Chicken Noodle Soup (Panera Copycat)
Yields: 4 servings (if you have a large crockpot, 6 quarts+, you can double this recipe to feed a crowd)
Ingredients
1 pound boneless skinless chicken breasts, diced
1 small onion, diced
3 carrots, sliced
2 celery ribs, sliced (one cup)
1/2 teaspoon thyme
1/2 teaspoon celery seed
1/2 teaspoon turmeric
1 teaspoon sea salt
1 tablespoon cornstarch
32oz chicken broth (not needed until day of cooking)
2 cups wide egg noodles (not needed until day of cooking)
Directions
Combine all ingredients, except noodles, in crockpot.
Cook on "low" setting for 6-8 hours or until chicken is cooked through.
Add noodles for the last 15 minutes.
To Freeze and Cook Later
Label your freezer bag with the name of the recipe, cooking instructions, and use-by date (three months from when you prepped the meal). Add all ingredients, except noodles and broth, to your bag. Remove as much air as possible, seal, and freeze for up to three months.  When ready to cook, thaw in refrigerator overnight or in morning in water.  Add to crockpot with broth and cook for 6-8 hours on low.  Cook with noodles for additional 15 minutes.
Serve with fresh cracked pepper, hard rolls, and a fresh garden salad.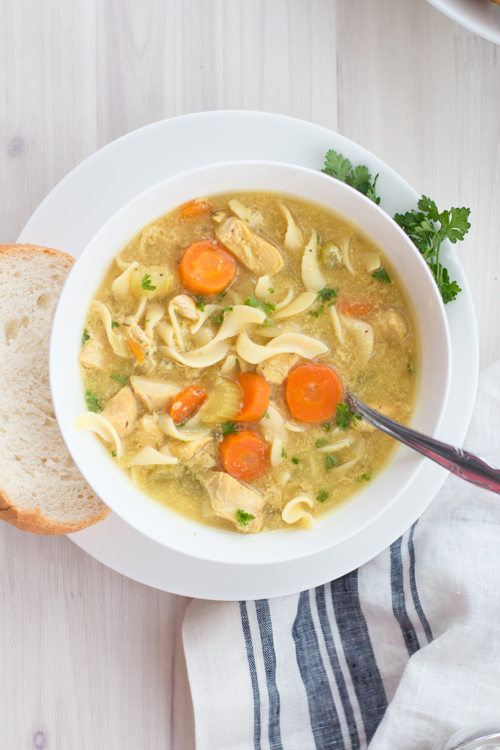 ---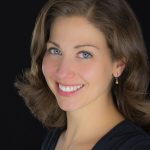 Jill Petrush Rogers is an artist and former bookbuyer/seller. Jill recently moved back to her hometown of Pittsburgh, PA with her husband, Tom, and their two energy-filled boys. Jill loves to channel her creativity by coming up with recipes as a contributing writer for New Leaf Wellness.