Is there anything better than the smell of bacon cooking?  Maybe only the knowledge that it's part of a one-pot, healthy, and delicious crockpot meal.  You're going to love this recipe, Friends.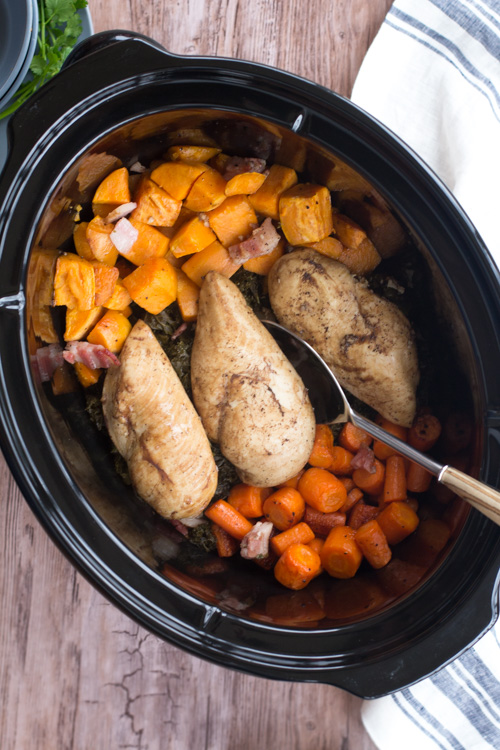 It is so easy to eat lots of fruits and vegetables in the summer when they're in season, but what about the fall and winter?  My solution is to embrace the seasonal root vegetables that are healthy, budget-friendly, and delicious (like carrots, sweet potatoes, and beets).
I love using my crockpot to make pot roasts with carrots (this is one of my favorite recipes) and soups that are loaded with veggies.  This new crockpot recipe combines chicken with tons of vegetables and a healthy dose of bacon for an amazing, one-pot meal!
I'm not going to lie, this dish smells A-MAZ-ZING! I like chicken thighs for this recipe because they are hearty, like the vegetables, but chicken breasts also work fine. You can omit the bacon if you want, but it really does take this recipe over the top. We like to buy all-natural, uncured bacon that is antibiotic, hormone and nitrite-free to make it a little more justifiable. Plus, we're pretty firm believers in "everything in moderation."  Enjoy!
Crockpot Bacon Balsamic Chicken and Vegetables
Yields: 6 servings
Ingredients
2 pounds boneless skinless chicken breasts or thighs
1/4 cup balsamic vinegar
1/2 cup chicken broth
3 cloves of garlic, minced
1/2 teaspoon of ground black pepper
3 small sweet potatoes (about 1 1/2 pounds), peeled and cubed
1 bunch kale, rinsed and chopped
1 pound carrots, peeled and chopped (you can substitute other veggies of your choice – brussels sprouts or green beans would be great)
4 slices bacon, chopped
Directions
Combine all ingredients in crockpot and cook on low for 6-8 hours.
To Freeze and Cook Later
Label your freezer bag with the name of the recipe, cooking instructions, and use-by date (three months from when you prepped the meal). Add all ingredients to your bag. Remove as much air as possible, seal, and freeze for up to three months.  When ready to cook, thaw in refrigerator overnight or in morning in water and then cook on low for 6-8 hours.
---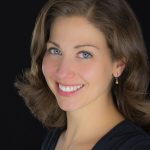 Jill Petrush Rogers is an artist and former bookbuyer/seller. Jill recently moved back to her hometown of Pittsburgh, PA with her husband, Tom, and their two energy-filled boys. Jill loves to channel her creativity by coming up with recipes as a contributing writer for New Leaf Wellness.