This healthy recipe for crockpot beef and broccoli is our new family favorite.  The meat is tender, the broccoli is fresh, and the sauce takes on the perfect savory taste and consistency with the help of some cornstarch.  Add a side of rice and dinner is done!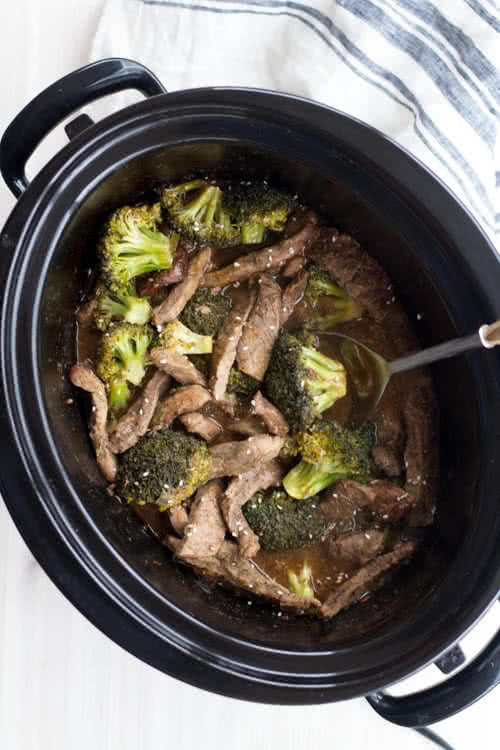 I like take-out as much as the next gal, but why spend a ton of money for something full of additives, when you can make a delicious, healthy version at home?! You can choose the freshest and healthiest ingredients AND feed your entire family without breaking the bank.
This beef and broccoli can be quickly added to the crockpot in the morning or assembled and frozen for up to three months.  If you plan on freezing, I would wait to add the broccoli until the day of cooking.  Fresh broccoli is one of the only vegetables that I've had trouble freezing without cooking, or "blanching", first.
Another option: You can cook everything at once in the crockpot or wait to add the broccoli for the last 45 minutes or so (until the broccoli is cooked to your liking). This way, the beef cooks down and melts in your mouth while the broccoli retains its crunch.  Regardless, you'll only have one "pot" to clean!

Healthy Crockpot Beef and Broccoli
Yields 6 servings
Ingredients
2 pounds sirloin tip steak, fat trimmed and sliced
4 cloves garlic, minced
1 small yellow onion, diced
3 tablespoons corn starch
2 tablespoons brown sugar
1 inch fresh ginger root, peeled and grated
1/2 cup beef broth
1/2 cup soy sauce
1/2 teaspoon pepper
1 pound fresh broccoli florets* (not needed until day of cooking)
Directions
Add steak and broccoli to crockpot.
In a bowl, combine remaining ingredients and pour into crockpot.
Cook on low for 6 hours.
*If you prefer crunchy vegetables, wait to add broccoli until last 45 minutes – one hour of cooking.
To Freeze and Cook Later
Label your freezer bag with the name of the recipe, cooking instructions, and use-by date (three months from when you prepped the meal).  To your freezer bag, add all ingredients, except broccoli.  Remove as much air as possible, seal, and freeze for up to three months.  When ready to cook, thaw in refrigerator overnight or in morning in water and and then follow cooking instructions above.
Serve over rice. YUM.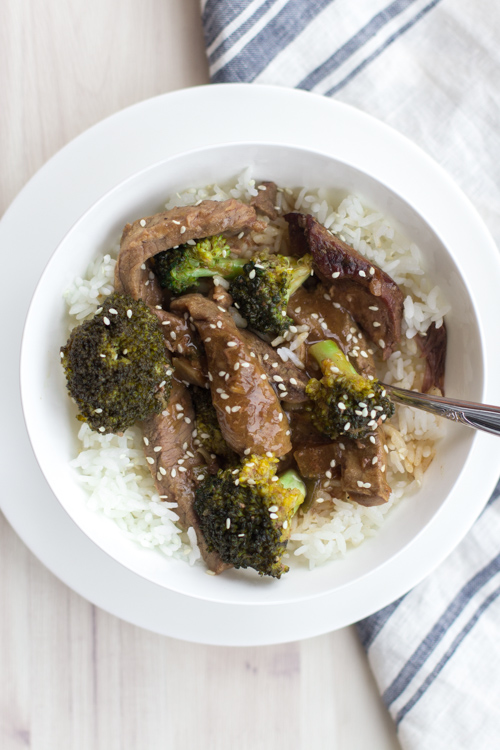 ---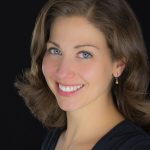 Jill Petrush Rogers is an artist and former bookbuyer/seller. Jill recently moved back to her hometown of Pittsburgh, PA with her husband, Tom, and their two energy-filled boys. Jill loves to channel her creativity by coming up with recipes as a contributing writer for New Leaf Wellness.