My cousin, Jacquie, has an awesome recipe for Shortcut Sausage Spinach Tomato Soup.  Jacquie describes her soup recipe as the perfect "weeknight soup" because you can quickly make it in a pot on your stovetop.  I have a thing for my slow cooker though, so I decided to modify Jacquie's recipe to cook in my slow cooker.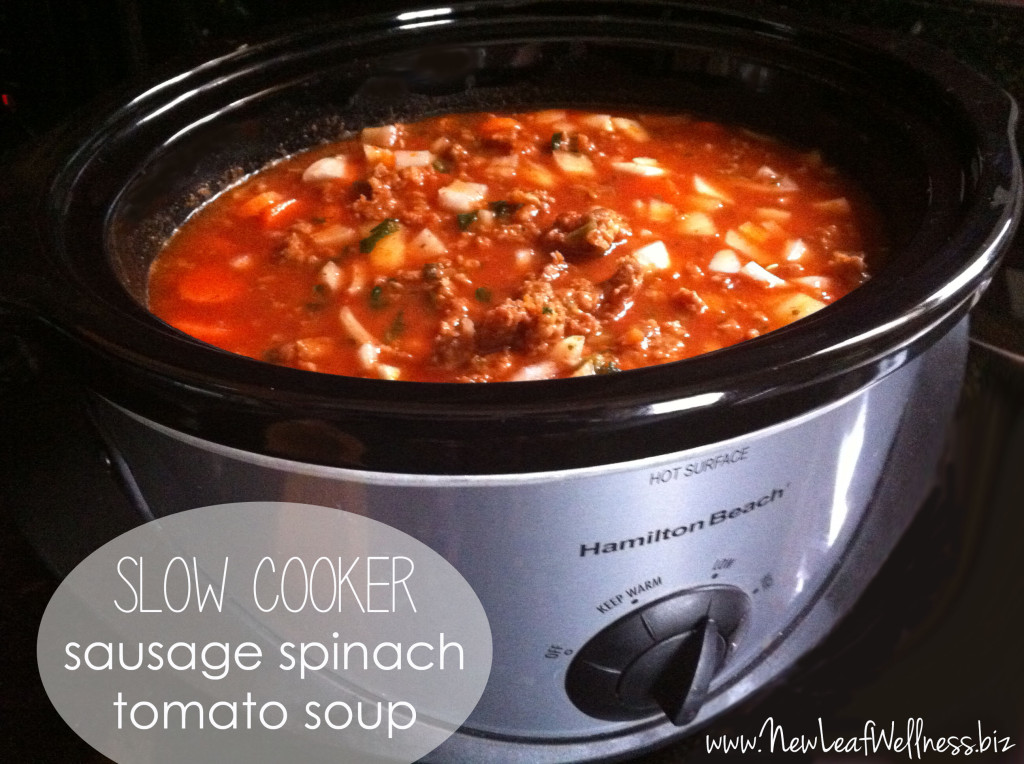 It's an absolutely delicious soup recipe that your whole family will love.  You'll love it because it's easy to make and can even be frozen ahead of time for a busy weeknight.  Enjoy!
Slow Cooker Sausage Spinach Tomato Soup Recipe
Ingredients
1 lb ground sweet or spicy Italian sausage (We prefer spicy.  Note: If you can only find sausage links, remove the casing before cooking.)
24 oz jar of pasta sauce
1 can of cannellini beans, drained and rinsed
1 box of frozen chopped spinach
1/2 pound of carrots (about 4 large carrots), peeled and chopped into bite-sized pieces
1 small yellow onion, diced (about one cup)
4 cups of chicken broth
1 cup uncooked pasta (I like to use elbow macaroni or ditalini)
Directions
Brown the sausage in a pan.
Add the sausage and the rest of ingredients (except the pasta) to your slow cooker and cook on the "low" setting for 6-8 hours.
Add pasta the last 15 minutes of cooking and turn the heat to "high."
To Freeze and Cook Later
Add all ingredients to a gallon-sized plastic freezer bag (except chicken broth and pasta).  When ready to eat, thaw overnight in refrigerator and dump into your slow cooker with chicken broth.  Cook on "low" setting for 6-8 hours or until sausage is cooked through.  Add pasta and turn heat to "high."
Serve with garlic bread.

---
Let's show Jacquie some love for letting me share her soup as a slow cooker recipe.  You can find more of her awesome recipes, DIYs, and gorgeous photos on her website The Sweeter Side of Mommyhood.  You can also find her on:
Question: What's your favorite kind of soup?