So, I got it in my head that I wanted to prep a bunch of freezer meals made from organic ingredients at Costco.  I ended up making 10 crockpot freezer meals and I'm excited to share my recipes and grocery list.  Since I was able to freeze them without any cooking ahead of time they only took me one hour to make, including clean-up.  Wahoo!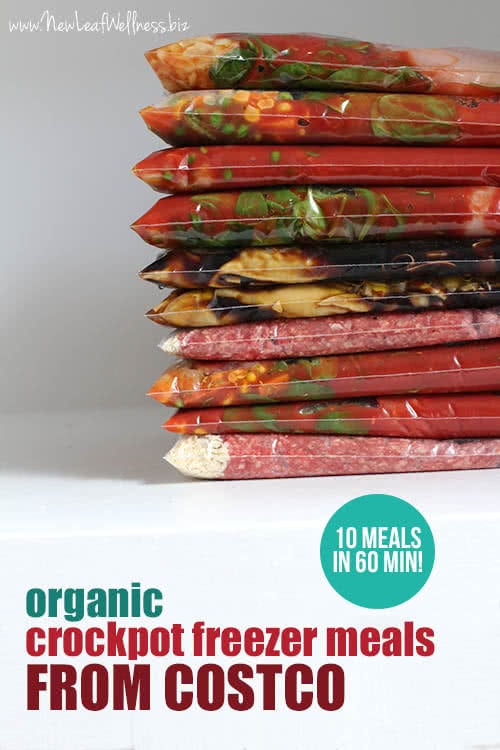 My in-laws were visiting last week so they watched our daughters while my husband and I went shopping at Costco and looked for inspiration in their organic foods.  They didn't have nearly as many options as I thought they would, but I found these gems:
Organic tomato sauce
Organic vegetable potstickers
Organic chicken breasts
Organic ground beef
Organic extra virgin olive oil
Organic chicken stock
Organic baby spinach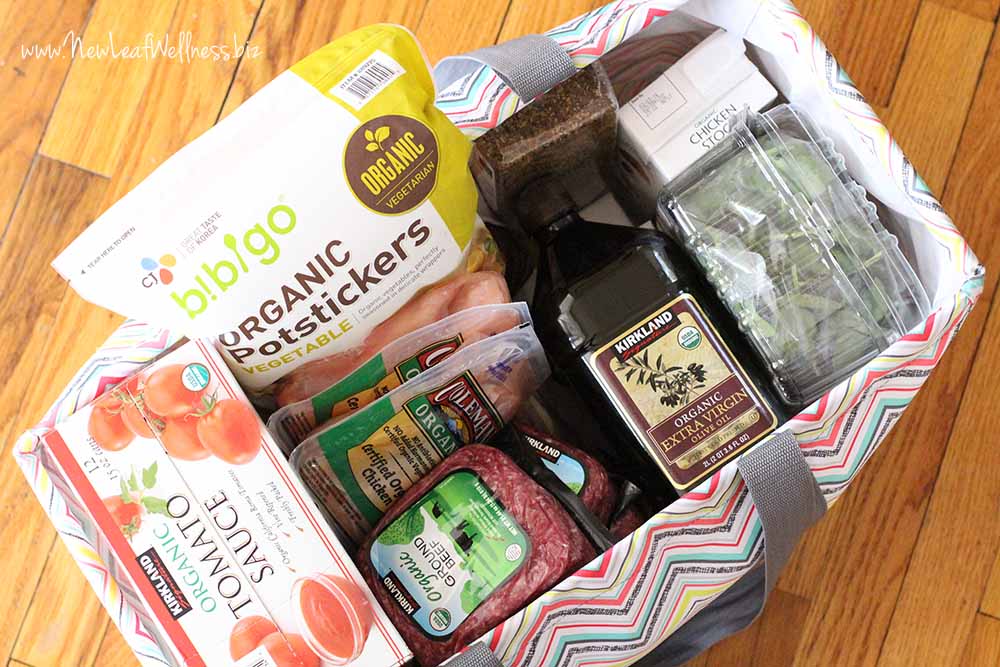 Then, I got creative and made these 10 organic crockpot freezer meals:
Two freezer bags of Italian chicken
Two freezer bags of Asian chicken and vegetable potstickers (sauce inspired by our favorite honey sesame chicken from Damn Delicious)
Two freezer bags of crockpot "Monster" burgers (based on our favorite baked sliders)
Four freezer bags of hearty tomato vegetable soup – two with chicken and two with beef (based on some of the soups in my crockpot cookbooks and shared for free below)
CLICK HERE FOR THE FREE RECIPES AND GROCERY LIST
Since they'll all be cooked in the crockpot I didn't have to do any cooking ahead of time.  I just added the ingredients to freezer bags and stuck them in the freezer.  Genius, right?

We've made a version of all of these meals before, and I can tell you that they're delicious.  I decided to make at least two bags of each recipe because it saved time while prepping and we don't mind eating the same thing twice in three months (which is how long most freezer meals will last in a standard fridge/freezer combo).
Doubling the recipes also helped me use up most of the bulk purchases from Costco.  I spent a total of $130 on organic ingredients and combined them with spices and other items that I had on-hand, like organic honey and frozen mixed veggies that I bought at Costco last month.  The recipes are all very simple, so you can make them even if you don't shop at Costco or use organic ingredients.
My husband and I are especially excited about the Asian chicken recipe with potstickers.  YUM.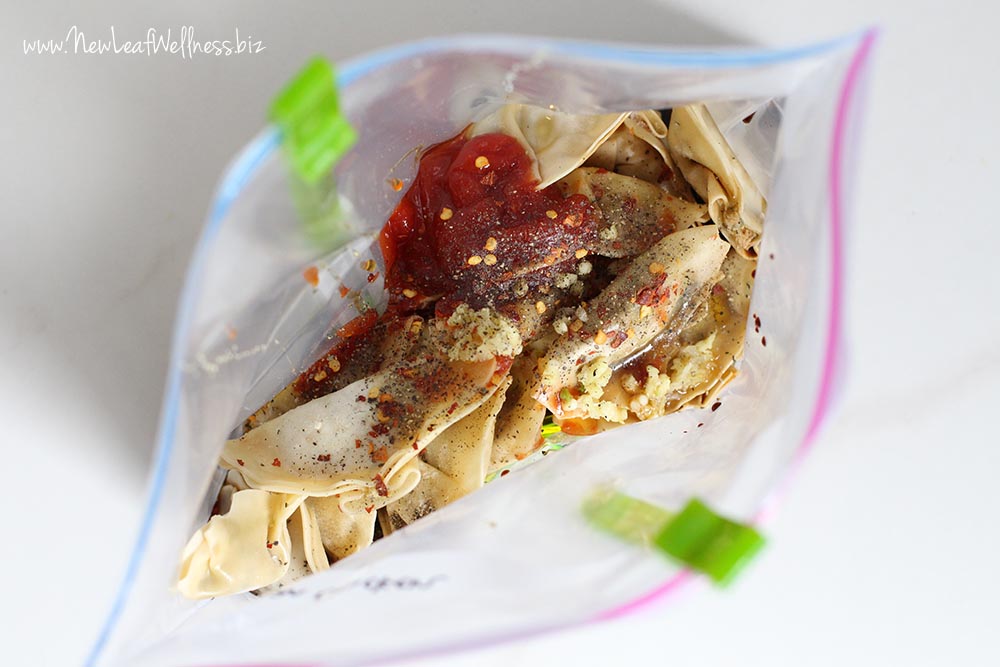 I only had an hour to prep my meals before meeting one of my friends to go running so I hustled!  To save time, I skipped writing out my freezer labels and just wrote on the bags with a Sharpie.  Since I'm familiar with all of the recipes I'm keeping my fingers crossed that I'll remember the cooking instructions.
Prepping 10 dinner in an hour is pretty darn amazing, isn't it?!  I even loaded the dishwasher, emptied the trash can, and wiped down the kitchen counters.   Now we're set with 10 dinners for busy weeknights.  Woot!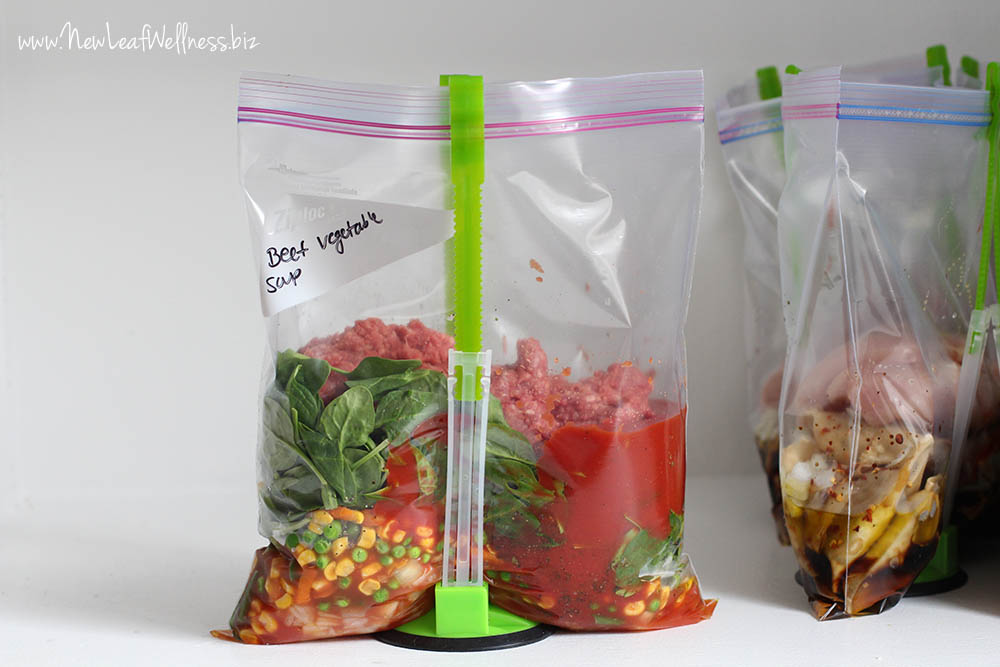 I don't have any fancy kitchen tools, but I did use a food chopper to dice the onions (because I hate cutting onions!) and my new hands-free baggy stands to keep my bags from spilling.
The number of servings per recipe varies from 3-6.  It's very easy to double the recipes if you're feeding a crowd or cut them in half if you're only feeding one or two people at a time.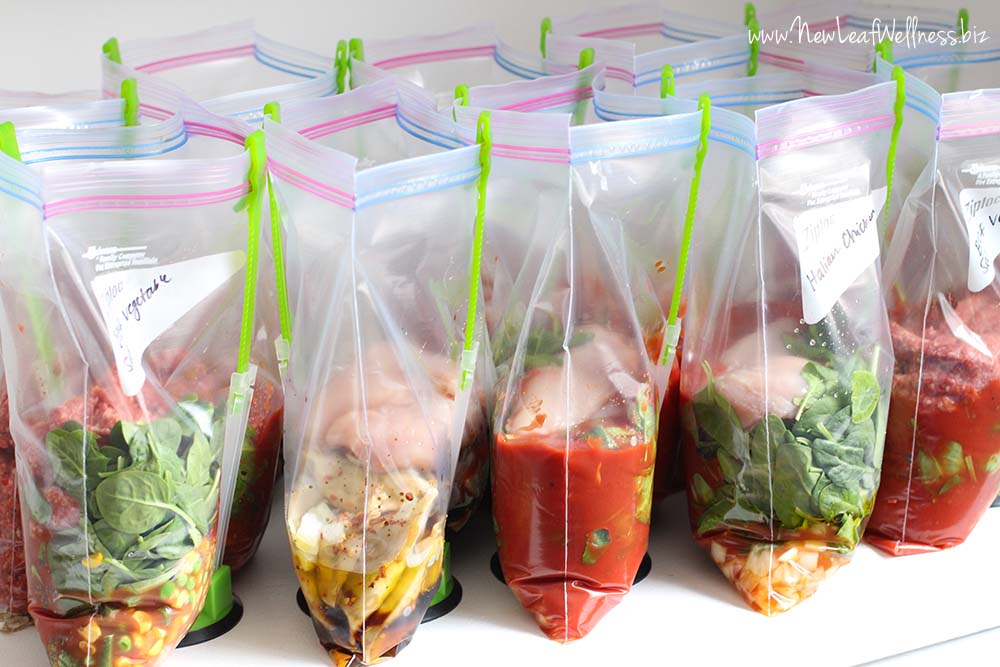 I like to serve my crockpot freezer meals with basic side dishes, like spaghetti, garlic bread, or a side salad.  Such an easy way to get dinner on the table every night.
If you're new to crockpot freezer meals, the recipes and grocery list in the pdf above will walk you through the process step-by-step.  It's so easy, I swear!  My crockpot cookbooks also include a lot of great recipes and tips.
Thoughts or questions?  Please leave a comment below and I'll respond as soon as I can.  I'd love to hear from you.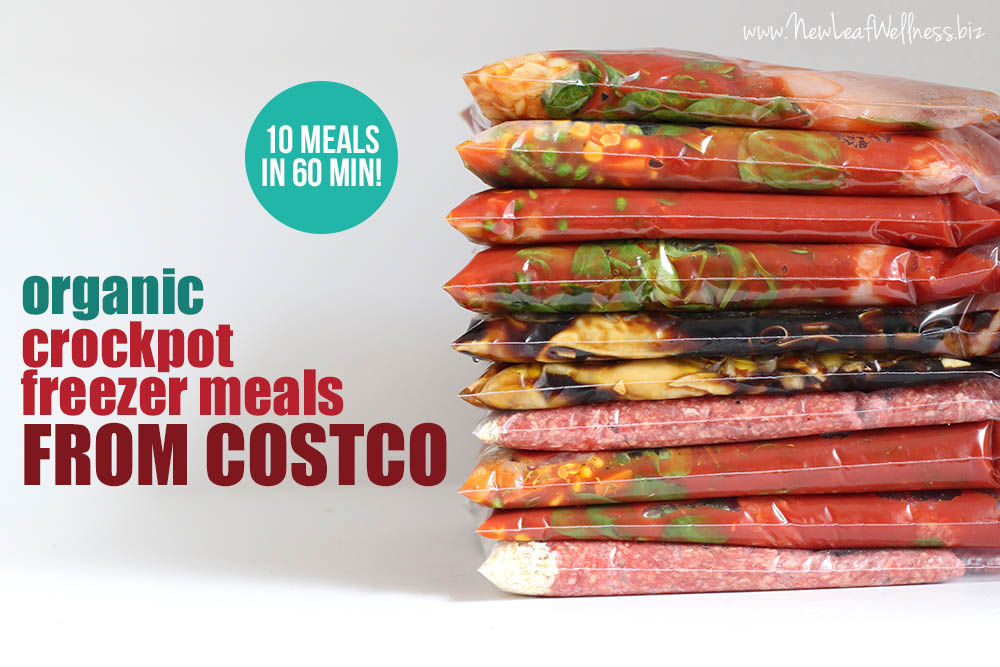 PS I've gotten some requests to share "after" pics of my freezer meals when they're finished cooking.  While I can't always do that because it can take me months to cook all of the meals, we couldn't resist trying three of these meals last week.  YUMMM.