We had this shredded crockpot BBQ pork for dinner last night and it was delicious.  My one year old inhaled a plate while I was taking this photo.  When I was finished taking pics, I got to sit down with my family and eat this styled plate myself – lucky me!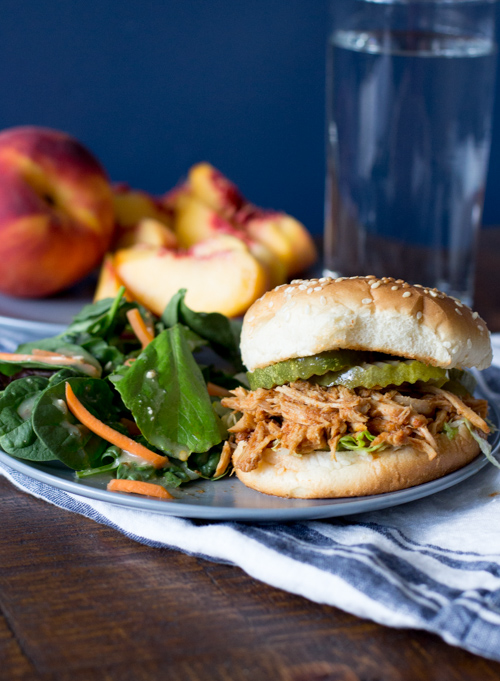 This idea for this recipe started when boneless pork roasts were buy one, get one free at the grocery store last week. I bought six and turned them into crockpot freezer meals and I knew one of them had to be a BBQ pork recipe.  The meat cooks down and shreds and melts in your mouth. YUM.
What's so great about this recipe? 
It's simple and delicious!
You can stock up when pork is on sale and save lots of money.
All you have to do is combine the ingredients in your crockpot and turn it on.
We rely on our crockpot for dinner 3-6 nights/week.  There are a ton of easy and healthy recipes and I love not having to stress about cooking.  Someday I'll get back into more complicated recipes, but while my kids are little I'm going to embrace this season of life and do whatever it takes to get by.
Shredded Crockpot BBQ Pork Recipe
Yields: 8 servings
Ingredients
2-pound boneless pork roast, fat trimmed (bone-in pork butt, chicken breasts, or chicken thighs are also delicious)
1 cup ketchup
2 tablespoons Worcestershire sauce
1 tablespoon light brown sugar
1 tablespoon chili powder
2 teaspoons curry powder
1 teaspoon hot sauce
Directions
Add all ingredients to your crockpot and cook on "low" setting for 6-8 hours.
Shred pork and stir.
To Freeze and Cook Later
Label a gallon-sized plastic freezer bag with the name of the recipe, cooking instructions, and "use-by" date.
Add all ingredients, remove as much air as possible, seal, and freeze for up to three months.
When ready to eat, thaw overnight in the refrigerator or in the morning in water. Follow cooking instructions above.
Thoughts or questions?  Leave a comment below and I'll respond as soon as I can.  I'd love to hear from you. xo, Kelly