Here's my super easy recipe for slow cooker sweet and spicy BBQ pork.  It only requires four ingredients and a few minutes to prep.  The meat is moist, flavorful, and will fall off the bone.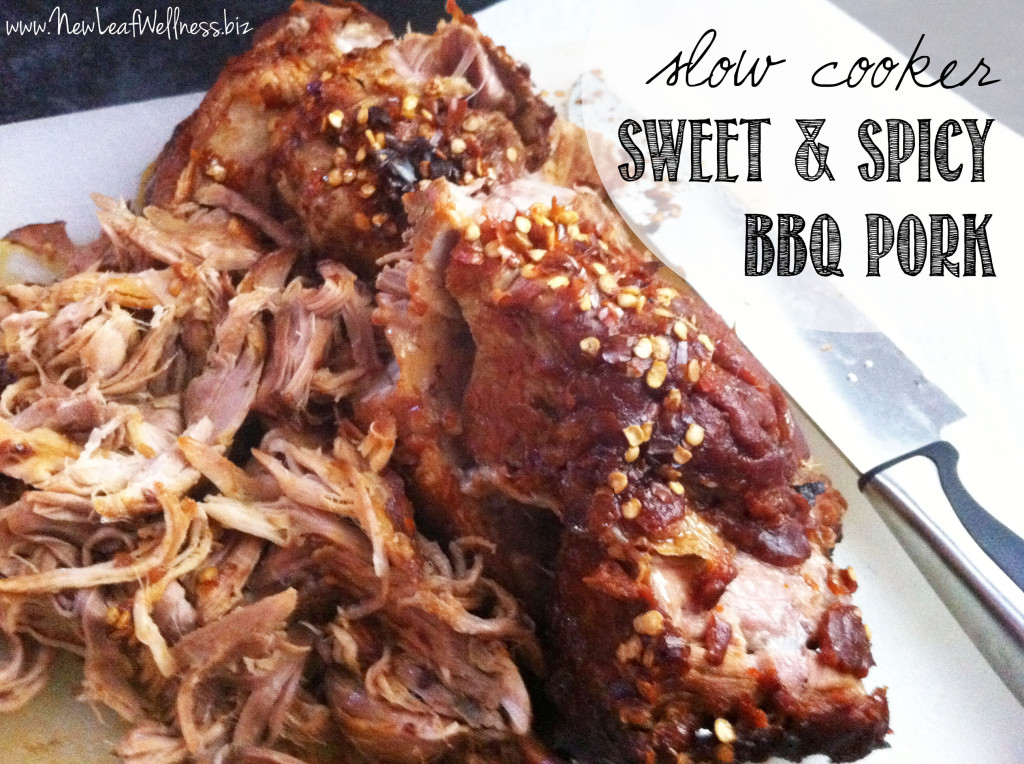 If you're looking for a new slow cooker recipe, this is it!  This super simple recipe for slow cooker sweet and spicy BBQ pork only adds three ingredients to the pork – store-bought BBQ sauce, crushed red pepper flakes, and apple juice.  (Items that I almost always have on-hand in my kitchen.)
I got the idea to combine pork with BBQ sauce and apple juice from The Sweeter Side of Mommyhood.   The apple juice makes the pork sweet, but not super sweet.  I'd actually explain the taste more as "tangy."  (In a totally delicious way, of course.)
Growing up in a mostly-German family, we always ate pork on New Year's Day, so this seems like the perfect time to share a new slow cooker pork recipe.  At the end of last year, I shared my three favorite pork recipes (including pork and sauerkraut, BBQ pork, and cranberry pork roast).
Since then, I've created recipes for slow cooker party pork and shredded pork tacos with lime (featured in my 'Easy & Healthy Slow Cooker Recipes' Cookbook).
I think it's safe to say that I have a thing for slow cooker pork roast recipes.  (If you don't like pork, feel free to sub a beef roast in any of my pork recipes, though.)
Slow Cooker Sweet and Spicy BBQ Pork
Ingredients
2-3lb bone-in pork shoulder (sometimes labeled as a "boston butt" or "pork butt")
1 bottle bbq sauce
1 tablespoond crushed red pepper flakes
1 cup apple juice
Directions
Add pork to your slow cooker.
Combine BBQ sauce, apple juice, and red pepper flakes in a bowl, and pour over pork.
Add lid to slow cooker and cook on "low" for 8-12 hours.  (The time will depend on the strength of your slow cooker.)
Remove pork from your slow cooker and separate the meat from bone with a fork.  (The meat should fall off the bone.)
Strain the juice left in your slow cooker and serve as a gravy with the meat.
ENJOY.
If you're looking to take advantage of New Year's pork sales, you can also prep a bunch of my slow cooker pork recipes for our freezer following my freezer-to-slow cooker tips for beginners.