Skip the take-out and make this crockpot Chinese pepper steak at home instead. It's healthier, cheaper, and so delicious!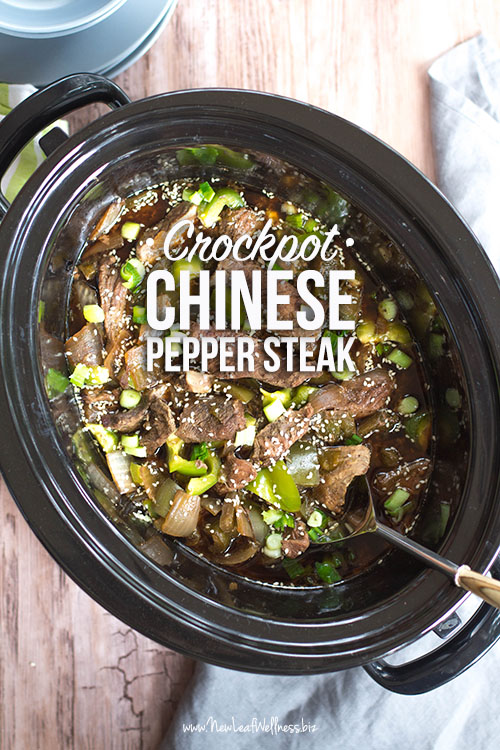 My cousin, Jill, and I are hard at work on a new cookbook eBook full of easy, healthy, and delicious crockpot freezer meals.  Jill's recipe for Chinese pepper steak is so yummy that we thought about including it, but then we decided to limit the recipes to super healthy ones without processed foods…so soy sauce didn't make the cut.
The good news is that you can make this recipe today.  The sauce is the perfect amount of salty and sweet and there are so many green peppers that you won't feel one bit bad about eating this meal.
Is it weird that I wish I could jump in and swim around?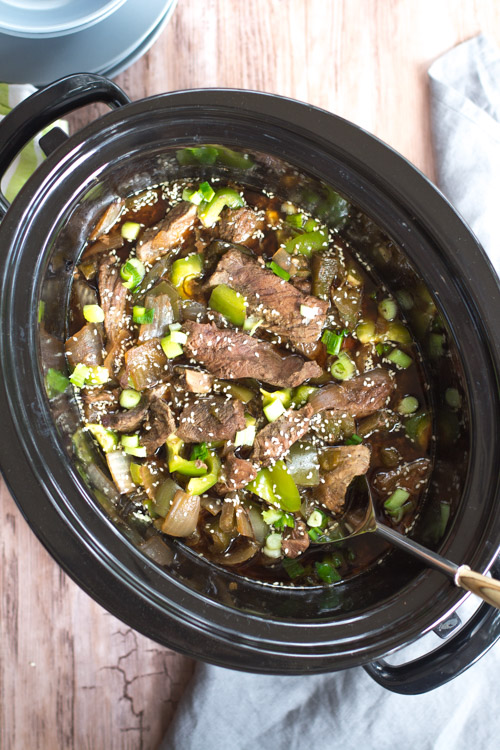 I'm including options below for how to cook it.  You can add everything to your crockpot and call it a day or you can combine the raw ingredients in a gallon-sized plastic freezer bag and freeze for later.  (I made a bag last time beef was Buy One, Get One Free at the grocery store so I'll have a meal on-hand when I don't feel like cooking.)
You can even cook in on your stovetop in 15 minutes or less.  #winning
Enjoy, Friends!
Crockpot Chinese Pepper Steak with Green Peppers and Onions
Yields: 6 servings
Ingredients
2 pounds beef top sirloin steak, fat trimmed and sliced

3 green bell peppers, chopped

2 small yellow onions, chopped

4 cloves of garlic, minced

½ cup soy sauce 

1 tablespoon honey

½ teaspoon ground ginger

½ teaspoon black pepper
Directions
Combine all ingredient in crockpot and cook on "low" setting for 4 hours in a 6-quart crockpot (this is my favorite programmable one with a timer) or 8 hours in a 4-quart crockpot.
Note: If you prefer your veggies al dente, you can wait and add the green peppers the last 30 minutes of cooking.
To Freeze and Cook Later
Label your freezer bag with the name of the recipe, cooking instructions, and use-by date (three months from when you prepped the meal).  To your freezer bag, add all ingredients.  Remove as much air as possible, seal, and freeze for up to three months.  When ready to cook, thaw in refrigerator overnight or in morning in water and and then follow cooking instructions above.
To Cook on Your Stovetop
If frozen, thaw.  Add contents of freezer bag to large skillet, pot, or saute pan. Bring to boil and simmer uncovered for 10-15 minutes, stirring occasionally, until beef is cooked through.
Top with sesame seeds and sliced green onions and serve over rice. YUM.

Thoughts or questions?  Leave a comment below and I'll respond asap. XO, Kelly