I know you're going to love this recipe for slow cooker beef, lime, and cilantro chili.  It's absolutely delicious and so easy to make.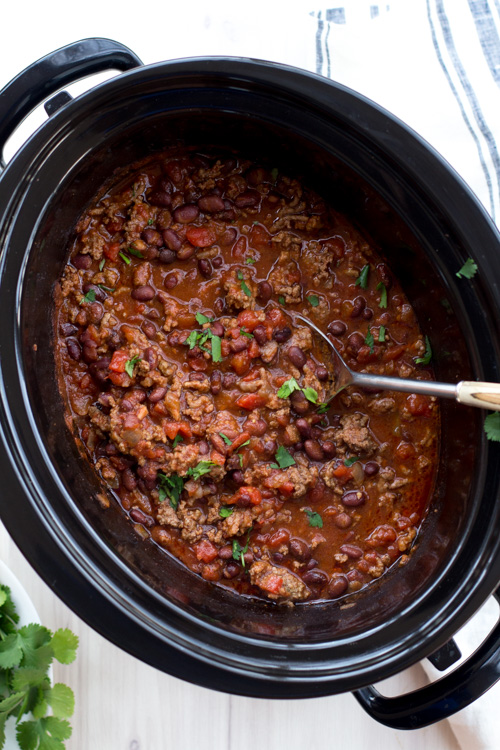 Is there such a thing as too many chili recipes?  I think not.  We're obsessed with this turkey and black bean chili and this Mexican chili with cornbread topping, and the millions of others in my freezer meal eCookbooks.
I think it's safe to say that chili is one of my favorite recipes to make in my slow cooker.  Not only do my kids love it, but it only takes a few minutes to add everything to the slow cooker and call it a day.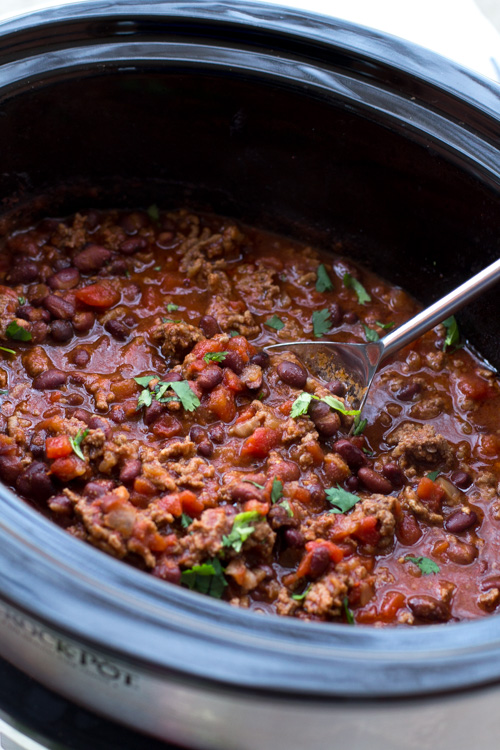 If you're looking for extra gold stars, you can add all of the ingredients to a gallon-sized baggie and freeze for later.  It makes meal prep extra fast in the morning, and I love always having an extra meal on hand for busy weeknights.  You can even quickly thaw this meal in a pinch and boil it in a big pot on the stovetop.  I'm all about the options, friends.
I think what you're going to love most about this recipe is the addition of lime and cilantro.  The lime flavor is subtle, but it adds something special to the recipe and it tenderizes the beef to the point that it melts in your mouth.  YUM.

Slow Cooker Beef, Lime & Cilantro Chili
Ingredients
1 pound 85% lean ground beef
14.5oz can tomato sauce
14.5oz can petite diced tomatoes, undrained
2 cans black beans, drained and rinsed
1 small yellow onion, chopped (about one cup)
The juice and zest from 1 lime
2 cloves garlic, minced
1 tablespoon chili powder
2 teaspoons ground cumin
Fresh cilantro, chopped (for topping)
Directions
Add all of the ingredients to your slow cooker (except cilantro) and cook on low for 8 hours.
Break apart beef and stir in about one tablespoon of fresh cilantro.
Spoon into bowls and top with shredded cheddar cheese and tortilla chips.  So good!