You know those people who like to read the same kind of books as you do, and you can always trust their recommendations?  Well, my friend Terry is like that…only about crockpot recipes.  Terry is the only person I know who loves crockpot freezer meals as much as I do, and I always trust her recipe recommendations.  (I even asked her to review my No Cook Freezer Meals eBook before I started selling it!)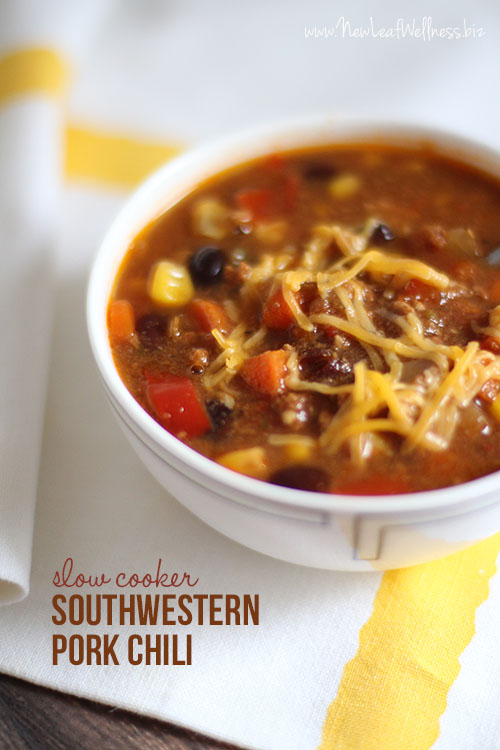 When Terry told me about her favorite recipe for slow cooker southwestern pork chili, I was so excited that I went to the grocery store that day to buy the ingredients.  The final product didn't disappoint.  Terry's slow cooker southwestern pork chili is so delicious that I begged her to share her recipe on my blog.  Here's Terry to tell you more…
This is one of my family's favorite crockpot meals, especially on a cool winter day.  I can't tell you how nice it is to come home to this sweet and spicy slow cooker southwestern pork chili after a busy day of work! Simply combine all of the ingredients in your slow cooker in the morning and dinner is done.
Since we love this chili so much, I often prep two or three batches at a time, one to eat for dinner the next day, and the others to freeze. When I make a few, I buy a bulk package of ground pork, a couple of carrots and onions, etc., and it makes a very economical meal as well.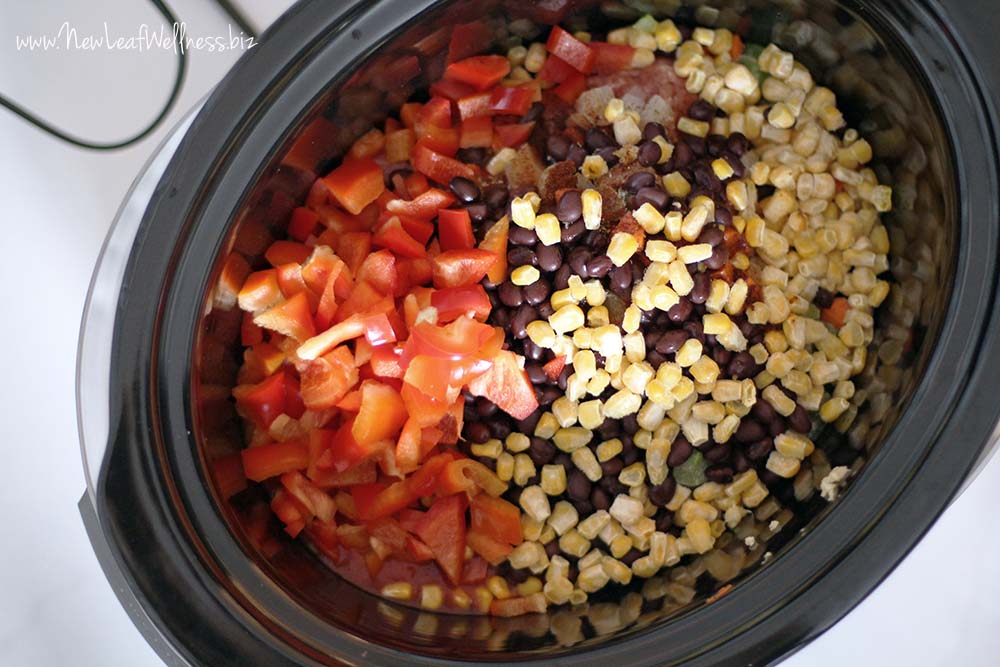 Slow Cooker Southwestern Pork Chili
Ingredients
1 pound lean ground pork (You can sub ground turkey if you don't eat pork)
2 onions, peeled and chopped (about two cups)
2 stalks of celery, chopped (about one cup)
1 large carrot, peeled and diced
1 red pepper, chopped
14oz can of tomato sauce
15.5oz can of black beans, drained and rinsed
1 cup frozen corn
2 tablespoons light brown sugar
1 cup chicken broth (store-bought or homemade)
3 cloves of garlic, minced
2 teaspoons chili powder
1 teaspoon oregano
1/2 teaspoon salt
1/4 teaspoon pepper
Directions
Brown the ground pork on your stovetop, and take it off the burner allowing it to cool.
Combine all ingredients in your crockpot and cover with lid.
Cook on "low" for 6-8 hours.
To Freeze
Label a gallon-sized plastic freezer bag. Add all ingredients to the freezer bag. Remove as much air as possible, seal and lay flat in your freezer for up to three months.  When ready to eat, thaw and cook in your crockpot on "low" setting for 6-8 hours.  Break apart pork and serve.
I like to add chopped cilantro, two teaspoons of chipotle peppers (this is what makes it spicy), and fresh lime juice to the chili right before serving.  Serve with sour cream, cheese, and avocado on the side.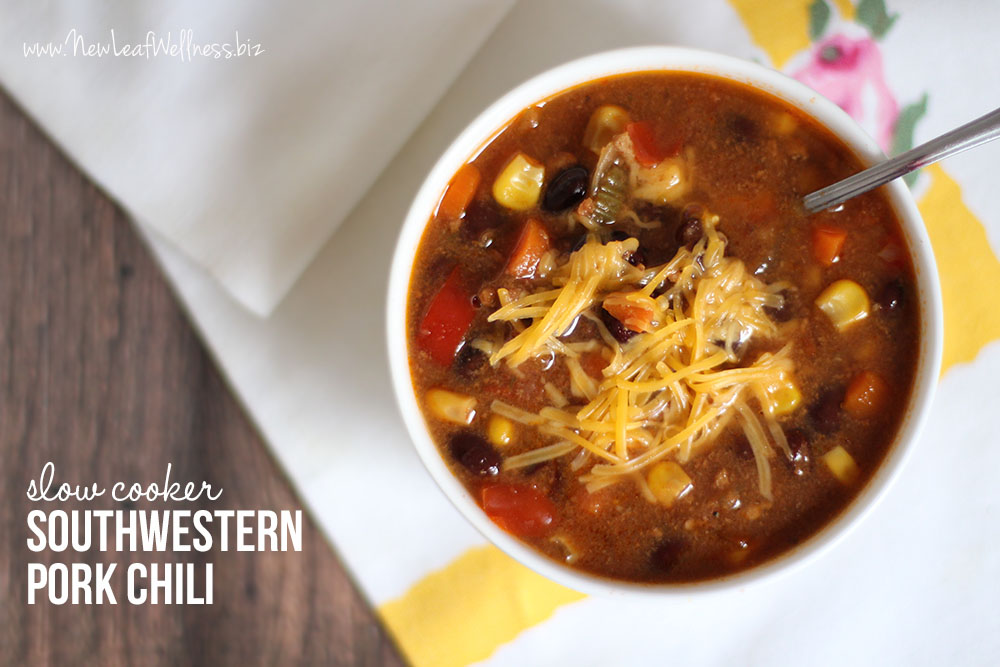 ---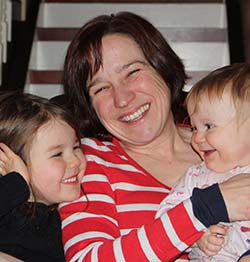 Terry is a mother of two amazing girls, Maiya and Olivia. She lives in Calgary, AB, Canada and loves to run. Terry is currently training for her 5th marathon, and hoping to run her first ultra this year. Terry admits that it's a lot of work balancing her love for running with working full-time and being a mom, but she loves the challenge and everything that it has brought into her life. You can connect with Terry on Facebook, Twitter, Instagram, and BlogLovin.