This recipe for crockpot shredded pork with balsamic pear is full of flavor, healthy, and so easy to make!  Simply combine a pork roast with pears, balsamic vinegar, and spices it a crockpot and turn it on.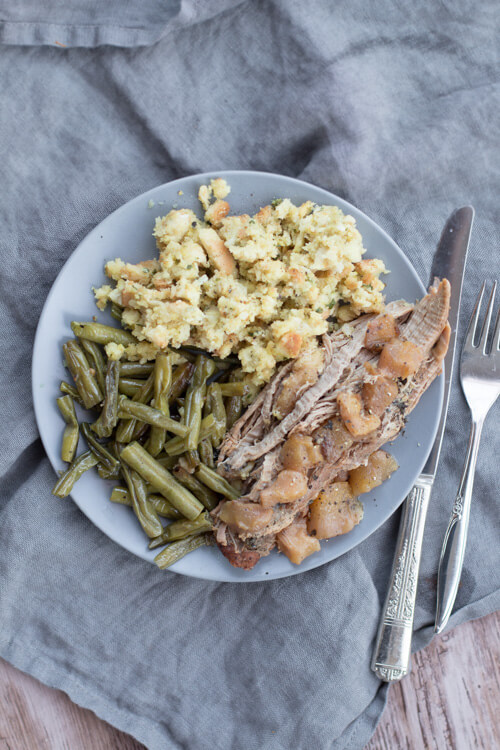 Our brand-new Clean Eating Crockpot Freezer Meals eCookbook includes three different recipes that combine pork with fruit (one with apples, one with peaches, and one with pears). I was so inspired by the natural sweetness of the fruit that I decided to come up with a new recipe for the blog. The combination of the sweet pears, sour balsamic vinegar, and savory spices in this meal is perfection. I, personally, even like to add a little heat and eat mine with a bit of horseradish!
I love this dish because it goes well with so many sides. You can serve it with rice or potatoes…a big salad or your favorite seasonal vegetable. It is definitely a hearty, home cooked meal that will fill your bellies with nutrients and warmth.  Bon Appetit!
Crockpot Shredded Pork with Balsamic Pears
Yields: 6  servings
Ingredients
2 pound boneless pork roast
3 Bosc pears, peeled and diced
3 garlic cloves, minced
1/4 cup balsamic vinegar
1/2 teaspoon rosemary
1/2 teaspoon thyme
1/2 teaspoon sage
1/2 teaspoon ground mustard
1/2 teaspoon black pepper
Directions
Combine all ingredients in crockpot and cook on low for 6-8 hours.
Shred pork and trim fat.
To Freeze and Cook Later
Label your freezer bag with the name of the recipe, cooking instructions, and use-by date (three months from when you prepped the meal).  To your freezer bag, add all ingredients.  Remove as much air as possible, seal, and freeze for up to three months.  When ready to cook, thaw in refrigerator overnight or in morning in water and then cook in a crockpot for 6-8 hours on low.
For a little added spice, serve with horseradish and your favorite vegetables.
---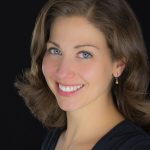 Jill Petrush Rogers is an artist and former bookbuyer/seller. Jill recently moved back to her hometown of Pittsburgh, PA with her husband, Tom, and their two energy-filled boys. Jill loves to channel her creativity by coming up with recipes as a contributing writer for New Leaf Wellness.