This entire dish cooks in your crockpot, even the cornbread topping!  It's the perfect combination of spicy and sweet, and it couldn't be easier to make.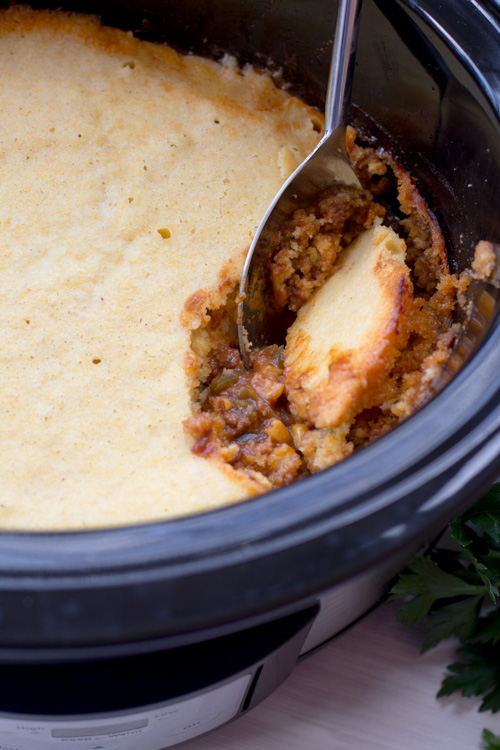 This crockpot Mexican chili is a quicker version of my Baked Chili Cornbread Casserole.  The baked version is one of my family's favorite meals and I've been making it for years.  To save time, I prepped two batches of this crockpot version during my ground beef freezer meal marathon, and it turned out fantastic!
Simply combine the ground beef, veggies, and sauce in your crockpot and let it do all of the work for you.  An hour before serving, top with shredded cheese and cornbread batter and turn the cooking setting to "high."  That means you only have one pot to wash!
But really, the best part of this recipe is taste.  The combination of slightly spicy chili and sweet cornbread topping is one that I think your whole family will love.  Enjoy!

Crockpot Mexican Chili with Cornbread Topping
Yields: 3-4 adult sized servings (If you want to double, I would double the filling and keep the cornbread topping the same.)
Ingredients
1 pound lean ground beef
1 medium-sized yellow onion, chopped (about one cup)
1 pepper (any color), chopped (about one cup)
1 cup frozen corn
2 tablespoons and 1.5 teaspoons of homemade taco seasoning or 1 package of store-bought taco seasoning
10.75oz can of condensed tomato soup (You can also substitute one 14.5oz can of tomato sauce and 1 teaspoon honey)
1/4 pound cheese (we use cheddar or pepper jack), shredded (about one cup)
1 box of Jiffy corn muffin mix* + the necessary ingredients listed on the box (Jiffy calls for one egg and 1/3 cup milk)
*If you want to substitute a different brand of corn muffin mix or a homemade recipe, make enough for 6 muffins.  Any more than that will not cook through in the crockpot.
Directions
Add ground beef, onion, peppers, corn, seasoning, and tomato soup to crockpot.
Cover with lid and cook on "low" setting for 6-8 hours, until beef is cooked through.
Break apart beef and mix all ingredients.
Top with shredded with cheese and assembled corn muffin batter.
Add lid and cook on "high" setting for 60 minutes or until cornbread topping is cooked through.
To Freeze and Cook Later
Combine all ingredients except cheese and corn muffin mix in a gallon-sized plastic freezer bag.  Remove as much air from the bag as possible and freeze for up to three months.  When you're ready to cook, thaw overnight in refrigerator.  Pour contents of freezer bag into your crockpot and cook on "low" setting for 6-8 hours, or until ground beef is cooked through.  Break apart beef, and top chili with shredded cheese and cornbread batter. Replace lid and cook for one hour on "high" setting.
Enjoy!
---
PS If you prefer chicken to beef, I have a chicken version of this recipe as well!