Here's a new, super simple recipe for your crockpot: Apricot-Ginger Chicken.  To make it, all you need to do is combine a mere six ingredients in a gallon-sized bag and freeze for a busy weeknight.  Dinner doesn't get any easier than this, my friends.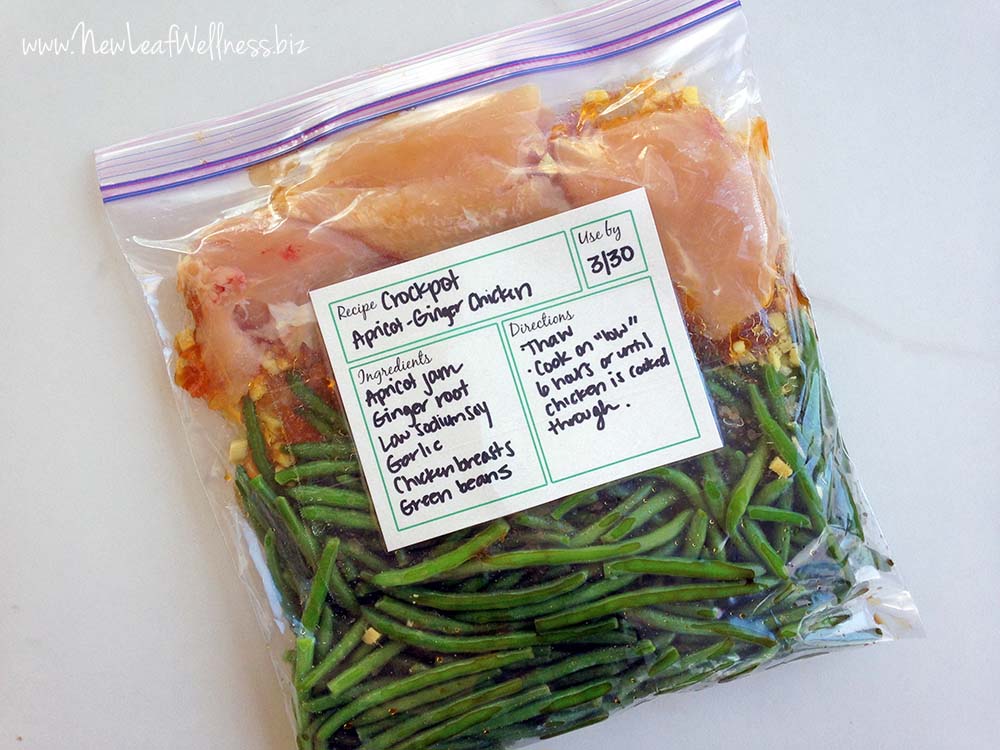 This crockpot apricot-ginger chicken is a twist on my ginger-peach chicken recipe.  I was actually planning to make the peach recipe, but ALDI only had apricot jam, so this new recipe was born.
To make dinner even easier, I added a pound of green beans so the meal includes a vegetable without any extra work.  Add a side of brown rice and you're good to go.  (I actually buy the pouches of microwaveable organic quinoa and brown rice at Costco.  Shhhh.  Don't tell.)
The final product is sweet, savory, and delicious.  I'm including the directions below to freeze the meal raw, but you can certainly skip this step and cook it right in your crockpot instead.
Crockpot Apricot-Ginger Chicken with Green Beans
Ingredients
1 pound boneless, skinless chicken breasts (Chicken thighs also taste great)
2/3 cup apricot jam
1 tablespoon low sodium soy sauce
1-inch fresh ginger root, peeled and grated (If you buy a large root, you can freeze whatever is leftover. I place the leftover root whole in my freezer.)
3 cloves garlic, peeled and minced
1 pound frozen green beans (You can sub fresh)
Prep
Combine all ingredients in a gallon-sized plastic freezer bag.  Remove as much air as possible, seal, and lay flat in the freezer for up to 3 months.
Cook
Thaw overnight in refrigerator or in a bowl of cold water.  Dump into crockpot and cook on "low" setting for 6 hours or until chicken is cooked through.
Serve with quinoa, brown rice, potatoes, or whatever you like.