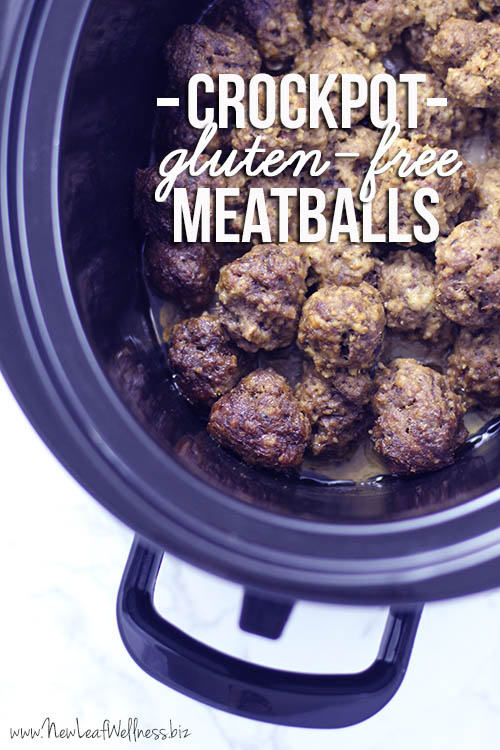 I wrote a blog post with 31 gluten-free crockpot freezer recipes last year that is still super popular.  The top question in the comment section was, "Can you recommend a gluten-free meatballs recipe?"  At the time I didn't have one, but I have one today.
What's so great about these gluten-free meatballs?
They're made in the crockpot with eight simple ingredients.
They freeze great.
They're absolutely delicious.
To make them gluten-free, I use ground oatmeal and seasonings instead of breadcrumbs.  So easy!


This was my first time making meatballs in the crockpot and they turned out great.  I was nervous they might all stick together, but they didn't, and I think they turned out juicier than the meatballs that I bake in the oven.
Gluten-Free Meatballs Crock Pot Recipe
Yields: 40 small meatballs
Ingredients
2 pounds ground beef
2 large eggs
1 cup ground oatmeal (I ground a cup of old fashioned oats in my Magic Bullet)
1/2 teaspoon parsley flakes
1/2 teaspoon garlic powder
1/2 teaspoon onion powder
1/2 teaspoon salt
1/4 teaspoon oregano
Directions
In a large bowl, combine all ingredients and roll into small balls.
Add to crockpot and cook on low setting for 6-8 hours or until meat is cooked through. (OR bake for 20 minutes at 350°.)
Eat plain or add to your favorite soup recipe, like this one: Crockpot Meatball Vegetable Soup.  Yum!
Thoughts or questions? Please leave a comment below and I'll respond as soon as I can.  I'd love to hear from you.