This crockpot cabbage casserole is a delicious and healthy dish that is going to turn your whole family into cabbage lovers!  The combination of meat, brown rice, and slightly crunchy veggies can't be beat and addition of soy sauce is icing on the cake.  Throw in the fact that the recipe is super simple and you're going to want to make it over and over again.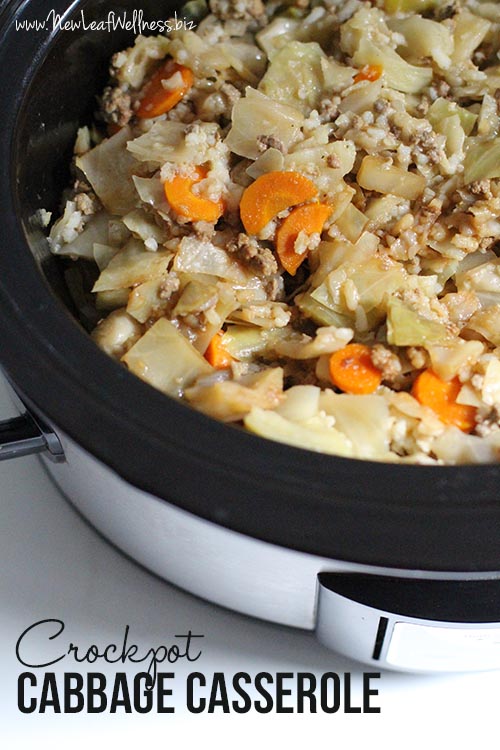 Contributing post from Jill @ The Galactagoddess
If there is one thing that is predictable about children, it is that they are unpredictable! Our now four year old used to be the best eater, now he's super picky!
I'm not sure if it's an influence thing…
"Tell the teachers that I don't like applesauce."
"Buddy, you do like applesauce. You ate a huge bowl the other day!"
"But so-and-so doesn't eat applesauce, so I don't want to either."
Or a control thing…
"I don't like that."
"Buddy, it's always been one of your favorites."
"Well, I don't like it anymore."
Whatever it is, it drives me crazy!! So these days, when I find a healthy meal that not just one, but BOTH of my children "wolf down" I know that it's a keeper…at least until next week. 🙂
This crockpot cabbage casserole recipe is a winner with my whole family.  It's one of my all-time favorite meals from my childhood, and I'm so happy to translate it into an easy crock pot recipe that my children enjoy it as much as I do!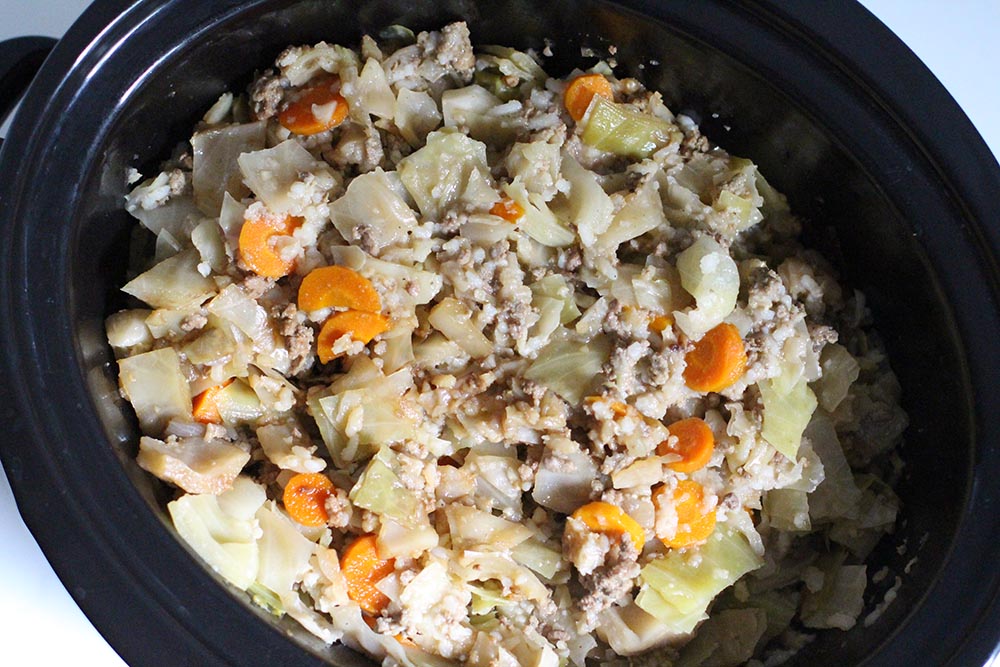 Crockpot Cabbage Casserole
Yields 6-8 servings
Ingredients
1 pound of ground beef or ground turkey
2 medium onions, diced
1 tablespoon olive oil (optional)
1 medium head of cabbage, chopped
2 medium carrots, peeled and thinly sliced
1/2 teaspoon salt
1/4 teaspoon pepper
cooking spray
3/4 cup brown rice (uncooked)
3 cups beef broth or chicken broth
Directions
In a very large pot, brown ground meat and onions with olive oil. (If you choose to use ground beef, you can omit the olive oil.)
Remove pot from heat and add cabbage, carrots, salt, and pepper.  Stir to combine.
Spray crockpot with cooking spray.
Place rice in the bottom of the crockpot.
Pour meat/cabbage mixture on top of rice.
Pour broth on top.
Cover, and cook on "low" for 4-6 hours.
Stir before serving.
Serve with soy sauce…and apple sauce 🙂
To Freeze
Label your freezer bag. Add all ingredients EXCEPT for brown rice and chicken broth to bag. Remove as much air as possible, seal and lay flat in your freezer for up to three months. When ready to cook, thaw, spray crockpot with cooking spray, place rice in the bottom of the slow cooker, add ingredients from freezer bag, and pour broth on top.  Cook on "low" setting for 4-6 hours. Stir before serving. Serve with soy sauce.
This crockpot cabbage casserole recipe fills a 6-quart crockpot to the brim and yields A LOT of food, so if you have a smaller slow cooker or are cooking for less people I recommend completing Steps 1&2 and freezing half of the cabbage/meat mixture for later.  Cut the amount of rice and broth in half.  Keep the cooking time the same.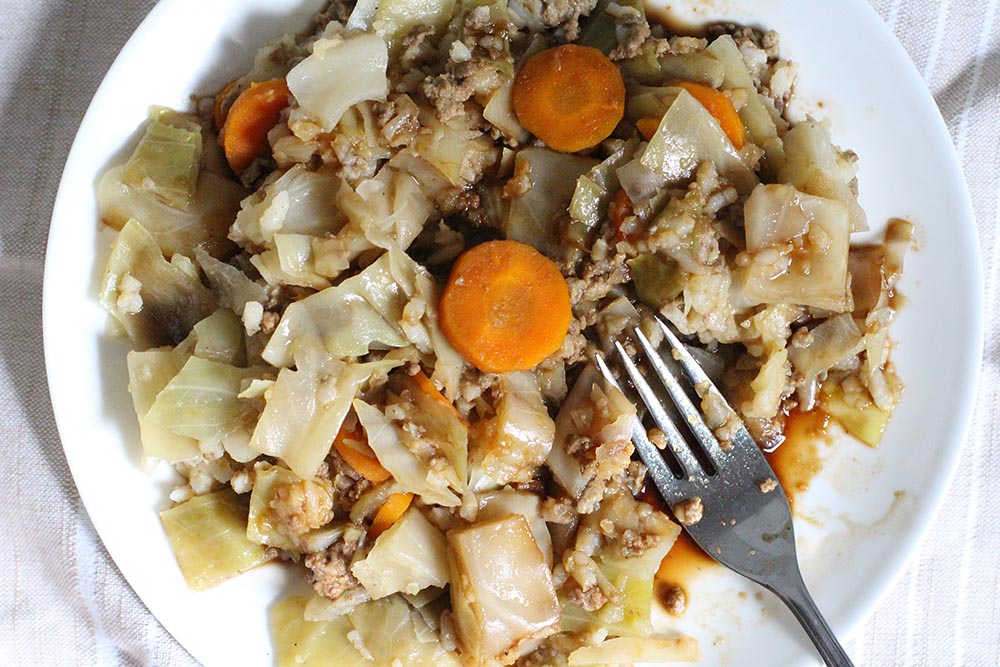 Thoughts or questions? Please leave a comment below. I'd love to hear from you.
---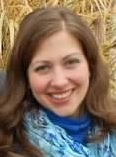 Jill Petrush Rogers is a full-time working Mama to two very active little boys. After becoming a Mama, she realized that her mission is to help others meet and/or exceed their own personal breastfeeding goals.  And so, she became a Certified Lactation Counselor.  You can follow Jill's personal journey on her blog The Galactagoddess and on Facebook.