Let me introduce a new recipe that you're going to want to make every week: Crockpot Salsa Verde Shredded Pork Tacos.  It's easy, healthy, and absolutely delicious!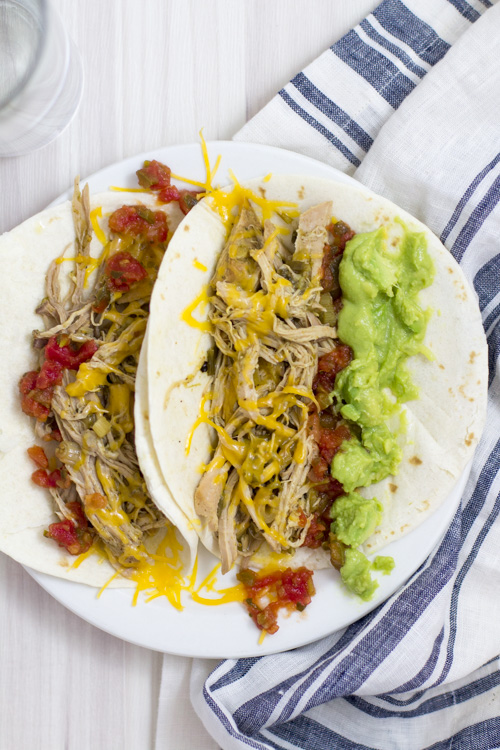 Sometimes blog readers email me their own favorite crockpot recipes or ask me how to modify theirs for the freezer.  The inspiration for this recipe came from an email for a salsa verde pork roast.  As soon as I read it, I emailed it to my cousin Jill to see if she wanted to try it first and modify the ingredients to make it a good fit for this blog.
Jill put her own spin on it to make it extra easy and healthy and I couldn't wait to try it.  Let me cut to the chase and tell you that it didn't disappoint.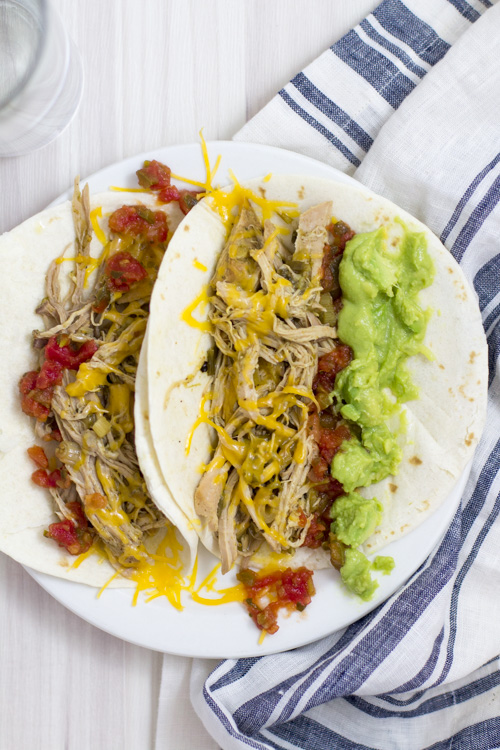 We absolutely love this recipe served over rice like Chipotle's burrito bowls.  I put the pork in my programmable crockpot and the rice in my programmable rice cooker and dinner is done by 5:30pm.  Woot!
The combination of salsa verde and spices is easy and flavorful.  The meat gets so tender in the crockpot that it almost melts in your mouth.  Plus, it's so good leftover the next day.  Both my husband and I raved over our lunches and Andy even made a comment about wanting to eat something like this for lunch everyday.
If you don't want to serve over rice, try soft tortillas to make tacos.  They're delicious and kid-friendly and sure to become a new regular dinner in your house.  Enjoy, Friends!
Easy and Healthy Crockpot Salsa Verde Shredded Pork Tacos
Yields 6 servings
Ingredients
2 pound boneless pork roast, fat trimmed
16oz jar salsa verde
1 small yellow onion, diced
3 cloves garlic, minced
1 tablespoon cumin
1/4 teaspoon red pepper flakes
1/4 teaspoon back pepper
Directions
Combine all ingredients in crockpot and cook on low for 6-8 hours.
Shred pork and mix with sauce in crockpot.
To Freeze and Cook Later
Label your freezer bag with the name of the recipe, cooking instructions, and use-by date (three months from when you prepped the meal).  To your freezer bag, add all ingredients.  Remove as much air as possible, seal, and freeze for up to three months.  When ready to cook, thaw in refrigerator overnight or in morning in water and then follow cooking instructions above.
Serve over rice to make burrito bowls or add to soft tortillas with shredded cheese, salsa, and guacamole.  Yum!