I started thinking…which of my go-to recipes would translate well in the crockpot? I quickly decided that I wanted to tackle Crockpot Greens & Beans. Unless you are of Italian descent, or have frequented many Italian restaurants, there's a chance that you've never even heard of it. Well, my friends, prepare to have your mind…and your taste buds blown!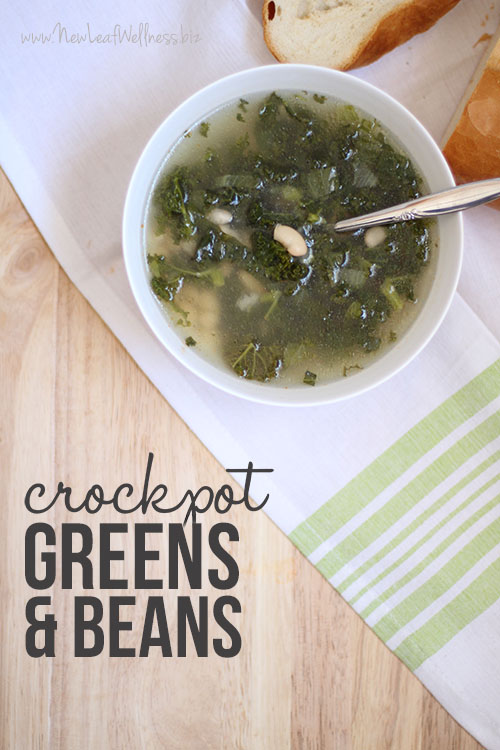 Contributor post written by Jill @ The Galactagoddess
My Grandma learned much about cooking from her Dad (mine & Kelly's Great Grandfather), but all of the Italian dishes (such as this one) came from her Mother-in-law. However, the truth of the matter is, my Great Grandma NEVER wrote anything down! So many of the recipes have been passed down verbally and are perhaps a little bit different each time that they are made.
Greens & Beans is something that I make when we need to go grocery shopping! Its ingredients are usually the last foods left in our house, and when combined they create one of the healthiest, most delicious comfort foods you could possibly imagine. Usually, like my Grandmother, I wing it…at least I used to before I created this crockpot version.
Now, I may never make it on the stove again…it's THAT good!!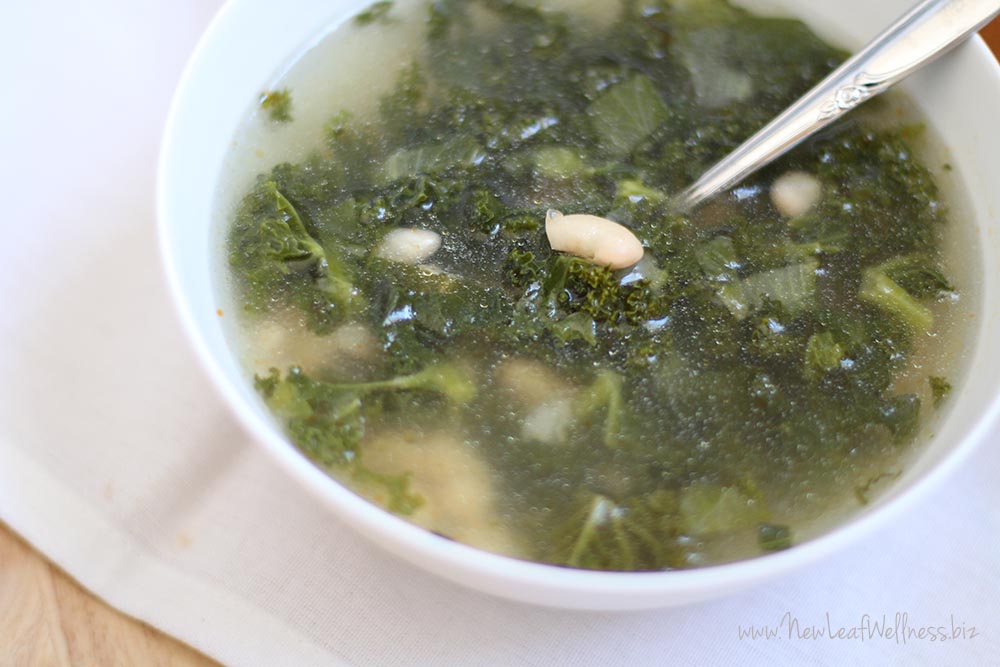 Crockpot Greens & Beans
Yields: Six servings
Ingredients
8oz dried cannellini beans*, rinsed
32oz chicken or vegetable broth (4 cups)
64oz water (8 cups)
1 tablespoon extra virgin olive oil
3-5 cloves of garlic, sliced or minced
1/2 teaspoon sea salt
1/2 teaspoon black pepper
Pinch of sugar (literally pinch the sugar…it will be just enough to take away any bitterness from the garlic)
1 head of escarole, chopped
1 hearty handful of kale, chopped
Freshly grated Parmesan cheese, for topping
*Honestly, I'm not one to stick to recipes (hmm…wonder where I get that from!) Which means I'm also ALL about substitutions. If that makes you uncomfortable, skip this paragraph!! If not, read on. Although, cannellini beans are the traditional bean for this dish, it will be equally delicious with great northern beans, navy beans or pretty much any white bean you come across. Also, I prefer to not discriminate when it comes to greens. My Grandma, typically uses escarole, but I have literally made this dish with every green under the sun!! Escarole, kale, spinach, mixed field greens, etc. You truly cannot go wrong!!
Directions
Place all ingredients except greens and parmesan cheese in the crockpot.
Cook on "low" setting for 6-8 hours, or until beans are tender.
Add greens, stir, and continue to cook on "low" for 1/2 hour.
Serve in soup bowls and top with freshly grated Parmesan cheese.
The only side dish you need is a big loaf of crusty bread…oh, and maybe a nice glass of red wine!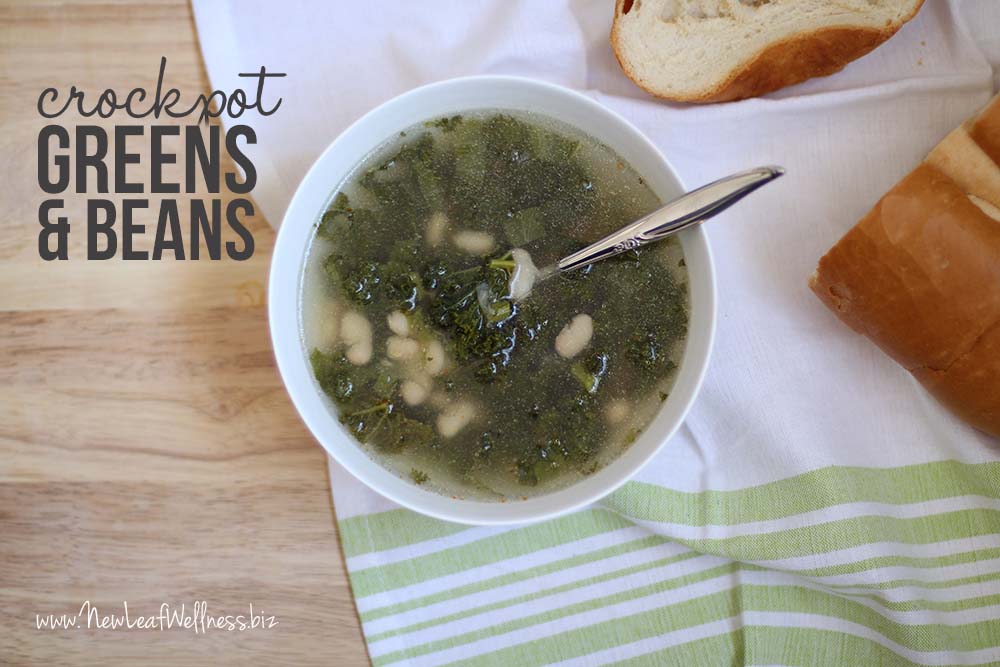 Notes on Garlic
I LOVE garlic. So I prefer A LOT (5 cloves) and sliced (so that you can actually savor the individual flavor). But less is OK too and minced is equally fine. You know what you and your family like and dislike, so go with your gut! I'm a big fan of freezing my garlic, it makes it easier to slice or mince. If you cook with half as much garlic and onions as I do, I recommend investing in one of these Stainless Steel Bars.
A Note From Kelly: If your family is full of crazy meat-eaters like mine, you can add a pound of ground Italian sausage to this recipe.  I've tried Jill's recipe with this addition and it's delicious!
---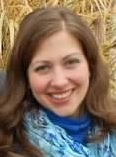 Jill Petrush Rogers is a full-time working Mama to two very active little boys, ages 4 years & 17 months. After becoming a Mama, she realized that her mission is to help others meet and/or exceed their own personal breastfeeding goals.  And so, she became a Certified Lactation Counselor.  You can follow Jill's personal journey on her blog The Galactagoddess and on Facebook.