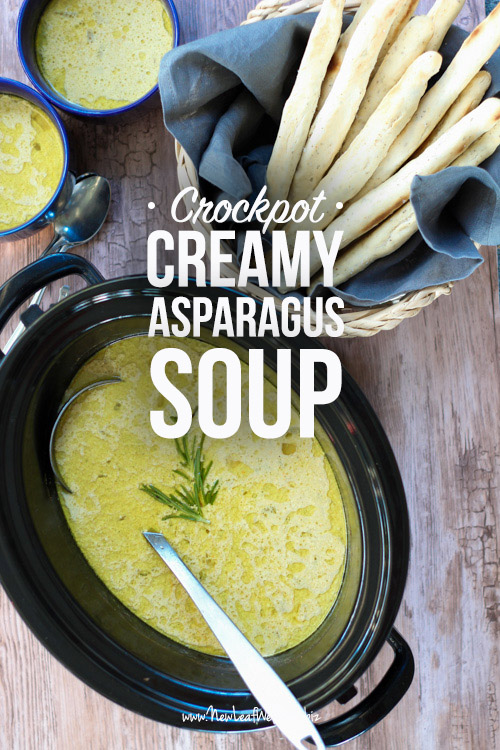 When I was in high school (we don't have to talk about how long ago that was) I used to work in a mall.  In the foodcourt was an Au Bon Pain. They had the most amazing asparagus soup and served it with rosemary breadsticks. It was my favorite lunch/dinner.
A few years later, I went to college in a remote Western New York village…nowhere near an Au Bon Pain. Needless to say, I thought about that soup and breadsticks a lot. At the time, awesome food blogs were few and far between (gasp!), Pinterest didn't exist, and very few people even knew what a copycat recipe was.
Naturally, I had to create my own. And so, Jill's Creamy Asparagus Goodness was born.  I'll spare you the fluff and just call it Creamy Asparagus Soup…but know that it is full of goodness.  I've even replaced the condensed soup, for my own healthier homemade version and made my own simple breadsticks.
I hope that your family loves these recipes as much as I do!
Crockpot Creamy Asparagus Soup
Yields 6 cups
Ingredients
1lb asparagus, chopped
1 small yellow onion, chopped
2 tablespoons unsalted butter
2 cups vegetable broth
16oz heavy whipping cream
2 containers of homemade celery soup or 1 can of condensed cream of celery soup + 1 can water
1/2 teaspoon black pepper
1/2 teaspoon rosemary (optional)
Directions
Combine all ingredients in crockpot.
Cook on low for 4-6 hours.
Stir.
To Freeze and Cook Later
Label your freezer bag with the name of the recipe, cooking instructions, and use-by date (three months from when you prepped the dip).  To your freezer bag, add all ingredients.  Remove as much air as possible, seal, and freeze for up to three months.  When ready to cook, thaw in refrigerator overnight or in morning in water and and then follow cooking instructions above.
Serve with rosemary breadsticks (recipe below).

Rosemary Breadsticks
Yields 1 dozen
Ingredients
1 1/2 cups all-purpose flour
1 cup whole milk
2 teaspoons baking powder
2 teaspoons dried rosemary
1/2 teaspoon black pepper
course grain salt
extra virgin olive oil
Directions
Preheat oven to 375°.
Mix all ingredients except for salt and olive oil.
Let stand for 30 minutes.
Separate dough into twelve balls.
Roll out into long thin sticks.
Place on greased cookie sheet.
Bake for 12 minutes.
Turn over, brush with olive oil and sprinkle with salt.
Bake for an additional 15 minutes.
---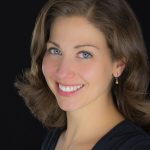 Jill Petrush Rogers is an artist and former bookbuyer/seller. Jill recently moved back to her hometown of Pittsburgh, PA with her husband, Tom, and their two energy-filled boys. Jill loves to channel her creativity by coming up with recipes as a contributing writer for New Leaf Wellness.