Here's a recipe for Slow Cooker Zuppa Toscana with Sweet Potatoes that you need to make this week.  It's super flavorful, healthy, and easy to make.  A win-win-win!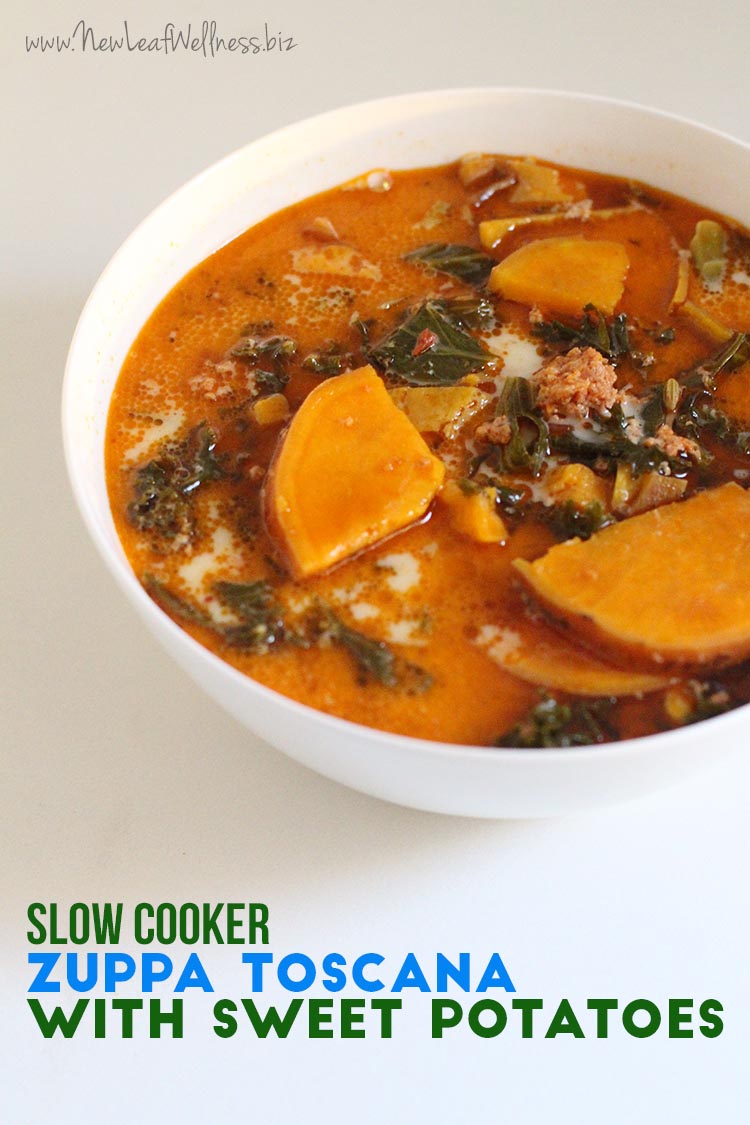 I'm so excited to share this recipe with you because I've been making it for YEARS.  Two years ago, I shared my first homemade version of The Olive Garden's Zuppa Toscana soup.  I made it on the stovetop and my husband and I decided it was the perfect easy weeknight meal.
Last year, I tweaked the recipe to include more user-friendly amounts of kale and chicken broth and shared my updated stovetop recipe.
Then, my sister-in-law told me that she loved making it in her slow cooker with sweet potatoes and I knew it needed yet another update.  My husband and I ate this version of Slow Cooker Zuppa Toscana with Sweet Potatoes for dinner last week and decided it's the best version yet!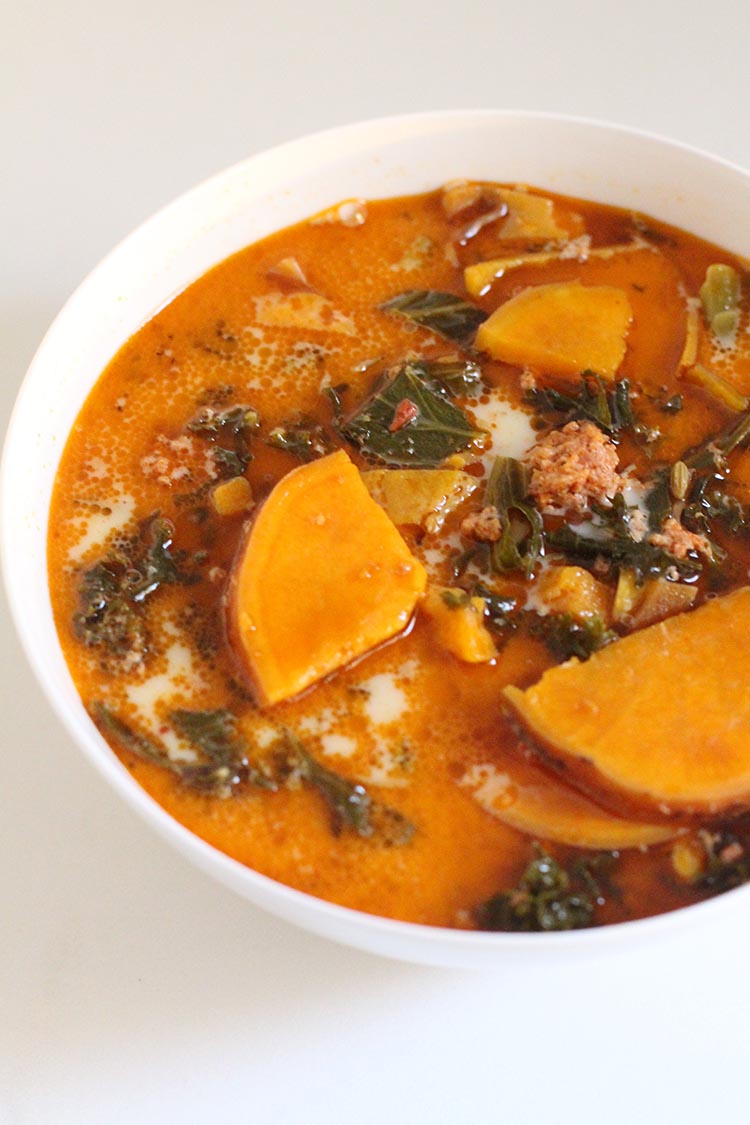 If you buy a three-pound bag of sweet potatoes I highly recommend doubling the recipe and making one for dinner and freezing a second bag to cook later.  Trust me – it's THAT good.
The combination of spicy sausage, sweet potatoes, and spices is to die for.  In my world, easy recipes that taste delicious are kind of the best thing ever and this is one of them.  Add some bonus points for fresh veggies and you'll be making this recipe for years to come too. Enjoy!
Slow Cooker Zuppa Toscana with Sweet Potatoes
Yields: 6 servings
Ingredients
1 pound ground spicy sausage
3 sweet potatoes (about 1.5 pounds), washed and sliced (no need to peel)
1 bunch of kale, washed and chopped
1.5 teaspoons fennel seeds
1.5 teaspoons paprika
1 teaspoon black pepper
1 teaspoon onion powder
1 teaspoon garlic powder
8 cups chicken broth
1 cup heavy cream (or half and half)
Directions
Break apart the sausage and add all ingredients to your slow cooker, except the heavy cream.
Cook 8 hours on "low" setting or until sausage is cooked through.
Add heavy cream and stir to heat through.
To Freeze and Cook Later
To a gallon-sized plastic freezer bag, add all ingredients (except chicken broth and heavy cream.  You can freeze the cream in a separate bag or wait to buy it until you're ready to cook the soup).
When ready to eat, thaw.
Dump bag into slow cooker and add chicken broth.
Cook for 8 hours on "low" setting or until sausage is cooked through.
Break apart sausage and add heavy cream.  Stir to heat through.
Serve with fresh bread.  YUM.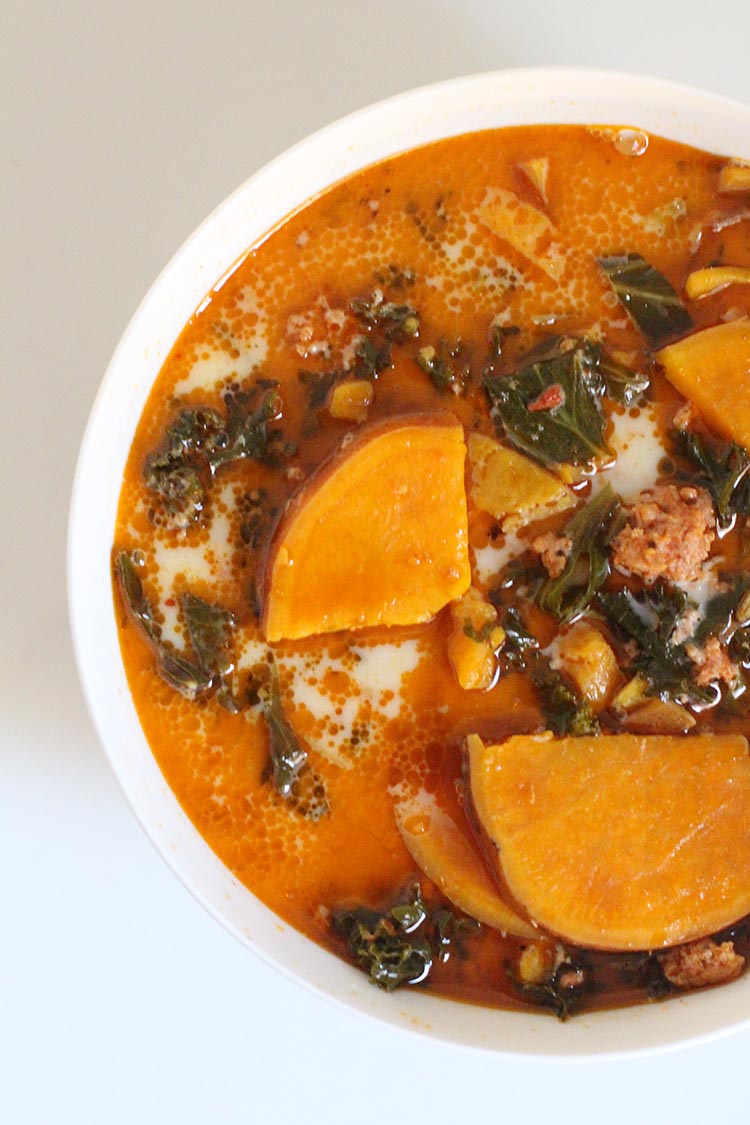 Thoughts or questions?  Please leave a comment below and I'll respond as soon as I can.  I'd love to hear from you.