Meet my new favorite summer recipe: Crockpot Chicken Salad Sandwiches!  Cook the chicken breasts in your crockpot with onion and celery and then mix the shredded chicken with mayo, salt, and pepper.  Pure perfection!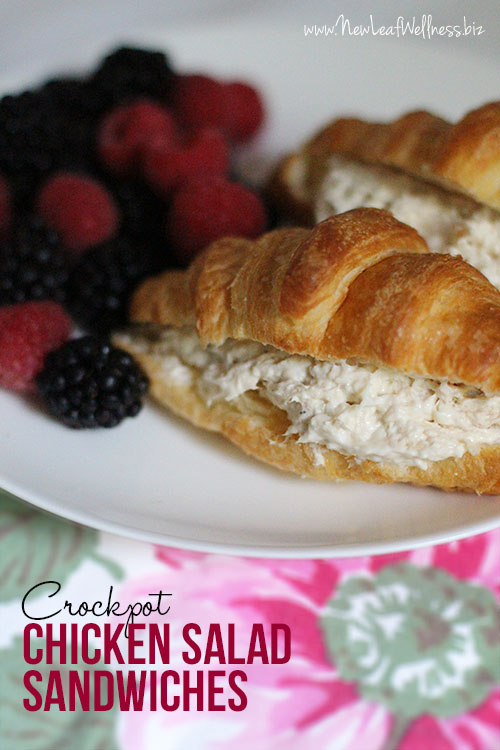 I love using my crockpot in the summer instead of my oven or stovetop.  It keeps my kitchen cool on nights when we're not grilling.
I've been trying to come up with crockpot recipes that can be eaten cold on hot summer nights and these crockpot chicken salad sandwiches are pure perfection.  They're delicious, simple, and so easy to make.
You can whip up a batch in the morning for lunch or make them the day ahead of time for a summer BBQ.  Either way,  I know you're going to love these crockpot chicken salad sandwiches and want to make them over and over again this summer.
Crockpot Chicken Salad Sandwiches
Yields: 14 mini chicken salad sandwiches or 7 large ones
Ingredients
2 lbs boneless skinless chicken breasts, fat trimmed
1/2 small yellow onion, diced (1/2 cup)
2 ribs of celery, diced (1/2 cup)
1.5 cups of mayonnaise
1/4 teaspoon salt
1/4 teaspoon pepper
Directions
Combine chicken, onion, and celery in your crockpot and cook for 4 hours on "low" setting or until chicken is cooked through and tender. (I don't add any liquid to my crockpot because the chicken and veggies release a lot of it while cooking, but if your crockpot is high-powered and you're worried about burning the chicken, add a splash of chicken broth.)
Shred chicken with a fork and cool to room temperature.
Add chicken to a bowl and mix with mayonnaise, salt, and pepper.
Spoon onto croissants and serve!
I love to eat these sandwiches with fresh fruit, but they'd also be great with a side of crockpot baked beans.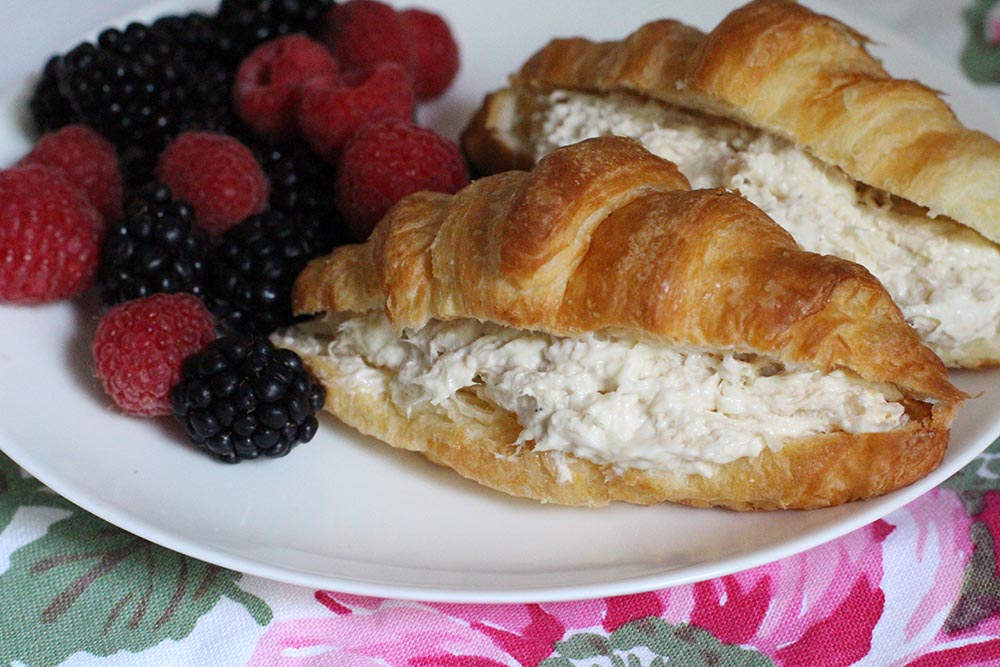 Thoughts or questions? Please leave a comment below. I'd love to hear from you.
I originally shared this recipe on Thirty Handmade Days on 6/14/15.