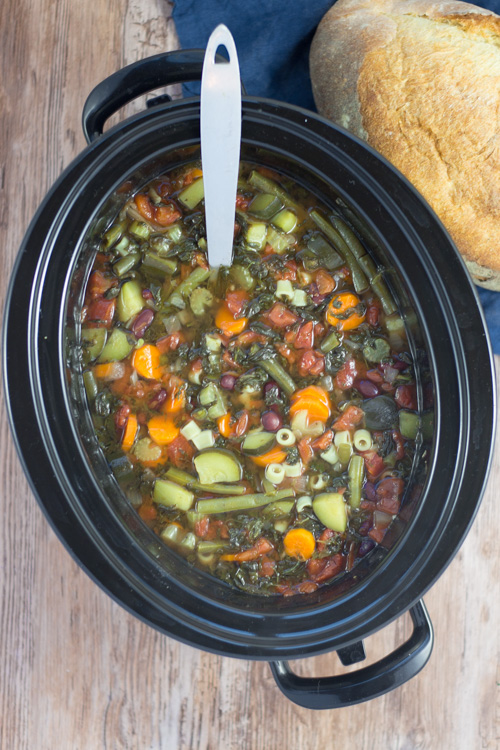 Minestrone is an Italian soup that can be made any number of ways…I love that, because my favorite way to cook, especially soup, is to throw in whatever I have available. One thing all minestrones have in common is that they are loaded with vegetables.
I love soup, but I don't always want creamy or dense. This vegetable minestrone is super hearty, but not heavy. It is FULL of healthy vegetables with just enough protein from the beans. My kids love the little noodles and dipping in a big crusty piece of bread and better (carbs much?! Oh well, at least they're getting in the veggies). Although it's snowing outside, I'm dreaming of making this soup again when my garden is in full swing! It is so fresh and delicious.
Buon appetito!
Healthy Crockpot Minestrone Soup
Yields 8 servings
Ingredients
28oz can diced tomatoes, undrained
15oz can kidney beans, drained and rinsed
10oz frozen chopped spinach
2 carrots, diced
2 celery ribs, diced
1 cup green beans
1 zucchini, cubed
1 small yellow onion, diced (one cup)
3 cloves garlic, minced
1 tablespoon Italian Seasoning
1 teaspoon pepper
32oz vegetable broth* (not needed until day of cooking)
1/2 cup uncooked pasta(I use ditallini) (not needed until day of cooking)
*If your broth is low sodium, you might need to add 1/2-1 teaspoon salt to bring out the flavors of the vegetables.  Simply taste-test the soup before serving and add if necessary.
Directions
Combine all ingredients (except pasta) in crockpot.
Cook on low for 6-8 hours.
Add pasta and cook for an additional 30 minutes.
To Freeze and Cook Later
Label your freezer bag with the name of the recipe, cooking instructions, and use-by date (three months from when you prepped the meal).  To your freezer bag, add all ingredients, except broth and pasta.  Remove as much air as possible, seal, and freeze for up to three months.  When ready to cook, thaw in refrigerator overnight or in morning in water.  Add to crockpot with 32oz vegetable broth and cook on low for 6-8 hours.  Add pasta for an additional 30 minutes.
Garnish with fresh parmesan and serve with warm, crusty bread.
---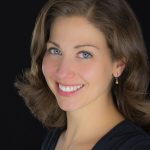 Jill Petrush Rogers is an artist and former bookbuyer/seller. Jill recently moved back to her hometown of Pittsburgh, PA with her husband, Tom, and their two energy-filled boys. Jill loves to channel her creativity by coming up with recipes as a contributing writer for New Leaf Wellness.