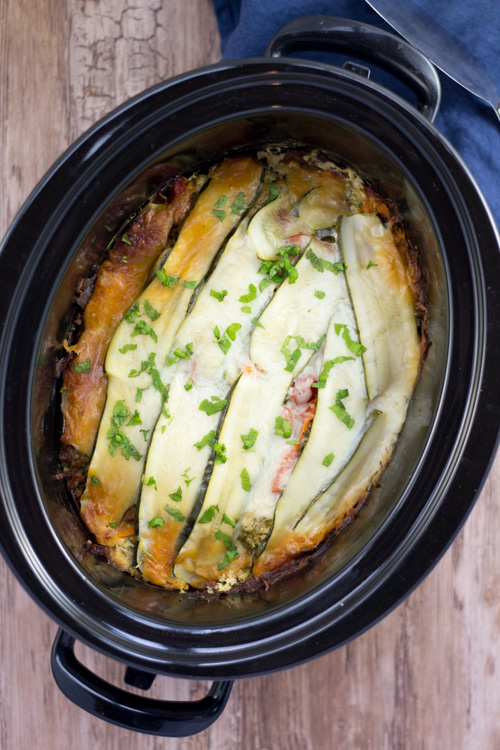 Our favorite pizza place in New York also makes awesome entrees. One that stands out in particular is their vegetarian lasagna. It has a white sauce that is creamy and delicious, but it's also loaded with calories! I've been craving it a lot lately, but since we're a little far for delivery (we live in Pennsylvania now) I decided that I had to make my own, healthier version!
 I love Kelly's Slow Cooker Zucchini Lasagna with Meat Sauce, so instead of noodles I used zucchini to make it extra-veggie-tastic (that's a word, isn't it?!). Since the vegetables release a lot of liquid I decided to skip the sauce all together and it was perfect!
Unlike most of our "dump & cook" freezer meals which are prepared ahead of time, thawed and cooked at your convenience, this slow cooker recipe is prepped the day of cooking because you layer all of the ingredients in the crockpot, set it & forget it. It's a little more time consuming, but oh so worth it! However, it can be easily adapted to a freezer-to-oven meal if you prefer. I would just recommend that you use frozen broccoli instead of fresh, as it keeps better.
Healthy Crockpot Veggie "Lasagna"
Ingredients
4 small zucchinis, ends cut off (you can sub two large zucchinis)
8 oz mozzarella cheese, freshly shredded (about 2 cups), divided
15oz container of part-skim ricotta cheese
1/2 cup Parmesan cheese, freshly grated
2 eggs
1 tablespoon Italian seasoning
1 teaspoon salt
1/2 teaspoon cracked black pepper
4 cloves garlic, minced
10oz frozen chopped spinach, thawed
12oz roasted red pepper, drained
1 cup broccoli florets
1 cup carrots, shredded
Directions
Thinly slice (unpeeled) zucchini length-wise into thin strips, like lasagna noodles. It's easier to do this with a mandolin, but a large knife works just fine.  (It's OK if some are only a few inches long.)
Create cheese filling by combining 1 cup mozzarella cheese, ricotta cheese, Parmesan cheese, eggs, Italian seasoning, salt, pepper and garlic.
Squeeze as much liquid out of the thawed, frozen spinach as possible & stir into cheese mixture.
Create a layer of zucchini at the bottom of your slow cooker.  (It's OK if pieces overlap.)
Top zucchini with a rounded 1/2 cup of cheese filling and 1/4 of each of your remaining vegetables.
Continue layering zucchini, cheese and vegetables until you only have enough zucchini left for top layer.  (A 6-quart slow cooker will have 4-5 layers).
Before you add the top layer of zucchini, add whatever cheese mixture and vegetables you have left.
Top with zucchini and remaining 1 cup of mozzarella cheese.
Cover, and cook on low for 6-8 hours.
Turn off slow cooker and let rest for at least 30 minutes, so juices become more set.
I can honestly say that this recipe requires no side dish, but my kids love butter bread, so butter bread they got. If you want to go above and beyond with veggies you can serve it with a fresh garden salad. I promise you can never have too many vegetables.
---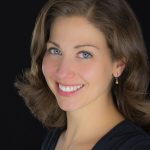 Jill Petrush Rogers is an artist and former bookbuyer/seller. Jill recently moved back to her hometown of Pittsburgh, PA with her husband, Tom, and their two energy-filled boys. Jill loves to channel her creativity by coming up with recipes as a contributing writer for New Leaf Wellness.