This crockpot corned beef and cabbage is the perfect dish for St. Patrick's Day.  It's festive, delicious, and so easy to make!  Just add all of the ingredients to your crockpot and dinner is done.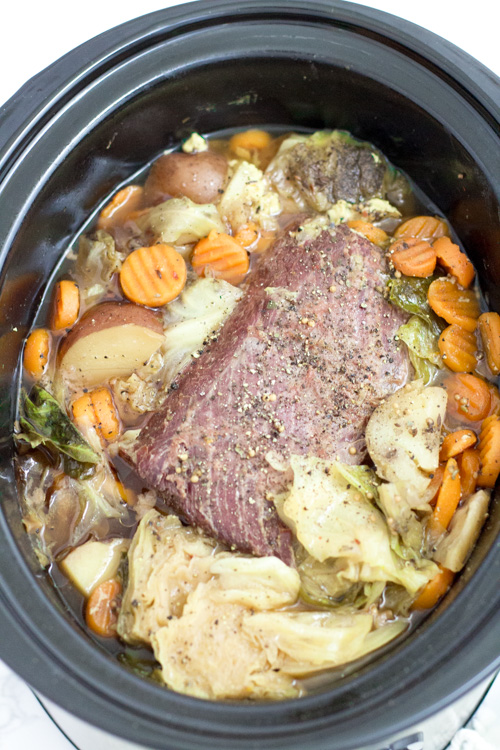 I embarrassed to admit this, but this was the very first time that I tried corned beef.  I married an Irish man 10 years ago, but never attempted the recipe or went anywhere that served it.  As soon as corned beef because available in our grocery store this year, I knew that had to change.  Thank goodness, because it's delicious!
What's so great about this recipe?
The honey.  It makes the veggies sweet and balances that apple cider vinegar perfectly.  Yum.  Just, yum.
The seasonings.  I used the seasoning packet that came with the corned beef roast as well as some Dijon mustard, pepper, and caraway seeds.  The whole dish was super flavorful.
The fact that it's a one-pot meal with meat, vegetables, and potatoes.  Perfection.
If you're a corned beef newbie (like me), let me tell you that it's not as scary as it looks.  It's basically a salt-cured meat, like ham (but ham is made with pork).  I actually liked the corned beef more than ham because it cooked down in the crockpot and shredded.  YUM.
Crockpot Corned Beef and Cabbage
Yields: 8 servings* (You will need a large crockpot, 6 quarts or bigger)
Ingredients
3-pound boneless corned beef brisket
Seasoning packet that comes with the corned beef
3-pound head of cabbage, cored and roughly chopped
4 red potatoes, cut into four's
1/2 pound carrots, peeled and chopped (frozen sliced carrots are also good)
1/2 cup honey
1/4 cup apple cider vinegar
1 tablespoon Dijon mustard
1 teaspoon pepper
1/2 teaspoon caraway seeds
Directions
Combine all ingredients in crockpot and cook on low for 8 hours or until meat is tender.
To Freeze and Cook Later
Label a gallon-sized plastic freezer bag with the name of the recipe, cooking instructions, and use-by date (three months from when you prepped the meal).  To your freezer bag, add all ingredients.  Remove as much air as possible, seal, and freeze for up to three months.  When ready to cook, thaw in refrigerator overnight or in morning in water and then cook for 8 hours on low.
*This is a large recipe, so I recommend splitting in half if you have a small crockpot.  You will also probably need to split into two freezer bags to freeze.