I'm so excited to share this new recipe for crockpot broccoli cheddar soup.  It's easy and healthy and, in my opinion, better than Panera's.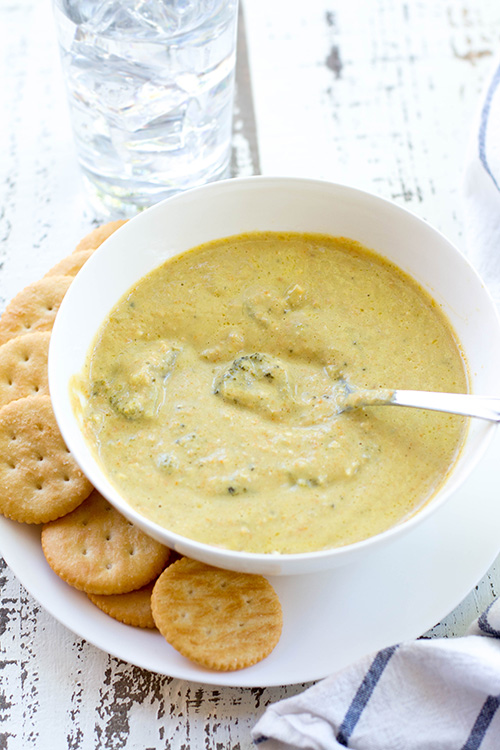 Kelly and I both love Panera, and so do ALL of our kids! Soup is a favorite all around, which is why we've decided to make copycat versions for the crockpot. In case you've missed them, here are the others that we've done.
I'm no stranger to Broccoli Cheddar soup. I've been trying to perfect it for years. The taste is never a problem, but the texture can be iffy because the cheese sometimes separates. Many moons ago I thought the solution was canned cheddar cheese soup which kept my soup creamy. Sadly, I then learned the fine art of nutritional label reading and realized that it has 36+ ingredients and 870mg of sodium…no thank you! Then I met my husband, who spent some time in restaurant kitchens. His suggestion was to make a roux on the stovetop with flour and butter, then add the cheese and liquid. Pre-kids that may have been fine and dandy, but nobody has time for that now. I thought for sure that Panera would have a solution, but even their soup contains "Pasteurized Processed Cheddar Cheese Food"…that just sounds scary!
It was off to the drawing board! I wanted to copy the flavor and texture, but I didn't want to copy the questionable ingredients. There are several tips and tricks that make this soup. First, if you plan on freezing this soup ahead of time, I recommend using frozen broccoli as it freezes better (seems redundant, but trust me on this one!). Next, using finely grated cheese will help it break down faster. Last but not least, blend! I love using my Immersion Blender for soups…you don't have to wait for the soup to cool down (and then have to reheat it before you eat it?!) and the clean up is super easy. However, if you don't have one a conventional blender will do the trick.
I made variations of this recipe several times before being happy to share it with all of you. Thankfully, my kids ate it every time, but I still wasn't satisfied with the texture. When I finally got it right my husband said it was "tha bomb"…cheesy husband, cheesy soup. I'll take it!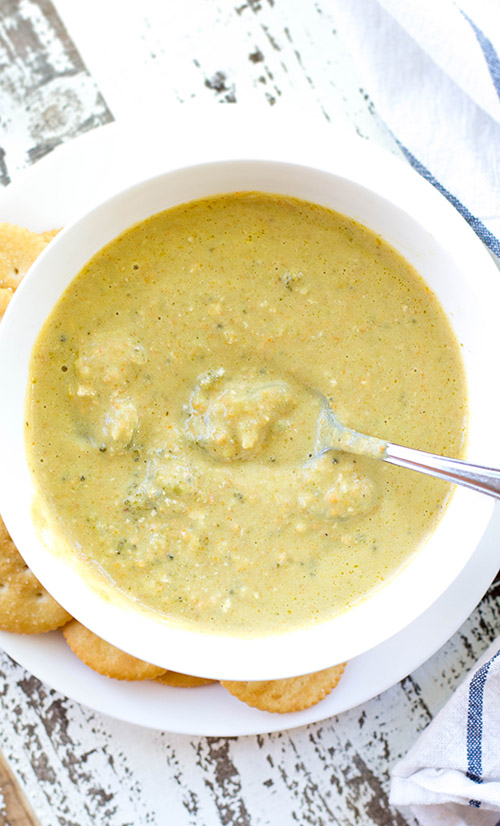 Print
Easy and Healthy Crockpot Broccoli Cheddar Soup (Panera Copycat)
---
Author:

Yield:

6

servings

1

x
Description
Cook fresh or freeze to cook later. Serve with a salad and bread or crackers.
---
Ingredients
16oz

frozen petite broccoli florets

8oz

mild cheddar cheese, shredded

1

small yellow onion, diced (

1 cup

)

1

large carrot, finely shredded (

1 cup

)

1/4 cup

unsalted butter, diced

16oz

half & half (

2 cups

)

16

chicken broth (2 cups) (substitute vegetable broth to make vegetarian)

1/4 cup

all-purpose flour

1 teaspoon

Dijon mustard

1 teaspoon

hot sauce
---
Directions
Place broccoli, cheese, onions, carrots, and butter in crockpot.
In a medium bowl, wisk half & half, broth, flour, mustard, and hot sauce.
Pour mixture into crockpot and stir.
Cook on low for 6-8 hours.
Remove half of the broccoli from the crockpot, set aside.
Blend remaining ingredients.
Put broccoli back into crockpot and stir.
To Freeze and Cook Later
Label your freezer bag with the name of the recipe, cooking instructions, and use-by date (three months from when you prepped the meal).  Place broccoli, cheese, onions, carrots, and butter to your freezer bag. In a medium bowl, wisk half & half, broth, flour, mustard and hot sauce. Pour mixture into freezer bag. Remove as much air as possible, seal, and freeze for up to three months.  When ready to cook, thaw in refrigerator overnight or in morning in water and and then follow cooking instructions above.
Thoughts or questions?  Please leave a comment below!
---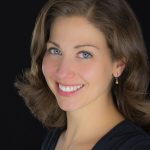 Jill Petrush Rogers is an artist and former bookbuyer/seller. Jill recently moved back to her hometown of Pittsburgh, PA with her husband, Tom, and their two energy-filled boys. Jill loves to channel her creativity by coming up with recipes as a contributing writer for New Leaf Wellness.