Here's a recipe for Slow Cooker Thai Pineapple Curry that's absolutely delicious.  I can't count the number of times that I've made it recently – probably five times in two months!  The combination of spicy and sweet can't be beat, and I love that it's healthy too.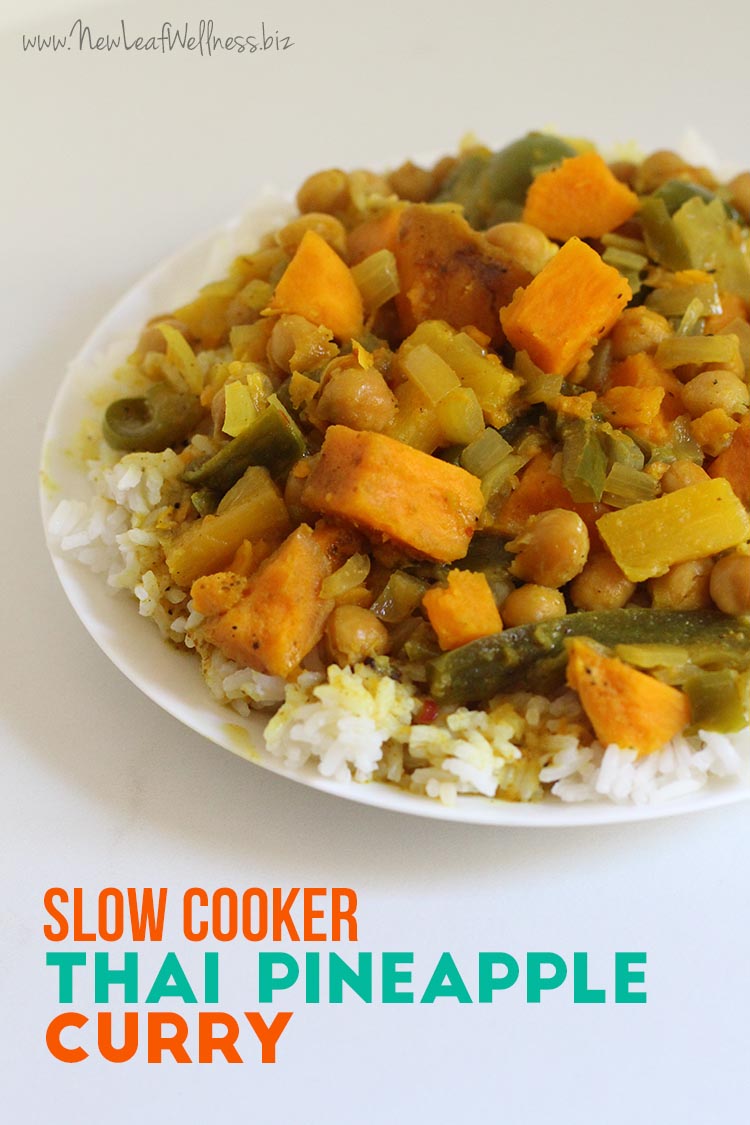 This is one of the recipes from my new Slow Cooker Freezer Meals mini eCookbook and I'm excited to share it for free.
Inside the eCookbook, you'll find:
Seven hearty slow cooker freezer meals that can be made with OR without meat and frozen for up to three months
Delicious recipes with 10 ingredients or less
Full nutritional info
Recipes that are formatted to print on regular 8.5×11″ computer paper
A super-organized grocery list (that's printer-friendly too!)
Color photos of the cooked meals
Cooking instructions that you can print on Avery water-resistant labels and stick to your freezer bags
Tips for preparing and cooking slow cooker freezer meals safely and efficiently
CLICK HERE FOR MORE INFO OR BUY NOW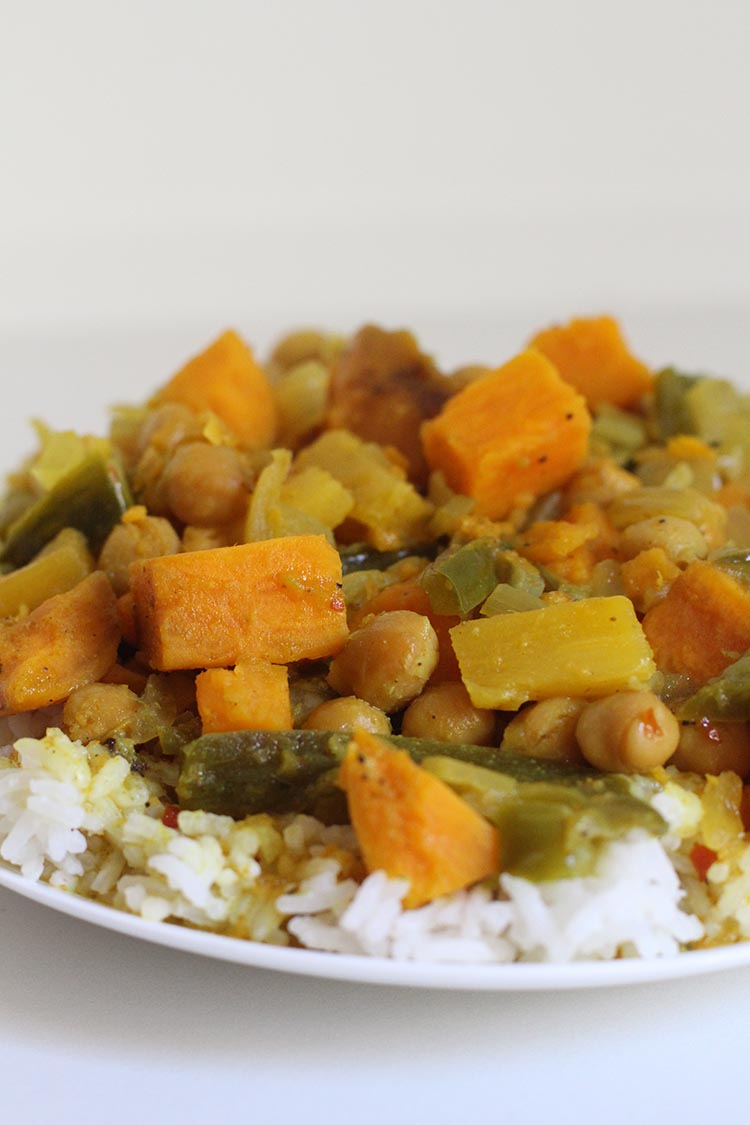 I like to assemble my meals and freeze them for later (The directions below will walk you through the process step-by-step).  You don't have to do any cooking ahead of time, so the meals are super quick to prep and there's nothing easier than dumping a meal into your slow cooker in the morning.  Plus, the meals cook for the first time out of the freezer and don't taste like leftovers at all.  Yay!
While I love having assembled dinners waiting in my freezer, there's no reason why you can't skip the freezing step and place all of the ingredients directly into your slow cooker instead.  Enjoy!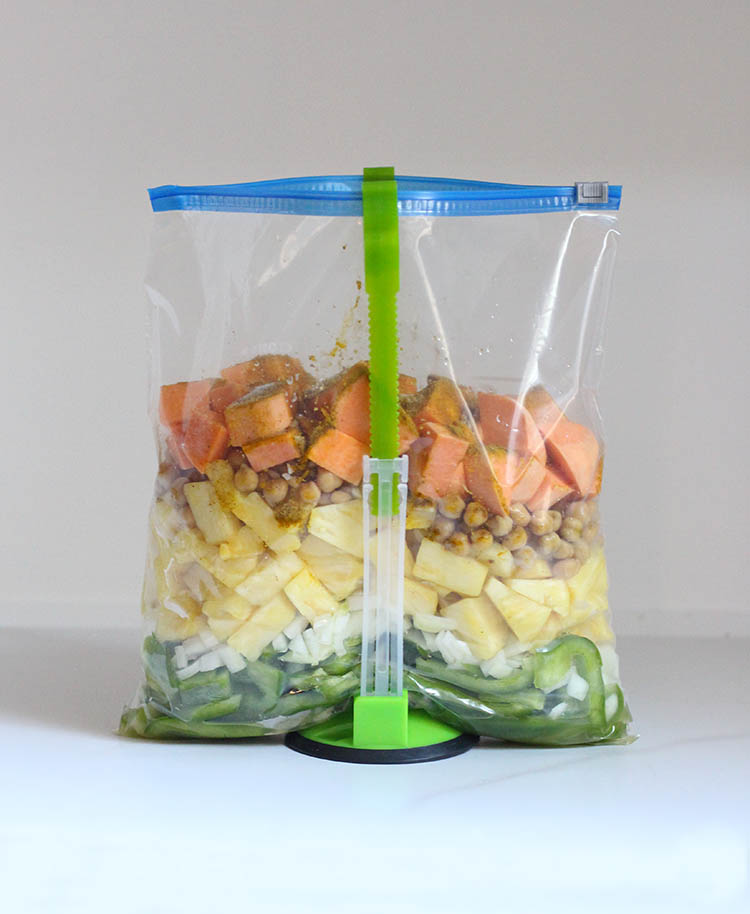 Freezer-to-Slow Cooker Thai Pineapple Curry
This is a sweet and spicy curry that tastes great served over rice. I would rate the spiciness 5/10. If you want to decrease, add less red pepper flakes. Serve with jasmine rice.
Yields: 6 serving
Ingredients
15oz can of chickpeas, drained and rinsed
1 fresh pineapple, cored and chopped into 1-inch pieces
1 pound sweet potatoes (2 med or 1 large), peeled and cut into 1-inch pieces
1 green bell pepper, sliced into thin strips
1 small yellow onion, chopped (about one cup)
2 large cloves of garlic, minced
13.5oz can of unsweetened coconut milk
3 tablespoons curry powder
1.5 teaspoons salt
1/2 teaspoon crushed red pepper flakes
Materials
1 gallon-sized plastic freezer bag
Prep
Label your freezer bag.
Add all ingredients to your freezer bag, remove as much air as possible, and seal.
Freeze for up to three months.
Cook
Thaw overnight in refrigerator.
Add to slow cooker and cook for 6-8 hours on "low" setting or until onions and peppers are tender.
+ Meat Option: Add one pound boneless, skinless chicken breasts, cut into bite-sized pieces to your freezer bag (raw).
CLICK HERE FOR A FREE PRINTABLE VERSION OF THE RECIPE WITH NUTRITIONAL INFO AND FREEZER MEAL LABEL.

Thoughts or questions?  Please leave a comment below and I'll respond as soon as I can.  I'd love to hear from you. 
---
Over 10,000 people purchased my Freezer Cooking eBook Bundle this year and changed the way they cook dinner.  Join them today!