Kelly and I are both slightly obsessed with Panera, so we decided to try and make all of their soups at home in our crockpots.  The results have all been easy, delicious, and affordable and I'm excited to share the most recent success with you: Crockpot Vegetarian Creamy Tomato Soup.  Yum!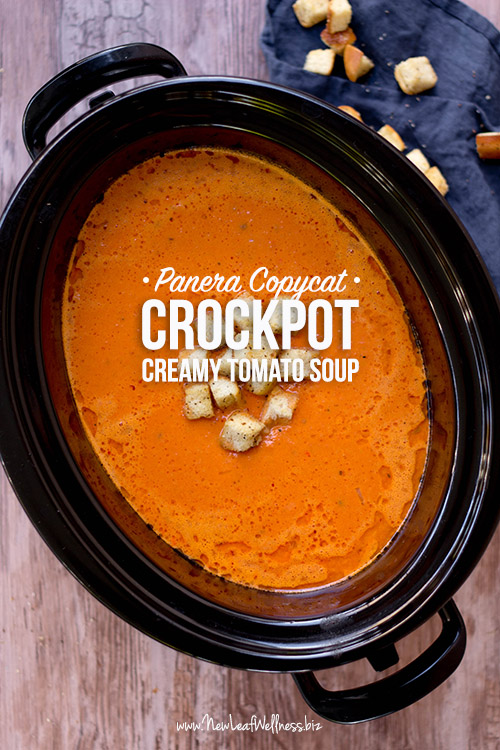 If you missed our other Panera copycat soup recipes, here they are:
When I was pregnant with my first son, my doctor's office was very close to a Panera (oh, darn!). At the time we lived in rural New York, so my husband and I took the opportunity to eat out after each appointment. I love, love, love Panera's "You Pick Two" and would often choose their Creamy Tomato Soup and a Greek Salad.
Fast forward several years. Our now six year old shares our love for Panera AND tomato soup. (Although, he's a big fan of it with grilled cheese.) When I decided to try my own version he begged me every day to take it out of the freezer and make it. Thankfully, he was not at all disappointed. This soup is creamy and delicious. It is sweet with just a hint of spice and the celery seed takes it to the next level.  In true first grader fashion, he announced that he L-O-V-E'd it! I hope that you do too!!
Crockpot Vegetarian Creamy Tomato Soup (Panera Copycat)
Yields 6 servings
Ingredients
28oz can whole peeled tomatoes
28oz can tomato puree
16oz fresh cream
1 small yellow onion, diced
2 cloves garlic, minced
1 cup vegetable broth
2 tablespoons butter
1/2 teaspoon celery seed
1/2 teaspoon oregano
1/4 teaspoon red pepper flakes
Top with black pepper focaccia croutons (I make my own by cubing a day-old focaccia and mixing it with 2T olive oil and a pinch of salt and lots of black pepper.  Bake for 45 minutes at 250°.)
Directions
Combine all ingredients in crockpot and cook on low for 6-8 hours.
Mash or puree to your liking and stir.
To Freeze and Cook Later
Label your freezer bag with the name of the recipe, cooking instructions, and use-by date (three months from when you prepped the meal).  To your freezer bag, add all ingredients.  Remove as much air as possible, seal, and freeze for up to three months.  When ready to cook, thaw in refrigerator overnight or in morning in water and and then follow cooking instructions above.
Serve with croutons, a salad and/or grilled cheese.

Are there other Panera recipes that you want me to try and copycat?  Please leave a comment below!
---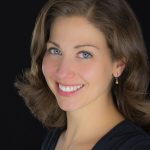 Jill Petrush Rogers is an artist and former bookbuyer/seller. Jill recently moved back to her hometown of Pittsburgh, PA with her husband, Tom, and their two energy-filled boys. Jill loves to channel her creativity by coming up with recipes as a contributing writer for New Leaf Wellness.