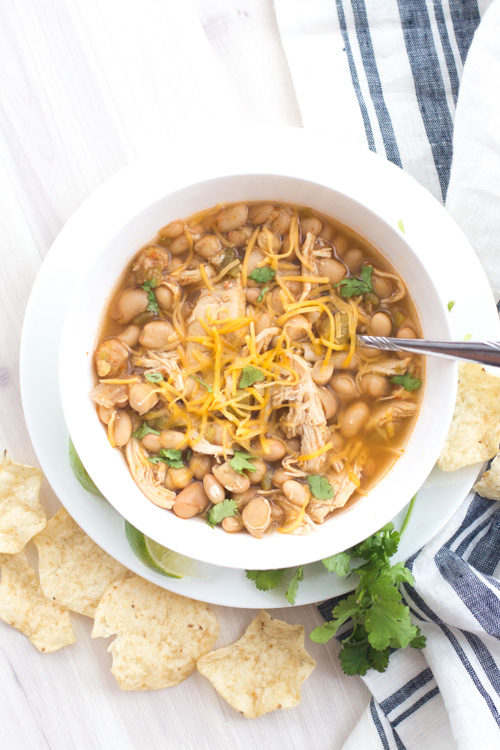 One of the best parts of crockpot cooking is the aroma. There is nothing better than coming home after a long day and getting a huge whiff of yummy deliciousness the moment you step into the door…sometimes even before you open your door.
Well, I can think of one thing that's better. Often, when I've got something in the slow cooker while I'm staying home the smells just blend together with the rest of the house. Every now and then a recipe just fills the air, begging you to eat it. This is one of those recipes.
Seriously, I had to use all of my willpower not to eat a huge bowl before photographing it. It's that good. This protein-packed white chili not only has healthy chicken breasts but four, yes count them four, different kinds of white beans. No heavy beef, no acidic tomatoes, just fresh lime and fresh cilantro. Perfect when you're looking for a light, yet filling meal.
Crockpot 4-Bean White Chicken Chili
Yields 6 servings
Ingredients
1 pound boneless skinless chicken breast, cut into small bite-sized pieces
1 small yellow onion, diced
15oz can Northern beans, drained & rinsed
15oz can garbanzo beans, drained & rinsed
15oz can navy beans, drained & rinsed
15oz can cannellini beans, drained & rinsed
2 cans diced green chilis (4.5oz each)
32oz chicken broth (4 cups)
juice of half a lime
1 tablespoon chili powder
2 teaspoons curry powder
1/2 teaspoon crushed red pepper flakes
Directions
Combine all ingredients in crockpot.
Cook on low for 6-8 hours.
To Freeze and Cook Later
Label your freezer bag with the name of the recipe, cooking instructions, and use-by date (three months from when you prepped the meal).  To your freezer bag, add all ingredients.  Remove as much air as possible, seal, and freeze for up to three months.  When ready to cook, thaw in refrigerator overnight or in morning in water and and then follow cooking instructions above.
Serve with chopped fresh cilantro, sour cream, avocado, and tortilla chips.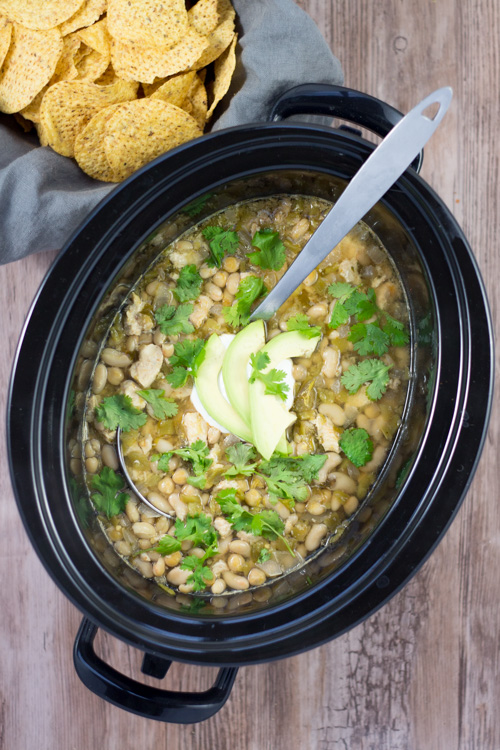 ---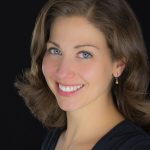 Jill Petrush Rogers is an artist and former bookbuyer/seller. Jill recently moved back to her hometown of Pittsburgh, PA with her husband, Tom, and their two energy-filled boys. Jill loves to channel her creativity by coming up with recipes as a contributing writer for New Leaf Wellness.