OK, so it's no where near Mardi Gras and I've never been to New Orleans, BUT I'm always ready for a delicious soup or stew…especially in the FALL! This Slow Cooker Gumbo is full of flavor. It's spicy, it's sweet, AND it has seafood!
Kelly and I typically try to keep our recipes to ten ingredients or less so that you don't have to buy a million things or stock your pantry full of random stuff. Trust me, this recipe holds it's own, but don't be afraid to add to it! The possibilities are endless. Want to add crawfish, go for it! Okra?…that works too!! I am just so excited about this recipe, I think it's going to become a staple in our house for sure.
Crockpot Sausage and Shrimp Gumbo
Yields 6 cups
Ingredients
1 pound andouille sausage, sliced into 1/2-inch rounds
1 pound bag frozen cooked shrimp (if your family does not like seafood, you can absolutely substitute chicken!)
3 cloves of garlic, minced
2 ribs of celery, diced
1 small yellow onion, diced
1 red bell pepper, diced
28oz can crushed tomatoes
1/2 teaspoon black pepper
1/2 teaspoon cayenne pepper
Directions
Combine all ingredients, except shrimp, in crockpot and cook on low for 6-8 hours.
Add shrimp in for the last 30 minutes.
To Freeze and Cook Later
Label your freezer bag with the name of the recipe, cooking instructions, and use-by date (three months from when you prepped the dip).  To your freezer bag, add all ingredients, except shrimp. Remove as much air as possible, seal, and freeze for up to three months.  Keep shrimp frozen in its own bag.  When ready to cook, thaw in refrigerator overnight or in morning in water and and then follow cooking instructions above.
Serve with rice and a fresh garden salad.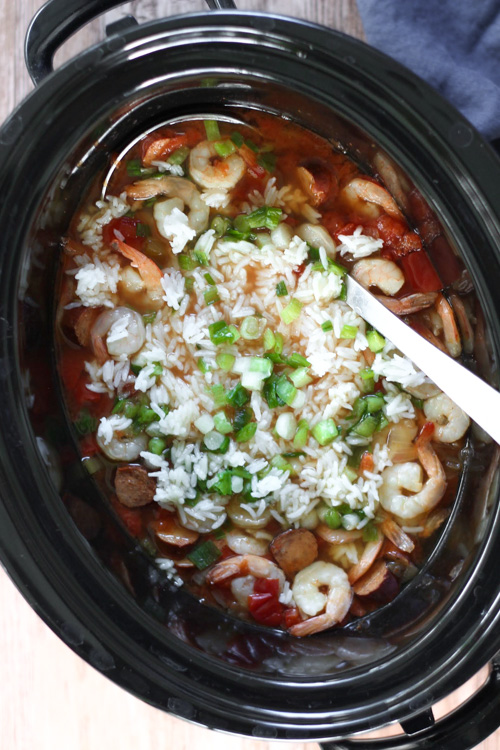 ---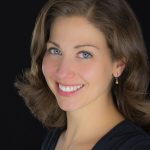 Jill Petrush Rogers is an artist and former bookbuyer/seller. Jill recently moved back to her hometown of Pittsburgh, PA with her husband, Tom, and their two energy-filled boys. Jill loves to channel her creativity by coming up with recipes as a contributing writer for New Leaf Wellness.