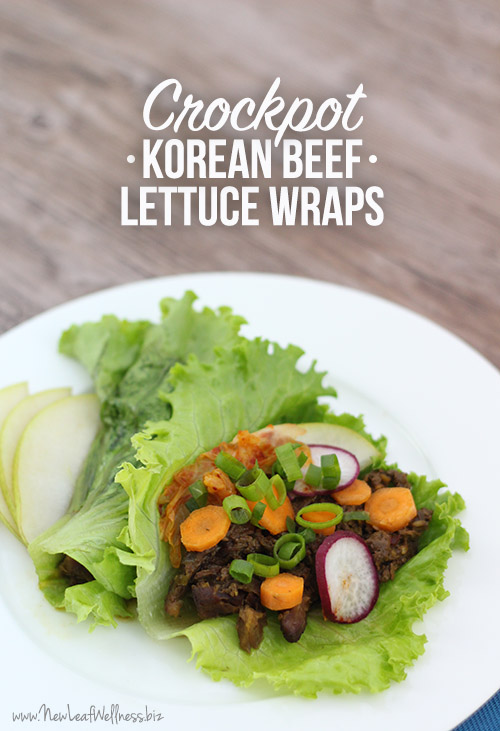 When I was younger (oh, who am I kidding…I still love it!) make-your-own taco night was one of my favorites.  My parents have an amazing sectioned tupperware tray similar to this one which made choosing your toppings easy and fun.
That's kind of how I felt tonight when I made Crockpot Korean Beef Lettuce Wraps for my family.  There are so many fun topping choices, so each person could pile on whatever they wanted.  For the record, our two-year-old wasn't daring enough for the kimchi (spicy fermented vegetables)…after a valiant effort our five-year-old couldn't quite get the coordination of the wrap down, so instead opted for salad style…and my husband threw his second helping on a flour tortilla…BUT everyone cleaned their plates, and that's a win in my book!
These Korean Beef Lettuce Wraps are so delicious that I know you're going to love them. I could definitely eat them every day!  Seriously, even when I was photographing the dish I couldn't wait to take a bite…it smelled so good.

Crockpot Korean Beef Lettuce Wraps 
Yields: 6 servings
Ingredients
2 pounds sirloin steak, cubed
4 green onions (scallions), diced and divided (use the bottom bulb end in the crock and save the rest for topping)
4 cloves garlic, minced
1/4 cup low-sodium soy sauce
1 tablespoon honey
1 tablespoon rice vinegar
1 tablespoon sesame oil
1 tablespoon sesame seeds
1 teaspoon ground ginger
1/2 teaspoon crushed red pepper flakes
Directions
Place beef in crockpot.
Mix remaining ingredients in a medium bowl and pour over beef.
Add lid and cook on low setting for 6-8 hours.
Break beef apart with fork or back of spoon (it will be amazingly tender)…this helps absorb some of the juice (can't let that go to waste!)
Spoon over lettuce with your favorite toppings, wrap, and enjoy!
To Freeze and Cook Later
Add all ingredients to a gallon-sized plastic freezer bag.  Remove as much air as possible, seal, and freeze for up to three months.  Thaw in refrigerator overnight and then cook in slow cooker for 6-8 hours on "low" setting.  Break apart beef and spoon onto lettuce.
Here is a list of the make-your-own toppings that we used, but really the possibilities are endless!
Green leaf or bib lettuce leaves, washed
Kimchi (I purchased a jar in the refrigerated section of our local Asian market)
Carrots, thinly sliced
Radishes, thinly sliced
Scallions, chop the top half (green) for topping
Asian pears, thinly sliced
This dinner was so enjoyable AND delicious.  I'm definitely ready to make a double batch for anyone who wants to indulge.  Who's ready for a make-your-own Korean Beef Lettuce Wraps Party at our place?!?
---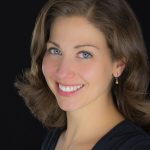 Jill Petrush Rogers is an artist and former bookbuyer/seller. Jill recently moved back to her hometown of Pittsburgh, PA with her husband, Tom, and their two energy-filled boys. Jill loves to channel her creativity by coming up with recipes as a contributing writer for New Leaf Wellness.