You're going to love this new recipe for Crockpot Curried Sweet Potato Soup.  It's healthy, delicious, and so easy to make!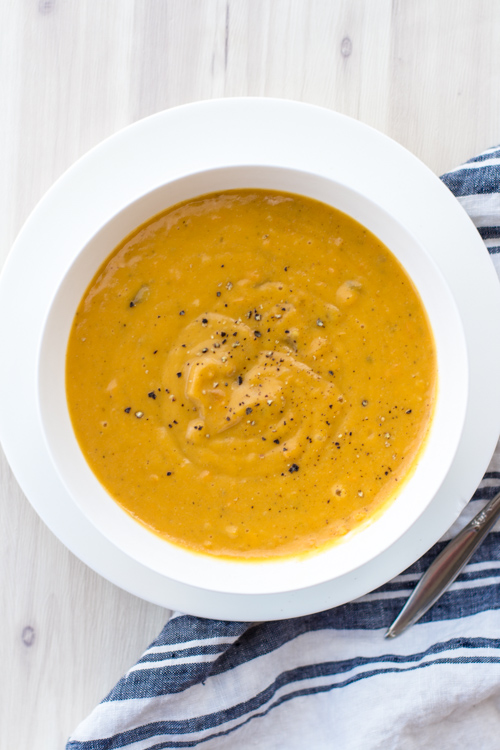 My friends get together once a month and it's the best thing ever.  We rotate who hosts, sneak over when our kids are in bed, and snack and chat.  (And laugh.  Like, a lot.) I hosted our ladies' night last month and made this curried sweet potato soup in my crockpot.  It was delicious and fit with every diet imaginable (dairy-free, gluten-free, vegetarian, Whole30, etc.).
I like you'll like it too.  It's sweet, perfectly spiced, and heart-warming.  I ate the leftovers for lunch the next day with some fresh tortilla chips from Whole Foods and died over the amazingness.
Fun recipe options:
Swap out the sweet potatoes for butternut squash or do half and half. (I think adding some carrots would be yummy too.)
Combine the ingredients (raw) in a baggie and freeze for up to three months.  That way you'll always have a quick and easy meal on-hand. Just thaw enough to fit in your crockpot and turn it on.
Make a batch on Sunday and portion into bowls to eat for lunch during the week.  (Don't forget to share one with your mom and BFF too. XO.)
Crockpot Curried Sweet Potato Soup
Yields: 6 servings
Ingredients
2 pounds sweet potatoes, peeled and cubed
1 small yellow onion, diced (one cup)
4 cloves garlic, minced
2 cans unsweetened coconut milk (13.5oz each)
4.25oz can diced green chilies
1 tablespoon curry powder
1/2 teaspoon cumin
1/2 teaspoon pepper
1/4 teaspoon salt
To Cook
Add all ingredients to crockpot and cook on low setting for 6 hours or until potatoes are soft and easy to mash.
Mash or puree to desired consistency with an immersion blender or regular countertop blender (You'll need to cool before blending).
To Freeze and Cook Later
Label a gallon-sized plastic freezer bag with the name of the recipe, cooking instructions, and use-by date (three months from when you prepped the meal).
To your freezer bag, add all ingredients.
Remove as much air as possible, seal, and freeze for up to three months.
When ready to eat, thaw slightly in refrigerator or in water, and cook in crockpot for 6 hours on low setting.  Mash or puree to desired consistency.
Serve with a salad or crusty bread.

Thoughts or questions?  Please leave a comment below and I'll respond as soon as I can.  I'd love to hear from you.  X+O, Kelly