I finally made beef fajitas in my crockpot!  Yum.  The beef and peppers cook down and melt in your mouth.  Add some tortillas or rice and you're set with a simple, delicious, and family-friendly meal.
I'm not sure why I didn't make beef fajitas in my crockpot before.  The crockpot chicken fajitas in my No Cook Freezer Meals cookbook are one of my favorite meals and I like beef crockpot recipes more than chicken ones.
That's weird for me to say because I always pick chicken over beef in restaurants, but there's something about the way that beef cooks down in the crockpot and becomes oh-so-flavorful.  Plus, it's easy to let a beef roast cook all day without drying out, unlike chicken crockpot recipes which can be tricky.
I bought all of the necessary ingredients at Whole Foods and I consider these crockpot beef fajitas to be pretty healthy.  I know it doesn't look like a lot of liquid is added to this recipe, but the meat and veggies release so much that you don't need to add more.  I had at least a cup or two of liquid in my crock when everything was done cooking.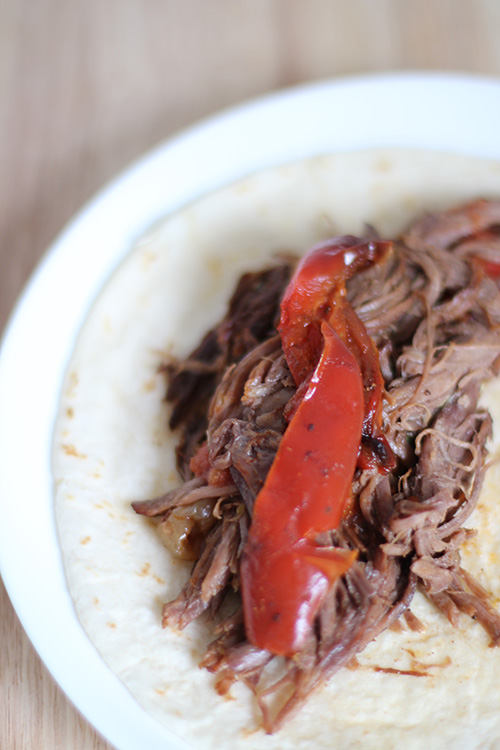 Crockpot Beef Fajitas
Yields: 4 servings
Ingredients
2-lb boneless beef chuck shoulder roast, fat trimmed
2 bell peppers, sliced (I used red because they were on sale)
1 small onion, peeled and sliced
2 cloves of garlic, minced
1 tablespoon honey
The juice from 1 lime OR 1 tablespoon apple cider vinegar
1 tablespoon chili powder
2 teaspoons cumin
1 teaspoon paprika
1/4 teaspoon crushed red pepper flakes
Directions
Combine all ingredients in your crockpot and cover with lid.
Cook on "low" setting for 8 hours or until beef shreds easily with a fork.
Serve with tortillas or rice and top with guacamole, salsa, and shredded cheese.
To Freeze
Label your freezer bag.  Add all ingredients.  Remove as much air as possible, seal, and lay flat in your freezer for up to three months.  When ready to cook, thaw and cook in crockpot on "low" setting for 8 hours or until beef shreds easily with a fork.