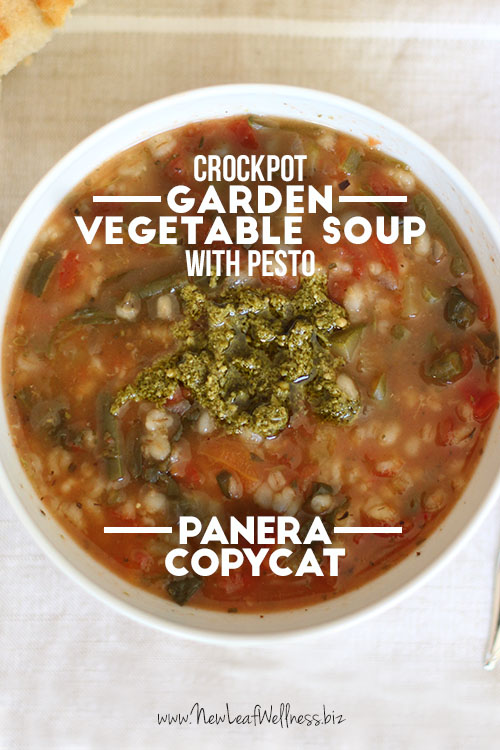 Confession: I have a slight obsession with Panera.  It's my favorite lunch spot to visit with my kids and I love reserving their back room for playdates with my friends.  My current fave is their Vegetarian Garden Vegetable Soup with Pesto and I came up with the idea to try and make it in my crockpot at home.
I looked up the ingredients on Panera's website and then tried to adapt it to make it easier and more affordable. The final product was delicious and healthy and my husband gave it two thumbs up.
Below, you'll find the directions to prepare the ingredients for the freezer, but you can certainly skip that step and add everything right to your crockpot instead.  I just like having everything diced and ready to go.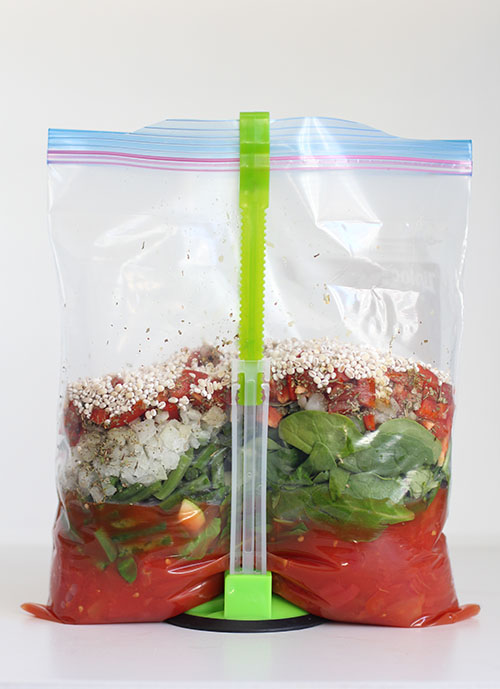 If your house is full of meat-lovers, I recommend adding a pound of meat to the soup.  Cooked meatballs or raw ground beef would be great.
When I first made this soup I didn't add any sugar, but the final product was too sour from the tomatoes.  I added tiny bits of honey and brown sugar until it tasted more balanced.  Tons of veggies with a small amount of sweetener is A-OK with me.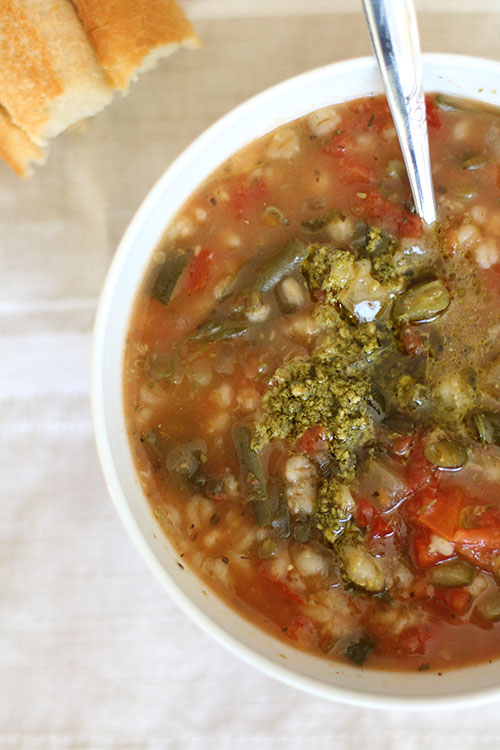 Crockpot Vegetarian Garden Vegetable Soup with Pesto (Panera Copycat)
Yields: 6 servings
Ingredients
2 cans of diced tomatoes (14.5oz each), undrained
1 small zucchini, diced
1/2lb fresh green beans, ends cut off and chopped
2.5oz fresh baby spinach (about 3 big handfuls)
1 small yellow onion, peeled and diced (1 cup)
1 small red bell pepper, diced
1/4-1/2 cup pearled barley (not quick cooking)
4 cloves garlic, minced
2 tablespoons honey
1 tablespoon brown sugar
2 tablespoons Italian seasonings
1 bay leaf
4 cups vegetable broth *not needed until day of cooking
6 tablespoons pesto (store-bought or homemade) *not needed until day of cooking
Directions
Add all ingredients to your crockpot (except pesto).
Cook on "low" setting for 8 hours or until vegetables are soft.
Remove bay leaf.
Spoon into bowls and top with pesto.
To Freeze and Cook Later
Label a gallon-sized plastic freezer bag with the name of the recipe, use-by date (3 months from the prep date), and cooking instructions.
To your freezer bag, add all ingredients except broth and pesto.
Remove as much air as possible, seal, and freeze for up to three months.
When ready to eat, thaw overnight in refrigerator or in morning in water.
Add to crockpot with broth and cook for 8 hours on "low."
 Remove bay leaf and spoon into bowls with pesto.
Serve with fresh bread.  YUM.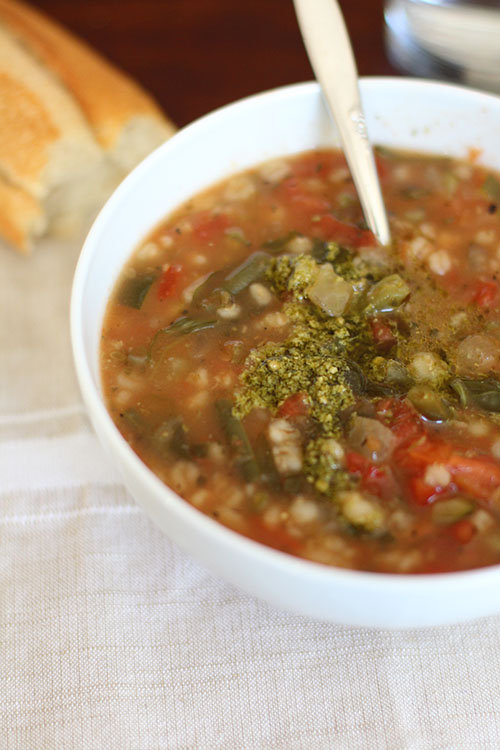 Thought or questions?  Please leave a comment below and I'll respond as soon as I can.  I'd love to hear from you.