Are you having a tough time finding meat at the grocery store? I put together a list of healthy freezer meals made with a variety of meat, including some of our favorite vegetarian recipes! Free printable recipes and shopping list below!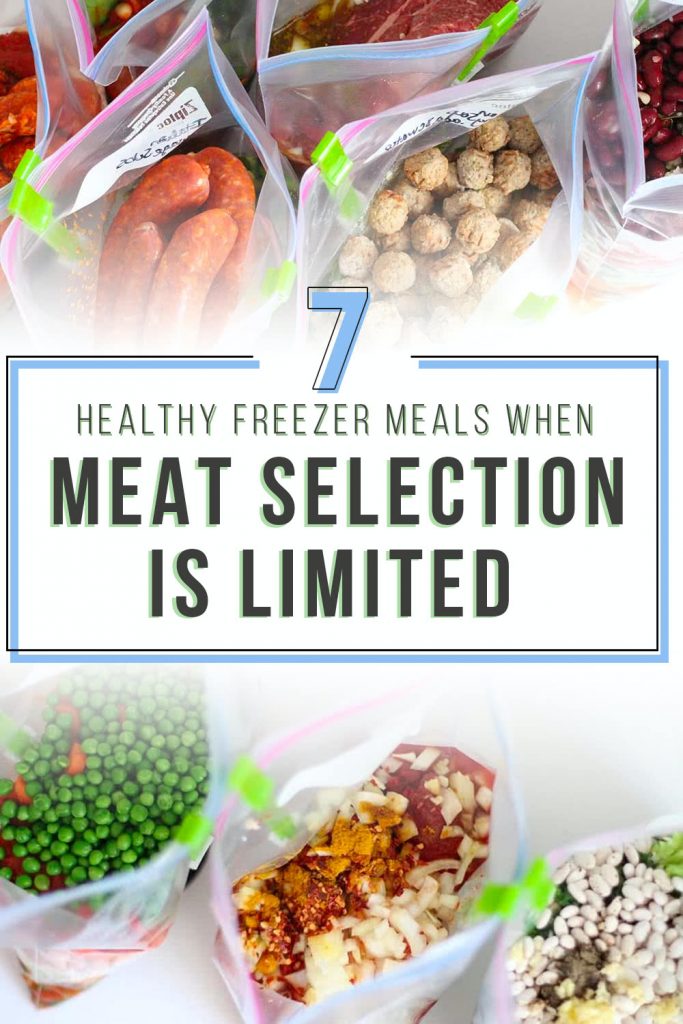 Friends, are you hanging in there??  We're on Day 10 of self-quarantine and I have no idea how long this thing is going to last. I'm fine with being home with my husband and five kids, but the social isolation gets to me. I'm trying to talk to my husband as much as I can and text and call other family and friends. Working out, listening to podcasts, and getting outside also seems to help a lot. 
Let's talk about what we're eating…
I have a bunch of meals and meat in our freezer, but someone messaged me on Instagram over the weekend and said their grocery store was limiting sales of meat (each person could only get one of each type), so I put together a new meal plan with a variety of proteins, including three vegetarian recipes that we love.
Next time I go to the grocery store I'm going to buy the ingredients to prep all of the meals at once so our freezer will be stocked with healthy dinners.
>>CLICK HERE FOR THE FREE PRINTABLE RECIPES AND SHOPPING LIST.<< (no strings attached)
Which recipes are included?
Sausage and Peppers (crockpot or oven)
Crockpot Chicken Noodle Soup
Crockpot Chicken Philly Cheesesteak
Crockpot Honey Garlic Chicken (can also be made with beef or pork)
Crockpot Spinach Enchiladas (can also be made with chicken)
Crockpot Tuscan Tortellini Soup
'No Bake' Lasagna with Spinach
Yum! These are all recipes that we love. I make them over and over again, so let me know if you have any questions.
What's so great about this particular group of meals?
They can all be prepared ahead of time and frozen for months. There is NO COOKING AHEAD OF TIME, so they are very quick and easy to make. (They are all frozen raw and cooked later in the crockpot, oven, or stovetop.)
They're budget-friendly and made with simple ingredients.
They're healthy and delicious!
Sound good? >>CLICK HERE FOR THE FREE PRINTABLE RECIPES AND SHOPPING LIST.<< (no strings attached)
Thoughts or questions? Leave a comment below and I'll respond as soon as I can! -Kelly