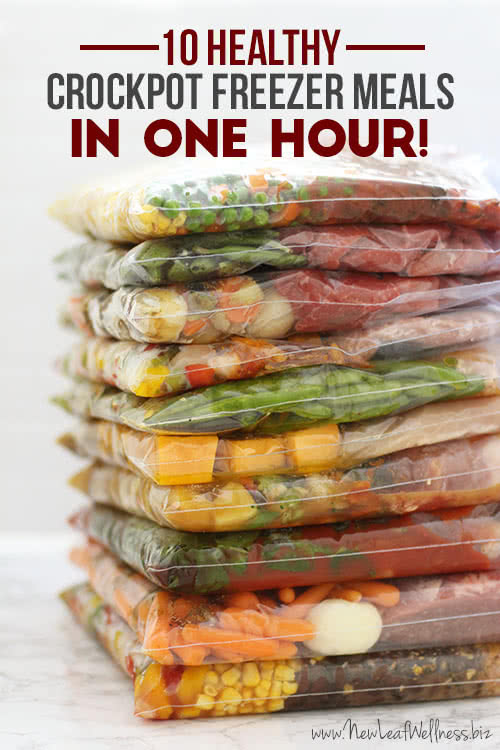 I got it in my head that I wanted to start a new blog series about prepping 10 crockpot freezer meals per hour.  I started by making 10 meals in 1 hour last week and I'll try to make 20 meals in 2 hours next, etc. (You can see me make 30 meals in 3 hours here.)
Since I've made hundreds of freezer meals I know exactly what takes the most time when prepping meals – PEELING AND CHOPPING FRESH VEGGIES.  I thought about how to decrease that time while still making healthy meals and decided to buy fresh vegetables that can be added to the bags as-is (like baby carrots and spinach) and frozen vegetables.  I also bought pre-packed spice mixes to cut down on measuring time.

Here are the 10 meals that I made:
Crockpot Sweet and Sour Pork Chops with stir fry veggies
Crockpot Tomato Basil Chicken with baby spinach
Crockpot Southwestern Chicken Chili with peppers and corn
Crockpot Brown Sugar Bourbon Chicken with green beans
Crockpot Honey Lime Chicken with butternut squash
Crockpot Ground Turkey Tacos with bell peppers
Crockpot Beef Stew with veggies
Crockpot Pot Roast with carrots and potatoes
Crockpot Hamburger Vegetable Soup with peas and carrots
Crockpot Beef Teriyaki with sugar snap peas
When I got home from the grocery store, my baby passed out on my lap so I even had time to create some cute freezer labels for my bags.  I really like labeling my meals with the name of the recipe,"use-by" date (which is three months from the prep date), and cooking instructions.  That way I know what to do when we're ready to eat the meal.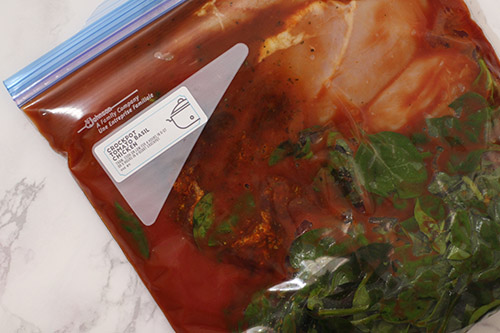 I got out all of the necessary ingredients, set my microwave timer for 60 minutes, and got to work.  I usually fill my freezer bags in an assembly line but since I didn't have to prep any fresh veggies I focused on filling one bag at a time.
I layered my freezer bags like this:
Veggies at the bottom.
Sauces and spices in the middle. (This is better than putting them at the top or bottom because they're less likely to stick to the bag later.)
Meat at the top. (That way it will be the first ingredient dumped into the crockpot and cook closest to the heating source.)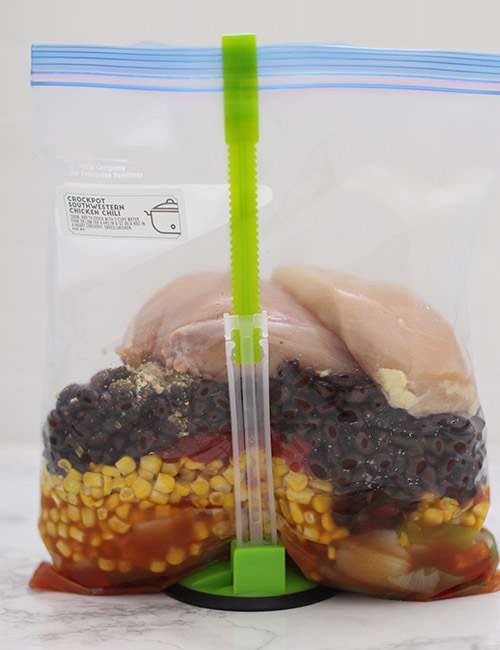 I knew I wanted to share my crockpot freezer recipes in a blog post so I bought all of the ingredients at a small local grocery store.  I hope that means you'll be able to find the same ingredients and make them too.  Overall, I spent just under $100 or $10 per meal.  Yay!
When we're ready to eat our meals all I need to do is thaw them overnight in the refrigerator or in the morning in water.  Then I'll cook them for 4 hours in my 6-quart crockpot or 8 hours in my 4-quart crockpot.  Add a side of rice or fresh bread and dinner is done. (I included serving suggestions with my recipes above.)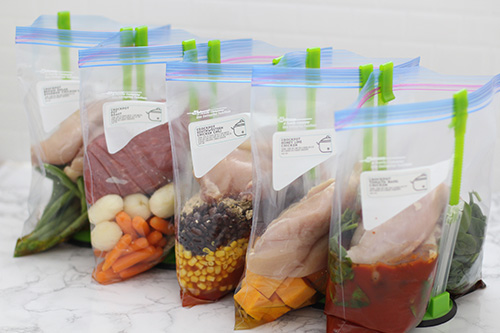 Thoughts or questions?  Please leave a comment below and I'll respond as soon as I can.  I'd love to hear from you.