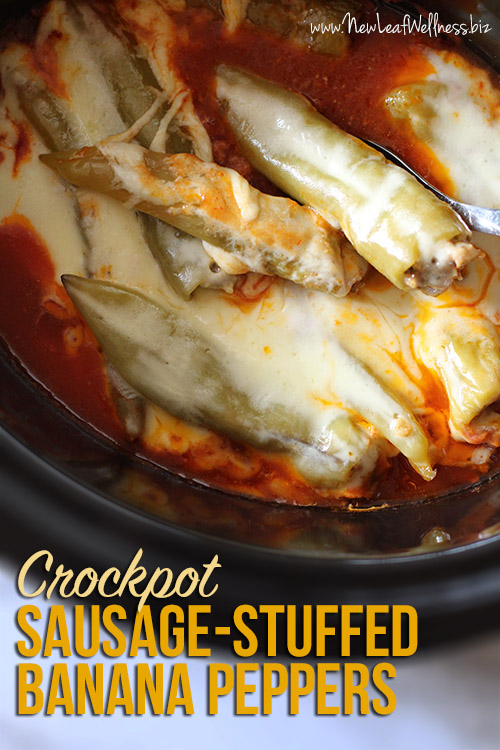 My husband and I are kind of homebodies, but as our children's schedules get busier and busier we are quickly realizing the importance of scheduling time for us.  When we moved to Pittsburgh a few months ago one of the first things my brother and sister-in-law said to us was, "Let's swap date nights!"  With free, built-in babysitters, we have no excuse but to explore our fair city, grown-up style!
Our first night out happened to coincide with our friends' band, Brewer's Row, 10th anniversary show at Moondog's in Blawnox, PA.  Just a few doors down, the owner also runs the Starlite Lounge, which was featured on the popular Food Network show Diners, Drive-ins & Dives.  So, dinner that night was a no-brainer.  The menu options were plentiful; it was difficult to decide what to order.  We settled on stuffed banana peppers, pierogies, a fish sandwich AND a steak salad.  Needless to say we had lots of leftovers!
Everything was yummy, but the banana peppers really stood out.  We knew we had to create our own crockpot version.  I think you'll love the simple sauce flavored by the cooked peppers and sausage and the melted cheese on top. So yummy.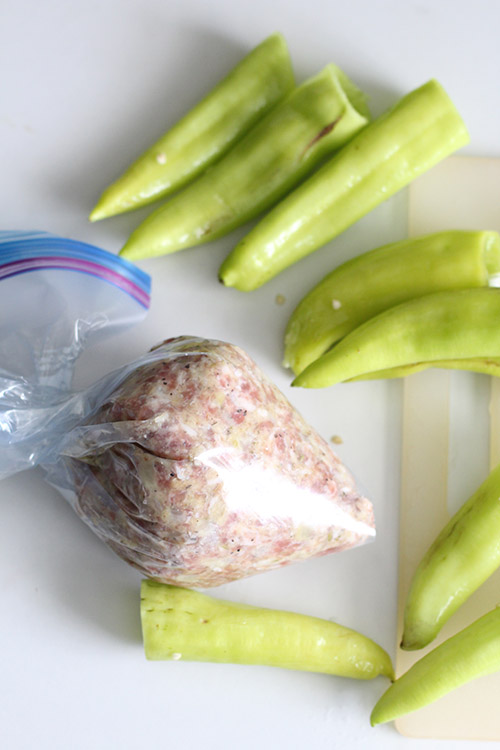 Crockpot Stuffed Banana Peppers Recipe
Yields 4-6 serving
Ingredients
28oz can crushed tomatoes
1 pound mild banana peppers (about 10 peppers), tops taken off and seeded (it's OK if you can't get all the seeds out)
1 pound ground sweet Italian sausage (if you can only find links, squeeze the meat out of the casing)
3 cloves of garlic, minced
1 small yellow onion, diced (one cup)
1/2 teaspoon dried basil
1/2 teaspoon dried oregano
1/2 cup panko Japanese-style breadcrumbs
1 large egg
6 slices of provolone cheese
Directions
Pour crushed tomatoes into crockpot.
Place all other ingredients, except for banana peppers and provolone cheese, in a large bowl and mix well (I recommend using your (clean) hands).
Place mixture in a pastry bag or large storage bag with one corner snipped off.
Pipe sausage mixture into banana peppers and use your fingers to push the filling to the bottom of the peppers so they're completely filled with sausage.
Stack peppers in crockpot on top of crushed tomatoes.
Cover and cook on "low" for 6-8 hours.
Place provolone cheese on top of peppers and cook additional 10 minutes or until melted.
To Freeze and Cook Later
Label a gallon-sized plastic freezer bag with the name of the recipe, cooking instructions, and use-by date (three months from the prep date).
Stuff peppers and add to freezer bag with crushed tomatoes.  (Cheese can be frozen separately if desired.) Remove as much air as possible, seal, and lay flat in your freezer for up to three months.
When ready to cook, thaw overnight in refrigerator.  Pour the contents of freezer bag into crockpot and cook on "low" setting for 6-8 hours. Place provolone cheese on top of peppers and cook additional 10 minutes or until melted.
Serve over rice or pasta with a fresh garden salad.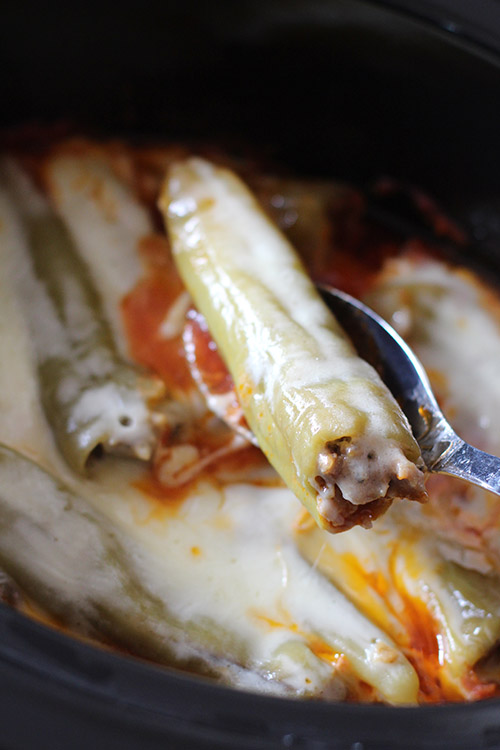 ---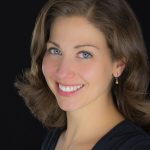 Jill Petrush Rogers is a full-time working Mama to two very active little boys. After becoming a Mama, she realized that her mission is to help others meet and/or exceed their own personal breastfeeding goals.  And so, she became a Certified Lactation Counselor.  You can follow Jill's personal journey on her blog The Galactagoddess and on Facebook.