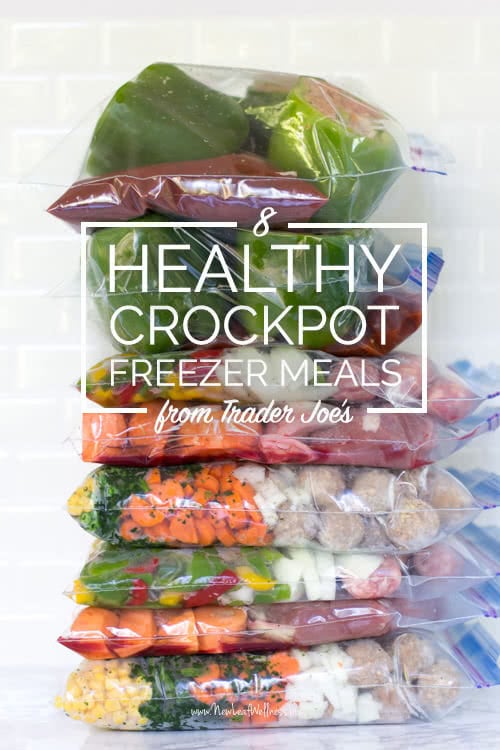 This week, I made eight healthy crockpot freezer meals from Trader Joe's and they turned out great!  We already tried all of them and gave them two thumbs up, so I'm sharing my recipes and grocery list below in case you want to make them too.  They only took me 65 minutes to make, and the ingredients only cost $72, so this freezer prep session was a huge win.    
Here's what I made:
Cherry Pork Loin with Sweet Potatoes
Stuffed Peppers with Ground Turkey
Italian Sausage with Peppers and Onions
Meatball Soup with Tons of Veggies
To save time and money, I doubled each recipe and made two bags of each.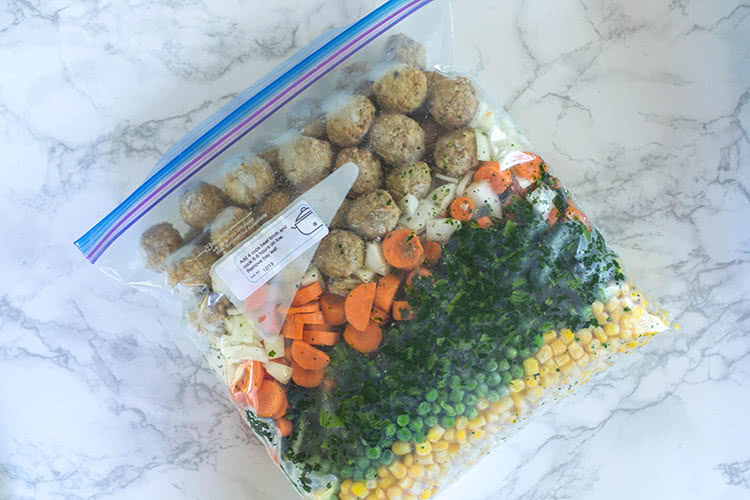 What's so great about these crockpot freezer meals?
They didn't require any cooking ahead of time, so I was able to make all eight meals in 65 minutes. (That works out to only 8 minutes per meal!)
I bought all of the ingredients at Trader Joe's for $72. ($9 per meal)
They're healthy and delicious!
The recipes were inspired by healthy ingredients and good deals at Trader Joe's, but I'm sure you can buy everything at your local grocery store too.  I just looked around for affordable meats and veggies and then parked my grocery cart in an aisle for a few minutes to brainstorm what to make with them.

If you're new to crockpot freezer meals, here's how I made them:
I bought the groceries ahead of time, printed the recipes, and labeled my freezer bags (I used the sticker labels in the free recipe/grocery list above).
I set up my freezer bags in these baggy stands so they wouldn't fall over while I was filling them (not necessary, but helpful).
I added all the frozen veggies to the freezer bags (no need to measure the ones that are split between two bags – just eyeball half the bag when you're dumping it in).
I peeled and chopped all the fresh veggies and added them to the freezer bags. (If you cut all the onions at once, you need to dice four of them, slice two of them, and chop two.)
Then, I focused on one recipe at a time and added its oils, garlic, and spices so they wouldn't get lost at the top or bottom of the bag.
Last, I took the meat from the fridge and added it to the tops of the bags so it would be the first ingredient dumped into the crockpot when cooking.
I also saved the stuffed peppers for the very end because their filling is mixed in a bowl instead of layered in a bag like the other meals.
Seal and freeze for up to three months. So easy!  When you're ready to eat, thaw overnight in the refrigerator or in the morning in water and cook for about 6 hours in a 6-quart programmable crockpot or 8-10 hours in 4-quart crockpot.  Add some rice or fresh bread, and dinner is done.
Thoughts or questions?  Leave a comment below and I'll respond ASAP. XO, Kelly