This crockpot ginger chicken with snow peas is an easy and healthy recipe that your whole family is sure to love.  Add the ingredients to the crockpot in the morning or assemble and freeze for a busy weeknight.  Yum!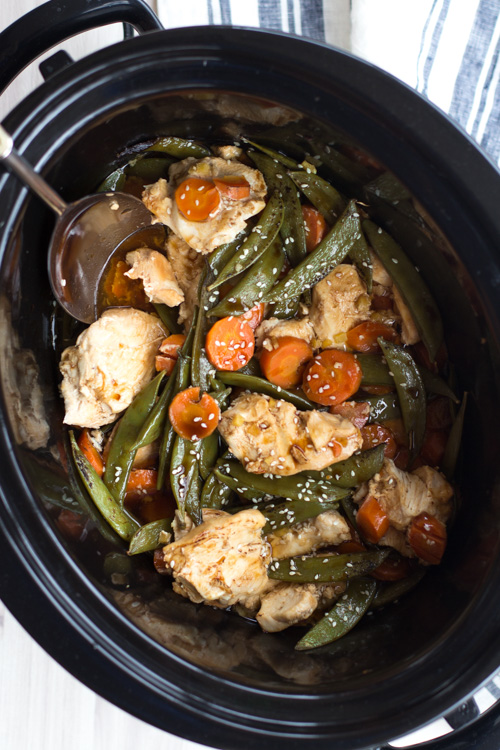 This recipe is full of healthy vegetables, Asian flavors, and chicken that literally melts in your mouth! The best part, you can add whatever vegetables the little hearts in your home desire. Extra carrots, great! Green beans instead of snow peas, no problem.  No matter what you choose, I promise it will be delicious.
Our family loves getting Chinese take-out, but having four separate orders can add up quick…budget & sodium-wise! That's one of the reason I love making Asian-inspired meals in the crockpot. It's inexpensive, simple, and there is no arguing over who's eating what food. When Kelly and I were working on the Asian Crockpot Freezer Meals ebook we ate a ton of rice. We even bought a twenty pound bag! Thankfully, my kids are huge fans of rice (jasmine is our favorite!) so there are never any complaints when it's the side dish. They also love the sauce so much that they don't even notice that there are a ton of  vegetables in this meal.
Crockpot Ginger Chicken with Snow Peas
Yields: 6 servings
Ingredients
2 pounds boneless skinless chicken breasts or thighs, sliced
2 tablespoons soy sauce
2 tablespoons rice wine vinegar
1 tablespoon sesame oil
1 inch fresh ginger root, peeled and grated (one tablespoon)
4 garlic cloves, minced
4 carrots, sliced (1/2 pound)
8oz can sliced water chestnuts (optional, but adds an extra crunch)
8oz fresh snow peas (1/2 pound) (sugar snap peas are also delicious)
Directions
Combine all ingredients in crockpot.
Cook on low for 6-8 hours.
To Freeze and Cook Later
Label your freezer bag with the name of the recipe, cooking instructions, and use-by date (three months from when you prepped the meal). Add all ingredients, remove as much air as possible, seal, and freeze for up to three months.  When ready to cook, thaw in refrigerator overnight or in morning in water and then cook on low for 6-8 hours.
Top with sesame seeds and extra soy sauce.  Serve over your favorite rice.
---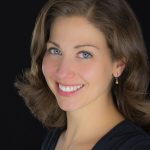 Jill Petrush Rogers is an artist and former bookbuyer/seller. Jill recently moved back to her hometown of Pittsburgh, PA with her husband, Tom, and their two energy-filled boys. Jill loves to channel her creativity by coming up with recipes as a contributing writer for New Leaf Wellness.