Ditch the corned beef this St. Patty's Day and make this Slow Cooker Guinness Honey Pork Roast instead!  It's a little bit tangy, a tiny bit sweet, and an absolutely delicious slow cooker meal.
I'll admit that I'm not Irish, but I married a very Irish man and I'm a sucker for celebrating holidays with food.  I'm not crazy about corned beef, but a Slow Cooker Guinness Honey Pork Roast is right up my alley.  Here's everything you need to know to make one of your own.
Slow Cooker Guinness Honey Pork Roast
Yields: 6-9 servings, depending on size of pork roast
Ingredients
2-3lb pork roast, fat trimmed (I used a boneless "chef's prime roast," but my favorite cut of meat is a bone-in pork shoulder.)
1 bottle Guinness beer (11.2fl oz)
1/4 cup honey
1 tablespoon light brown sugar
2 tablespoons apple cider vinegar
1/2 teaspoon salt
1/4 teaspoon crushed red pepper flakes
Directions
Combine all ingredients in your slow cooker and cook on "low" setting or until pork is tender and shreds easily with a fork.
Shred and serve with juice in slow cooker.  (If you're extra motivated, you can thicken the sauce to a gravy consistency on your stovetop with a bit of flour or cornstarch.)
To Freeze
Combine all ingredients in a gallon-sized plastic freezer bag, seal, and freeze for up to three months.  When ready to eat, thaw and cook in your slow cooker for 6-8 hours on "low." (I've never frozen beer before, but according to my research it's perfectly safe to use in freezer meals.  It will lose its carbonation and go "flat," but that shouldn't matter since you're cooking with it.)
Serve with smashed red potatoes and roasted Brussels sprouts.  YUM.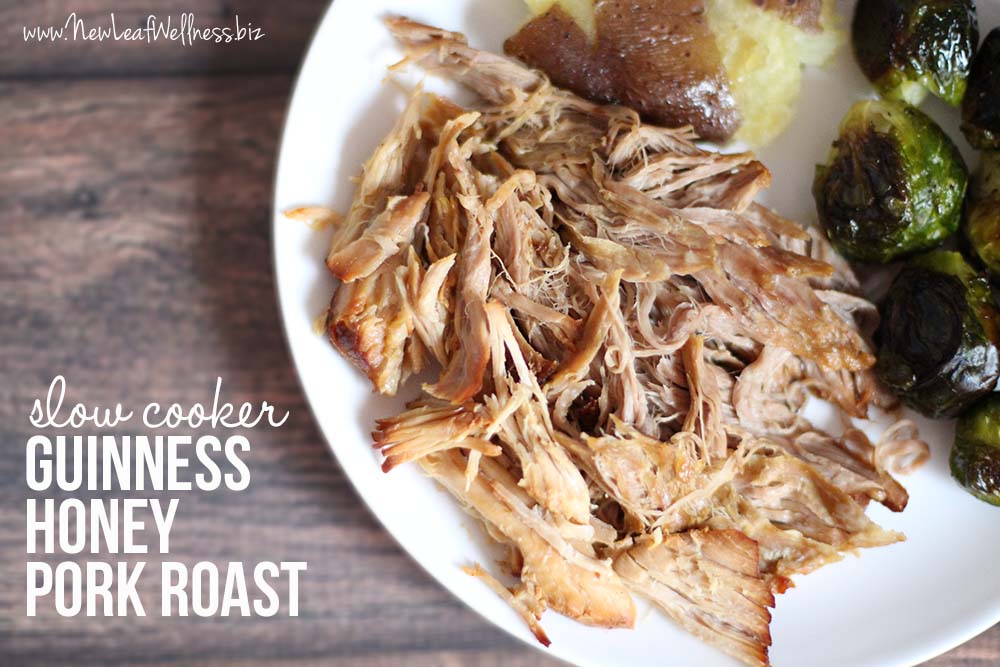 Do you have any fun traditions or foods that you use to celebrate St. Patrick's Day?