You're going to love this recipe for slow cooker ginger peach chicken.  It only takes five ingredients and a few minutes to make.  More importantly, it's absolutely delicious and totally different from all of my other chicken recipes!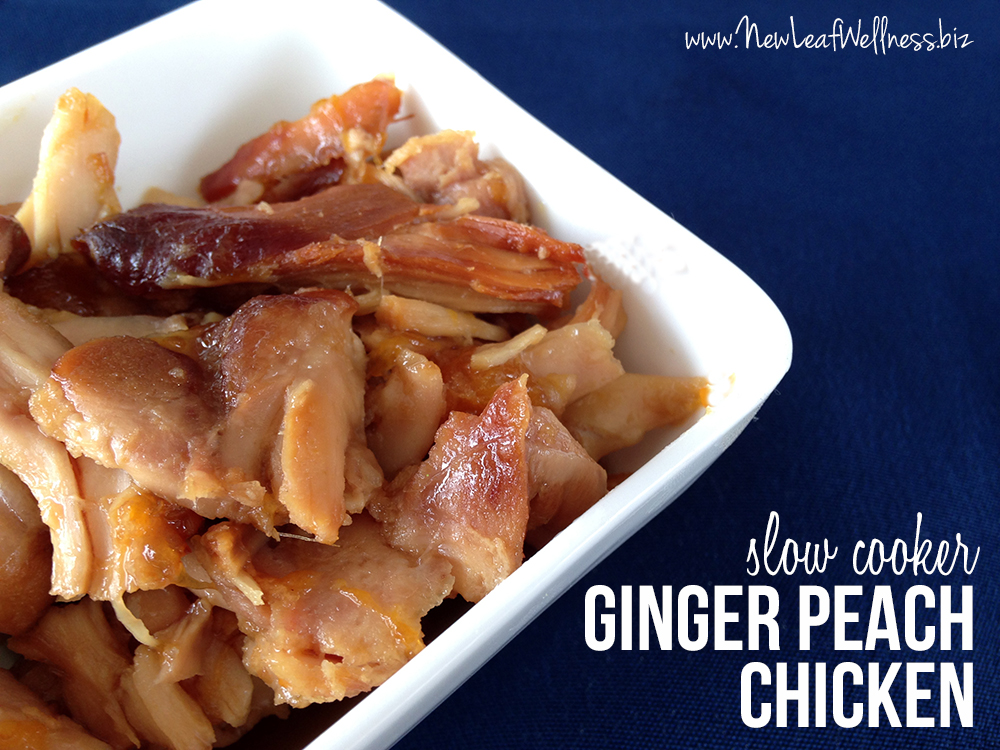 I love a good slow cooker chicken recipe.  We eat my slow cooker BBQ chicken and chicken chili all the time, but I'm always looking for new recipes to make with chicken.
This slow cooker ginger peach chicken is sweet, delicious, and so easy to make!
The sauce is made from peach jam, soy sauce, ginger root, and garlic.  It gives the recipe an Asian-flare and makes it taste totally different than the other chicken recipes that I make (in a good way).  In fact, I think I'm going to cook with jam in my slow cooker more often.
If you've never cooked with fresh ginger root before, you're in for a treat. It's a beige-colored root sold in the produce section and it's normally  sold in small pieces. If you have any leftover after making this recipe, store it in the freezer for the next time you make ginger peach chicken, or add it to your next stir fry.
I like to use chicken thighs in the slow cooker instead of chicken breasts.  You can certainly sub chicken breasts, but I find that chicken thighs are so much juicier.  If you're one of those people who complains about chicken breasts drying out in your Crockpot, chicken thighs are your answer!  (Plus, chicken thighs are typically cheaper than chicken breasts.  Another win!)
Slow Cooker Ginger Peach Chicken
Ingredients
1lb boneless, skinless chicken thighs
1 cup peach jam (I use this simple recipe for slow cooker peach jam)
1 tablespoon low sodium soy sauce
1-inch fresh ginger root, peeled and grated
3 cloves garlic, peeled and minced
Directions
Add chicken thighs to your slow cooker.
In a medium-sized bowl, create sauce by adding peach jam, soy sauce, grated ginger, and minced garlic. Stir to combine.
Spoon sauce over chicken.
Add lid and cook on "low" setting for 3-6 hours or until the chicken shreds easily. (The cooking time will depend on the size and strength of your slow cooker).
Shred chicken and return to slow cooker to mix with juice.
Serve!
This ginger peach chicken tastes great with brown rice and roasted green beans.  Yum!