If you like Panera's vegetarian black bean soup, you're going to love this easy crockpot version that you can make at home. It's healthy, budget-friendly, and oh-so-delicious. Bon Appetit!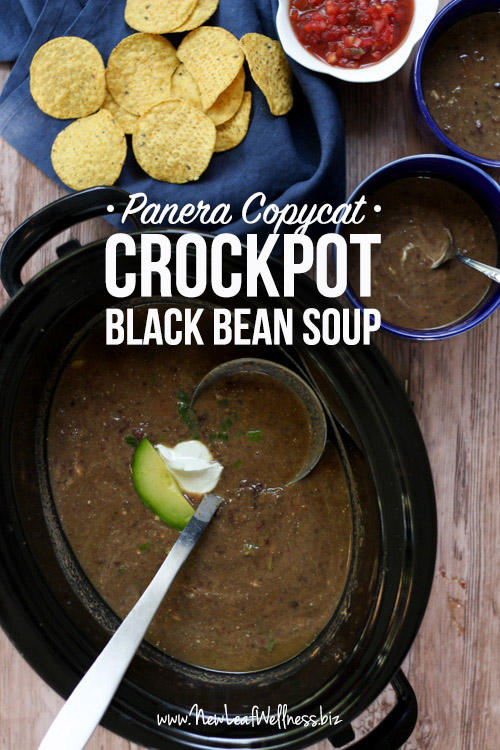 Earlier this year, Kelly professed her love for Panera and created this amazing copycat recipe for Crockpot Vegetarian Garden Vegetable Soup with Pesto.  It turns out that I'm kind of smitten too, but who isn't?!
Kelly and I are firm believers in "if it ain't broke, then don't fix it."  People obviously love Panera's soups. So, we've decided to continue the trend and make more copycat versions of Panera's soups that you can make at home for a fraction of the cost.
I have a pretty standard black bean soup recipe that I've been making for years. When I decided to try to copycat Panera's I thought to myself, "how different can theirs be?"  I was pleasantly surprised.  Of course their soup is packed with protein from the beans, but it is also full of nutritious vegetables. The celery and bell pepper make it crisp and fresh, while the smokiness of the cumin reminds you that soup is the perfect comfort food.
Happy Fall!
Crockpot Vegetarian Black Bean Soup (Panera Copycat)
Yields 6 servings
Ingredients
3 cans black beans (15oz each), drained and rinsed
4 green onions, chopped
3 cloves garlic, minced
2 ribs celery, chopped
1 red pepper, chopped
2 cups vegetable broth (chicken broth also works well if you're not vegetarian)
juice of 1 lemon
1 teaspoon cumin
Directions
Combine all ingredients in crockpot.
Cook on low for 6-8 hours.
Mash or puree to your liking.
Stir.
To Freeze and Cook Later
Label your freezer bag with the name of the recipe, cooking instructions, and use-by date (three months from when you prepped the meal).  To your freezer bag, add all ingredients.  Remove as much air as possible, seal, and freeze for up to three months.  When ready to cook, thaw in refrigerator overnight or in morning in water and and then follow cooking instructions above.
Serve with sour cream, avocado, salsa, and tortilla chips or strips…yum!

Are there other Panera recipes that you want me to try and copycat?  Please leave a comment below!
---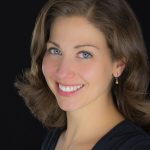 Jill Petrush Rogers is an artist and former bookbuyer/seller. Jill recently moved back to her hometown of Pittsburgh, PA with her husband, Tom, and their two energy-filled boys. Jill loves to channel her creativity by coming up with recipes as a contributing writer for New Leaf Wellness.