*This post has been updated for 2021
Are you looking for new recipes to try this month? I've got you covered. I came up with a list of 12 crockpot recipes that are super easy to throw together in the morning. If you're motivated, you can even prep and freeze all of them this weekend (full shopping list below!).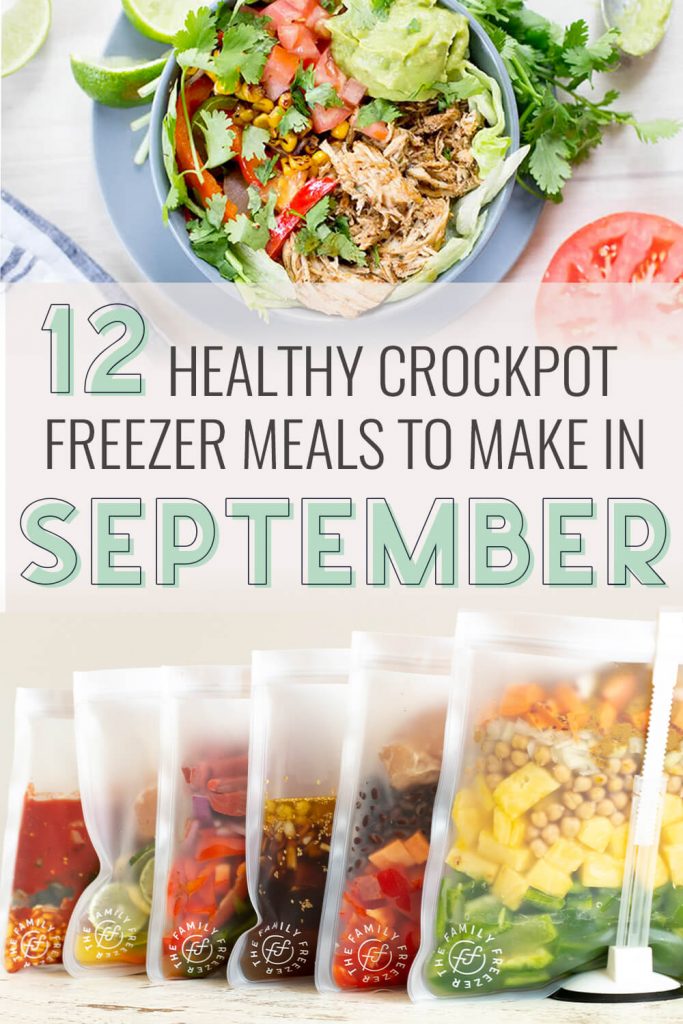 All my kids started school yesterday and I'm so excited.  I feel like this fall is going to be very calm and organized fall.  My key to success?  Freezer crockpot meals.
What's so great about these freezer crockpot meals?
They're healthy. (Most include seasonal veggies like apples, squash, swiss chard, or sweet potatoes.)
They can be frozen without any cooking ahead of time, so they're very quick and easy to prep.
They're delicious! (I tried almost all of them myself.)
12 Healthy Freezer Crockpot Meals to Make in September
Spaghetti Squash with Meatballs from All Day I Dream About Food
Cool Ranch Shredded Chicken Tacos (our favorite)
Pork with Cabbage and Apples
Meatball Vegetable Soup
Chicken Fajitas (stovetop or crockpot)
Honey Garlic Chicken and Veggies (I can't wait to make this one)
Sausage Vegetable Soup (based on our favorite crockpot soup recipe)
Tuscan Pork with Fennel from Delish
Bonus Recipe: Stovetop Gnocchi and Swiss Chard!
Click here for the free printable recipes, shopping list, and meal planning calendar:
CLICK HERE FOR ALL OF THE FREE PRINTABLES. NO STRINGS ATTACHED.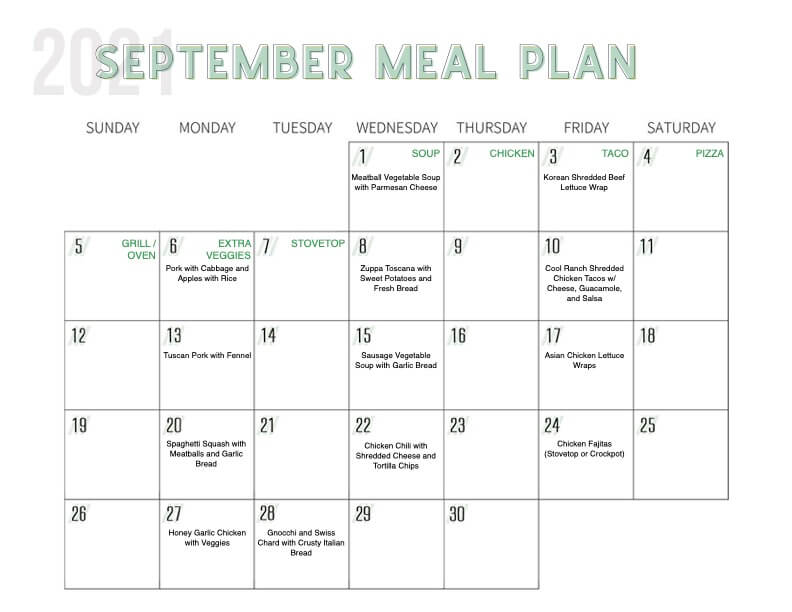 If you look at the meal planning calendar above, you'll see that I picked a "theme" for each day of the week and then found seasonal crockpot recipes that would match that theme.  (For example, Cool Ranch Shredded Chicken Tacos on a "Taco-themed" Friday.) I also included a variety of tastes and textures so we wouldn't feel like we were eating the same thing everyday.
My husband, Andy, added text boxes to the calendar, so you can swap the meals to fit your schedule, delete the meals you don't want to make, etc.  I hope this helps you have a great September, Friends!
Thoughts or questions?  Please leave a comment below.  I'd love to hear from you. XO, Kelly