Looking for easy and delicious dinner ideas?  Here are 25 easy crockpot freezer meals with five ingredients or less!  Simply combine the ingredients in baggies and freeze for busy weeknights.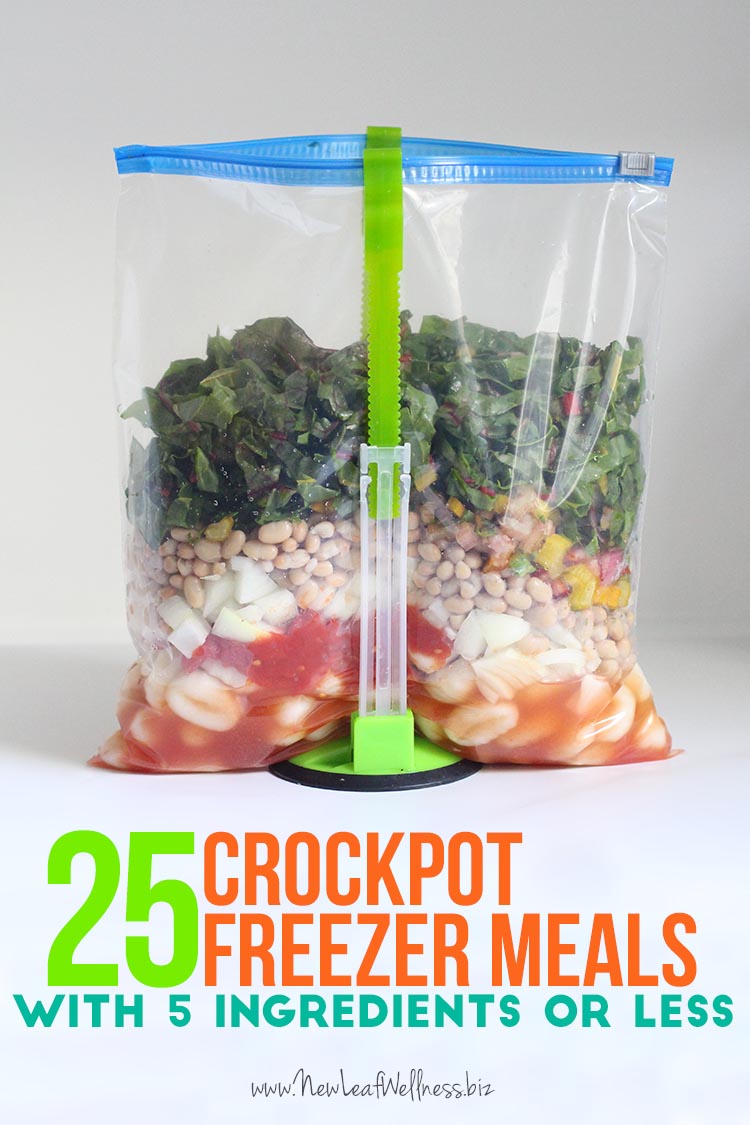 Is there anything better than easy and delicious dinner recipes?  Probably only super simple crockpot recipes that can be frozen without any cooking ahead of time.  
I'm determined to limit all of my upcoming crockpot freezer meal eCookbooks to recipes with 10 ingredients or less, and I decided to challenge myself to put together a list of our favorite recipes with FIVE ingredients or less.  Fewer ingredients means less measuring, less chopping, and less money spent at the grocery store.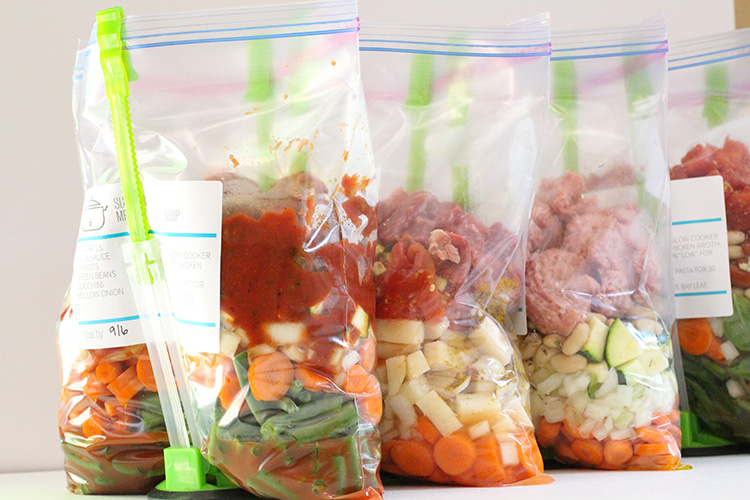 A lot of other websites will give you easy crockpot recipes that call for a bottle of store-bought dressing and a can of soda pop, but I'd like to think the recipes below are healthier than that.  I'm not opposed to using those ingredients on occasion, but I want this list of crockpot freezer meals to make your life easier on a regular basis.
So, here are 25 crockpot freezer meals that require five ingredients or less.  I've tried all of them myself and can vouch that they're delicious too.  Enjoy!
25 Crockpot Freezer Meals with Five Ingredients or Less
A lot of these recipes are from freezer prep sessions that I've done this year so I typed up exactly how I prep and freeze each meal into a printable pdf.  I also included a super detailed grocery list in case you want to prep all of them at once. 
CLICK HERE FOR THE FREE RECIPES AND GROCERY LIST
If you're new to crockpot freezer meals, you can also find tons of freezer recipes, tips, and nutrition info in my best-selling freezer eCookbooks.
Thoughts or questions?  Please leave a comment below and I'll respond as soon as I can.  I'd love to hear from you. 
---
P.S. I shared these recipes on Thirty Handmade Days on 10/13/15.