If you're looking for a new crockpot recipe, this is it.  It's super delicious and SO EASY to make.  I'm calling this recipe "sausage-stuffed mini sweet peppers," but it should really be "the best summer crockpot recipe of all time."  Make it and you'll love it.  I promise.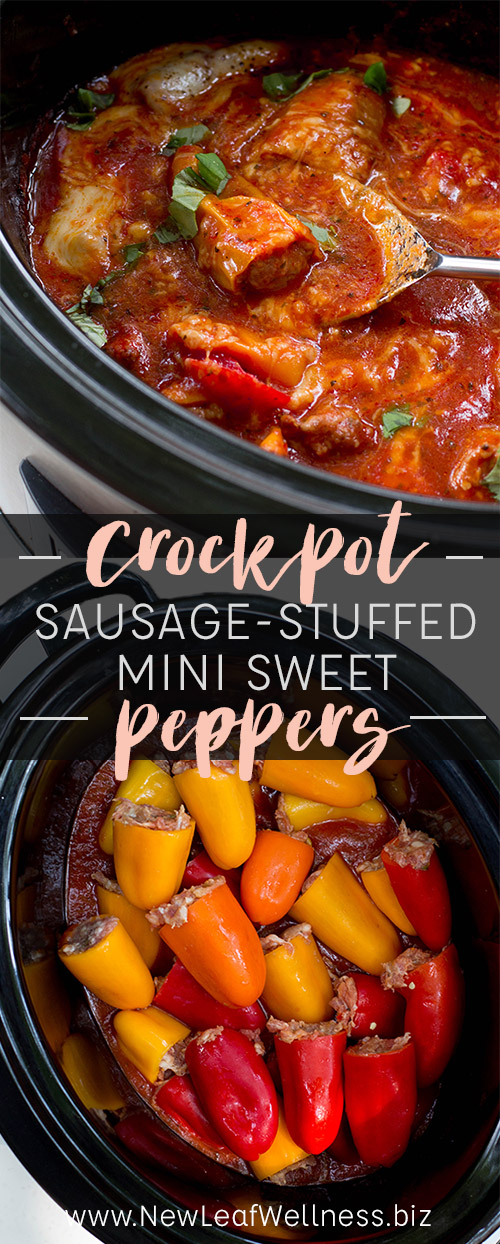 Why am I so obsessed with these sausage-stuffed mini sweet peppers?
They're super flavorful, but only require four ingredients.
They're made with lots of fresh peppers.  That means they're healthy, right?
They're delicious.  Enough said.
This is a recipe that I make over and over again.  I actually shared it as an oven recipe two years ago, but I'd rather make dinner in my crockpot if I can and this recipe is great cooked either way.
I made this for dinner last week and we spent the whole afternoon at the pool.  When we got home, the house smelled great and we didn't have to stress about cooking.  I made a quick salad and a pot of spaghetti and my family was happy (including my four little kids).  My 5-year-old wouldn't eat the peppers, but she ate the sausage when called it "meatballs" and a big bowl of spaghetti.  I didn't have to make her chicken nuggets, so I'm calling this a win.
Crockpot Sausage-Stuffed Mini Sweet Peppers
Yields: 6 servings
Ingredients
1 1/2 pounds (24oz) mini sweet peppers (Our local store sells them in 8oz bags, so I bought three.  If you can only find 16oz bags, but one and mix the extra sausage with the sauce or buy two and eat the extra peppers sliced on a salad.)
1 pound ground Italian sausage (sweet or spicy)
24oz jar spaghetti sauce (We like Prego Traditional)
8oz shredded mozzarella cheese (about 2 cups) (not needed until day of cooking)
Directions
Cut tops off peppers and remove seeds. (It's OK if you don't get every single seed out.)
Stuff the peppers with sausage and add to crockpot.
Cover with sauce and cook on "low" setting for 6-8 hours.
Top with mozzarella cheese and cook for additional 10 minutes or until melted.
To Freeze and Cook Later
Label a gallon-sized plastic freezer bag with the name of the recipe, cooking instructions, and "use-by" date (three months from when you prepped the meal). Cut tops off peppers and remove seeds. (It's OK if you don't get every single seed out.) Stuff the peppers with sausage. Add stuffed peppers and spaghetti sauce to your freezer bag. Remove as much air as possible, seal, and freeze for up to three months.  When ready to cook, thaw overnight in the refrigerator or in the morning in water.  Follow cooking instructions above.
Serve over spaghetti.  YUM.
Thoughts or questions?  Leave a comment below and I'll respond as soon as I can.  I'd love to hear from you. XO, Kelly