This Crockpot Steak Italiano is an easy and healthy recipe your whole family will love!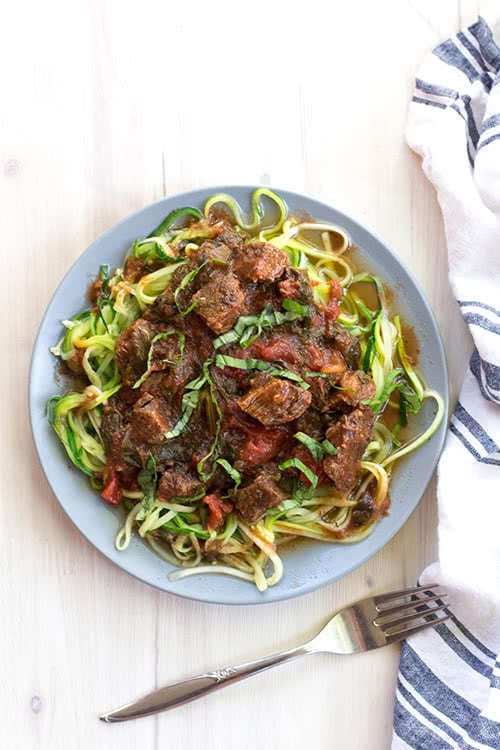 My favorite way to cook is to use up all of the random ingredients in our refrigerator/freezer/pantry. Our family has created a lot of great recipes using this method. We always manage to make something out of nothing!
We recently had several rounds of house guests. We depleted our freezer meals, ordered pizzas and had many nights of munchie foods…there's nothing like olives & cheese! Once everyone left, our house settled, and we got back into our normal routine, I realized our pickins' were slim! My next round of freezer meals were scheduled for later in the week, so I decided to see what I could come up with for dinner without going to the grocery store.
The result…perfection! This Healthy Steak Italiano Marinara is so easy and so delicious. The steak literally melts in your mouth. The flavors are so simple, yet so good! The best part, it can be eaten several ways. The first night, we ate it on leftover mashed potatoes. The next day, the boys had it over pasta for lunch. This is definitely a new favorite in our house. I hope it will be in yours too!

Easy and Healthy Crockpot Steak Italiano Marinara
Yields 6 serving
Ingredients
2 pounds boneless sirloin tip steak, cubed
1 small yellow onion, diced (one cup)
2oz fresh baby spinach
4 cloves garlic, minced
28oz can crushed tomatoes*
1 tablespoon Italian seasoning
1 teaspoon basil
1 teaspoon salt
1/2 teaspoon pepper
1/2 teaspoon crushed red pepper flakes
*Tip: If making fresh, pour half of crushed tomatoes into crockpot and then stir seasonings into remaining crushed tomatoes in can.  Then, pour into crockpot.  It will save you from having to mix the sauce in a bowl that you have to wash!
Directions
Combine all ingredients in crockpot.
Cover and cook on "low" for 6-8 hours.
To Freeze
Label your freezer bag. Add all ingredients to bag. Remove as much air as possible, seal, and lay flat in your freezer for up to three months. When ready to cook, thaw overnight in refrigerator.  Pour the contents of freezer bag into crockpot and cook on "low" setting for 6-8 hours.
Serve over egg noodles or zucchini "noodles" with a fresh garden salad.
---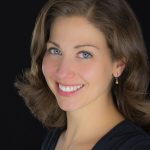 Jill Petrush Rogers is an artist and former bookbuyer/seller. Jill recently moved back to her hometown of Pittsburgh, PA with her husband, Tom, and their two energy-filled boys. Jill loves to channel her creativity by coming up with recipes as a contributing writer for New Leaf Wellness.