Here's a delicious recipe for Slow Cooker French Dip Sandwiches that your whole family will love.  They're a classic slow cooker meal that's simple, hearty, and heart-warming.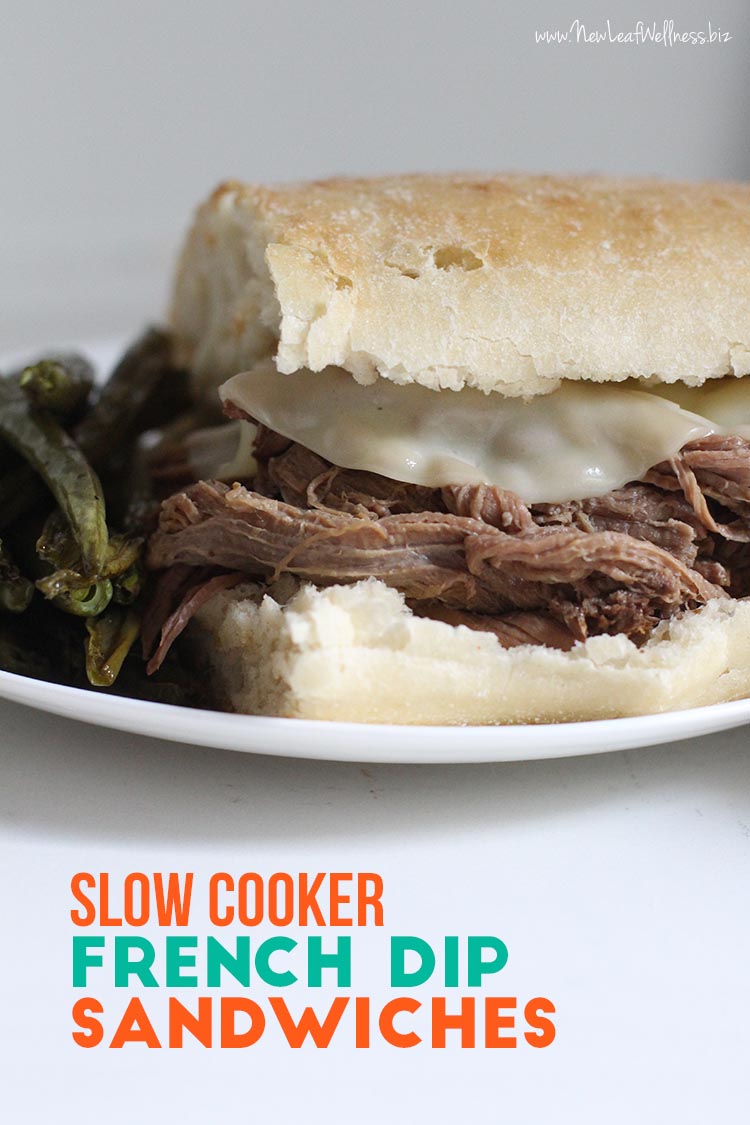 Contributing post from Kayla @ Time Redone
The early  morning hours in Northern Minnesota are starting to feel a bit more like fall. The air is just a bit crisper and a long sleeve shirt feels perfect for a morning stroll. As autumn approaches, I find myself starting to crave fall meals that are hearty and healthy and of course that our whole family will eat.
With three busy little daughters, quick and easy meals that the "big girls" love are a necessity. Bonus points that this recipe's leftovers are just as good the rest of the week.
This Slow Cooker French Dip recipe has long been one of our family favorites, and it's my go-to recipe to whip up when a friend needs a meal delivered to their house. It requires no cooking on prep day and makes the whole house smell delicious while it simmers away in your slow cooker.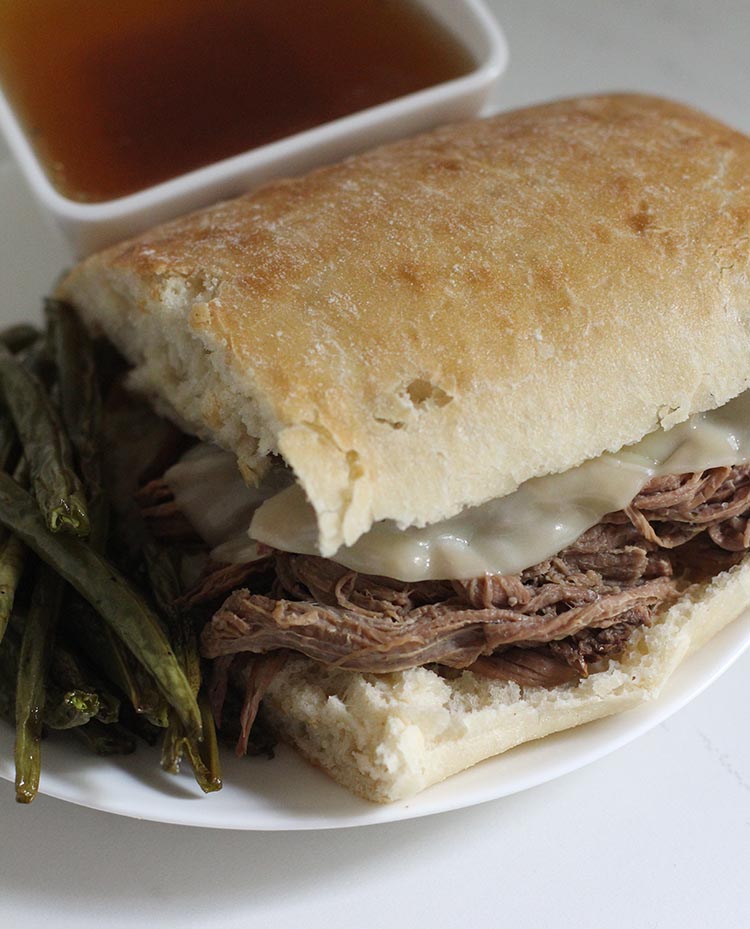 Delicious Slow Cooker French Dip Sandwiches
Yields: 8-10 servings
Ingredients
4-5 pound rump roast (sometimes labeled "bottom round roast" or "eye of round roast")
1 tablespoon garlic powder
2 teaspoon Montreal Steak Seasoning (or other grill seasoning blend)
1 teaspoon oregano
1/2 teaspoon rosemary
1 large onion, sliced into rings
3 teaspoons powdered beef broth base (or 2 beef bouillon cubes)
32oz (4 cups) beef broth (used on day of cooking)
Ciabatta rolls (used on day of cooking)
Optional – Sliced Provolone cheese (used on day of cooking)
Cooking Instructions
Add all ingredients to your slow cooker (except rolls and cheese).
Cook on "high" for 5-6 hours or "low" for 8-10 hours until roast is cooked through.
Remove roast from slow cooker and place on plate to collect juices.
To Freeze and Cook Later
Add all ingredients to a gallon-sized plastic freezer bag (except beef broth, rolls, and cheese).  Freeze for up to three months. When ready to eat, thaw bag overnight in the refrigerator or in water.  Add to slow cooker with beef broth and following Cooking Instructions.
Serve on toasted ciabatta rolls with sides of au jus from the slow cooker and juices from the meat. If you prefer a thicker au jus, strain the juice in the slow cooker to remove the onions and large spices (rosemary), and whisk in 1 teaspoon of cornstarch mixed with 2 tablespoons of cold water.
Top French Dip Sandwiches with provolone cheese, if desired.  Sides of homemade applesauce and green salad make the perfect counterparts for these mouth-watering, kid-pleasing, simple sandwiches.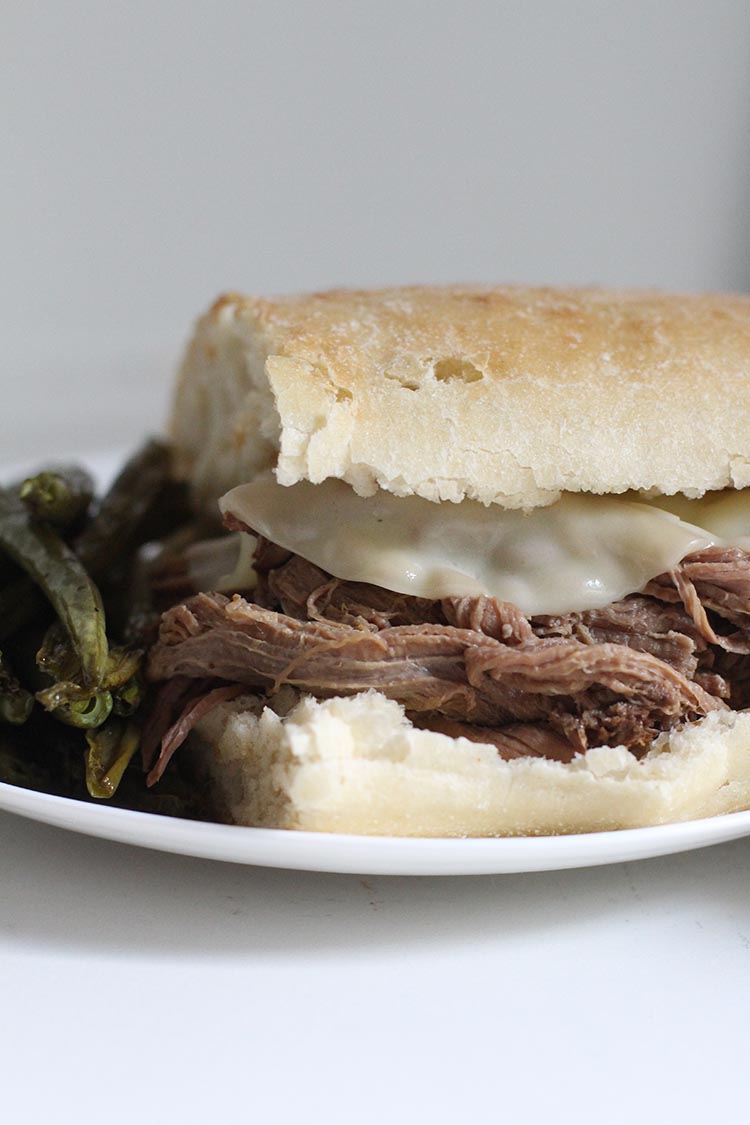 Thoughts or questions?  Please leave a comment below.  I'd love to hear from you.
---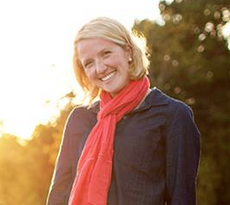 Hi! I'm Kayla. I'm wife to a time traveling superhero (aka an airline pilot) and mom to three amazing, adventuring little girls. I am a coffee loving runner, a wannabe baker, and a passionate maternal health advocate. I am a creative doer, a lover of the great outdoors, and always game for a new adventure. I am passionate about saving time and helping others do the same!  Come and visit me at TimeRedone.